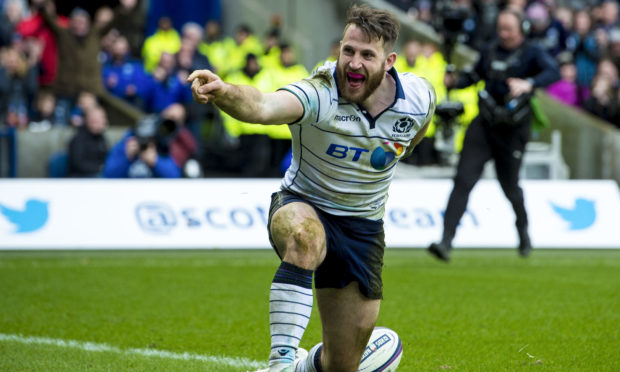 Tommy Seymour "always gave everything for Scotland" said national head coach Gregor Townsend as the 31-year-old wing announced his retirement from international rugby.
Seymour was Scotland's top finisher during their best period since rugby turned professional in 1995. He scored 20 tries in 55 tests, one of only four players to score 20 or over for Scotland in history.
He finishes four short of the all-time co-record holders, the legendary "Flying Scot" Ian Smith and the 1990 Grand Slam hero Tony Stanger. Chris Paterson, who scored 22 tries in almost twice as many tests as Seymour, is in third place.
Seymour won all his caps in a short six-year window, during which he also toured with the British Lions to New Zealand in 2017, finishing top try-scorer on that trip. After appearing in three matches in the Rugby World Cup in Japan and scoring his final international try against Russia, he's calling it a day.
"Playing for Scotland has been the greatest honour," he said. "The pride from wearing the thistle on my chest is one of the most powerful feelings I've experienced.
"It was in every way a dream come true and an amazing journey to share with friends, family and the Scotland supporters.
"To my loving wife Katy, who held the fort through my many days and months away from home, thank you for being my rock through all the ups and downs that come with playing international sport."
Seymour was born in Nashville, USA, and brought up in Northern Ireland, playing youth international rugby for Ireland before switching to the country of his mother's birth.
He debuted against South Africa in Nelspruit in 2013, two years after joining Glasgow Warriors. His first try came in a brace against Japan at Murrayfield in November that year.
Seymour scored tries in all four games he played in the Rugby World Cup in 2015, including a key score in the thrilling quarter-final against Australia. He recorded a hat-trick – the first by a Scotland wing in nearly 30 years – against Fiji in the Autumn Tests of 2018.
Townsend coached Seymour for both Glasgow and Scotland, and said he could "reflect on an excellent international career."
"He has one of the best try-scoring rates for Scotland. To earn 55 caps in a six-year period is testament to not only his all-round rugby ability but also his consistency in the blue jersey.
"His game was very well suited to the demands of Test rugby, as he had a high work-rate, world-class aerial skills and a very good awareness of when to get on to ball.
"When he got the opportunity to play regularly – first at Glasgow and then with Scotland – he went from strength to strength, adding elements to his game each season.
"He's been fantastic to work with and always gave everything for Scotland. We wish him well for the rest of his playing career with Glasgow."
Seymour is contracted to Glasgow until the end of this season. He has played 120 times for the club in nine seasons, scoring 38 tries.
He should be in the team against La Rochelle this weekend in the Heineken Champions Cup to feed off the continuing improvement of Adam Hastings, who has put extra work and focus into his kicking game with a strong effect this season.
Hastings' pinpoint cross kick to Kyle Steyn provided the try which allowed Glasgow to get a vital win in western France at the weekend, and it's an aspect of his game he's worked hard on.
"Mossy (Chris Paterson) comes in on Tuesdays to work on my kicking and I'm feeling confident about it," he said. "Executing kicks has been a focus for me, just the technical stuff.
"Implementing it in a game, more game management-wise, that's been more of a focus this year. I've obviously been guilty of overplaying a few times so it's just about turning the opposition team and putting them under pressure.
"Really it's only overplaying if you make a mistake and get caught, it's not overplaying if you play wide and end up scoring.
"It's about finding that balance. You're never going to crack it, you're never going to have that game where it's 100 per cent, you just have to find the balance."
The defeat at pool leaders Exeter in the previous round was a valuable lesson in the way he played in the second half of that game.
"We've reviewed that game as a squad and as individuals, and I had a long one to one with Rens (head coach Dave Rennie) on that game," he added.
"I've had a lot of conversations about it with George (Horne), Ali Price and Pete Horne. Even though we lost that game, and you don't want too many of those, it's been helpful."