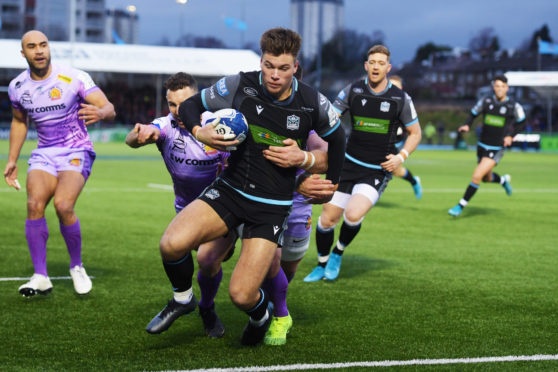 Funny how these things line up. Scotland head coach Gregor Townsend names his squad for the Six Nations on Wednesday, and the Saturday before Glasgow were hosting the English Premiership leaders Exeter while Edinburgh were away to the French Top 14 leaders Bordeaux-Begles.
But as the two Scots teams played maybe the two best teams in Europe, it was someone elsewhere with another team who probably booked his place in the Scotland midfield.
These two games were the perfect form guide for Townsend and his coaching team, all of whom were present at Scotstoun for Glasgow's thrilling but ultimately fruitless 31-31 draw with the Chiefs.
Everyone seems to agree that the major point of debate is in the centre, where Scotland were fairly punchless and porous in Japan during the World Cup. Three men based in Scotland who did not go there, Huw Jones, Mark Bennett and Matt Scott, have all shown good form this season.
However it seems likely that only one of them will be in the squad fighting for a reserve slot. A fourth centre who did not make the final Japan squad, Northampton's Rory Hutchison, has been possibly the outstanding player in that position in the Premiership, and was excellent again in their game against Benetton yesterday.
Hindsight does not make the decision to leave Hutchison behind in September look any better than it felt at the time. And with Sam Johnson still probably locked in as one of the midfield – despite some average form since returning from Japan – it was up to Jones, Bennett and Scott to make their cases against quality opposition.
Scott had to come off at half-time in Bordeaux, while Jones and Bennett both scored tries. But there was plenty to criticise – Bennett did not cope with UBB's brilliant Semi Radradra too well, and while he wouldn't meet anyone like the Fijian in the Six Nations, it was not a pass for the classy and oft-injured player.
Jones' score at Scotstoun was exactly the kind of quality finishing he showed in 2018 but has been missed by Scotland since he fell out of favour. But two failures to handle a trundling ball with the line wide open and no defender close probably cost the Warriors a win they maybe deserved to edge against Exeter.
Glasgow's more excitable fans will howl injustice at that luck – Kyle Steyn couldn't deal with a similar chance to Jones' two, while a potentially pivotal try from Johnson was ruled out due to a floated pass drifting forward by Adam Hastings.
They would have grounds for howling had Stuart Hogg's last-kick penalty not rebounded from the crossbar – a final cutting blow from that source would have been much too raw for anyone, particularly as Hoggy had been anonymous all day on his return to Scotstoun.
The fans – and some players – also narrow their eyes at the mention of referee Romain Poite, who seems to have morphed into the least popular rugby figure in Scotland since Will Carling.
Poite's refereeing of the scrum on Saturday was at least questionable, as Exeter's front row simply illegally walked left whenever under pressure to win a series of key penalty awards, as Dave Rennie detailed in obvious frustration later.
But in the rest, as so often happens in rugby, the favours levelled out; Tommy Seymour's opening try benefited from a suspiciously forward pass from Fraser Brown, while Callum Gibbins could have easily seen a red card in today's world of zero tolerance when he led with the elbow at a ruck into the head of Jacques Vermeulen.
It was just yellow, and Poite was also indulgent later in the game with Brown already in the bin and Rob Harley guilty of illegally killing the Chief's relentless driving game.
Some will point to the English's side's greater physical power and suggest the Warriors still struggle with that deficiency, but this year, it's only been against Exeter. The Chiefs do that super-physical thing to everyone just as effectively – for example Saracens just the other week – and it's their technique and cohesion as much as their power that makes them so good at it.
In fact, Glasgow's wide-open attacking game opened up the Chiefs consistently and suggested that on the day, they were actually the better side. They left those three tries on the deck, a loose pass from Johnson turned into a 70 metre breakaway for the first of Exeter's, while Gibbins' yellow card was pivotal to the Chiefs gaining a foothold in the game and shouldn't have happened.
Hastings and Horne, the two young half-backs, gave Exeter's defence fits at times. The stand-off also mixed up his game superbly and continues to gain on consistency.
Glasgow won't reach the last eight in Europe this year, their defeat at home to La Rochelle ensured that. But the idea they are in a "dark place" is pretty spurious; this is the same team that reached the PRO14 final and the European quarters last season, minus Hogg, who hardly played last term due to various injuries.
Edinburgh's loss in Bordeaux was clear cut, but they will probably still make an away Challenge Cup quarter-final, something Richard Cockerill was fairly sanguine about prior and after the 32-17 defeat in the Parc Lescure.
The head coach won't outright admit it but has hinted plenty that the Challenge Cup is a bit of a distraction. The team he puts out next week at home against Agen, who have barely bothered their backside with the competition, will probably underline this.
Even in fairly conclusive defeat to a very good team, there was plenty for Edinburgh to learn. The lineout was a complete mess – UBB scored three times directly off Edinburgh throws – and that needs to be cleared up, even if the first-choice firm of Gilchrist and Toolis were absent.