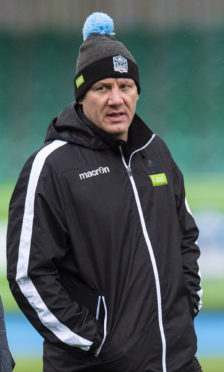 Dave Rennie is a maths teacher to trade and even he's having a little trouble determining what needs to happen to get Glasgow into the last eight of the Heineken Champions Cup, but at least the Warriors know what they have to do to even start the calculations.
There are four separate games that require one outcome or other to get the Warriors into the last eight, but none of it happens unless they beat Sale Sharks on Saturday.
"There are about ten different permutations, but we have to win first and foremost," said forwards coach John Dalziel. "Without a win we have absolutely no chance.
"We're going to one of the toughest places we've been all season, and the focus will be on another solid performance.
"We played against the best team in England at the weekend in Exeter, probably the best in Europe, with a lot of people tipping them to go all the way.
"So to play 20 minutes with 14 men against them and come so close shows a huge amount of character."
Sale are not quite so formidable as the Chiefs, but are strong enough in their home at AJ Bell Stadium to make the necessary bonus point win an exceedingly tall order.
"If you look at them, they don't have a huge squad and they play a similar team and rotate most weeks," said Dalziel. "You can just about work out the team.
"They rested a few of the big guns against La Rochelle so at home they'll be looking for a bit of momentum ahead of the Exeter league game the following week. We'll probably get them at full strength which is another big challenge for us."
But the Warriors feel they are up to pace in their season at last, and Saturday proved it, said Dalziel.
"To score 31 points against Exeter is some effort," he said. "I think that's 10 tries in two weeks so we're finding our mojo again in attack.
"It's always been there under the surface, but there's been a lot of pressure on the players going into games and I think we are starting to get the monkey off our back a bit and put in some quality performances.
"It's was a tough start to the season, with a World Cup year and losing players. We had a couple of ugly performances early on and we've had other games where we haven't had a full 80 minute performance but we've not been far away.
"The last couple of weeks, we rested a few players at Treviso and that was a really good test of the depth of the squad and we backed that up last week."
Glasgow are still no happier with the way Romain Poite refereed the scrum on Saturday, but focusing on refereeing interpretation is not doing them any good, added Dalziel.
"We have to get away from interpretation," he said. "Refs will ref it the way they see it and we need to find solutions on the pitch.
"We want a pushing contest. We were told in both competitions this year that there would have to be clear momentum forward in both sides of the scrums.
"We are going back to the old days when you're going round in a circle. That's two weeks in a row we have seen that kind of officiating but we need to find solutions to it.
"For the players, coaches and everybody involved in the game it's frustrating because it's inconsistent. But we need to get the ref on side and communicate better and deliver better consistency in our scrum as well."