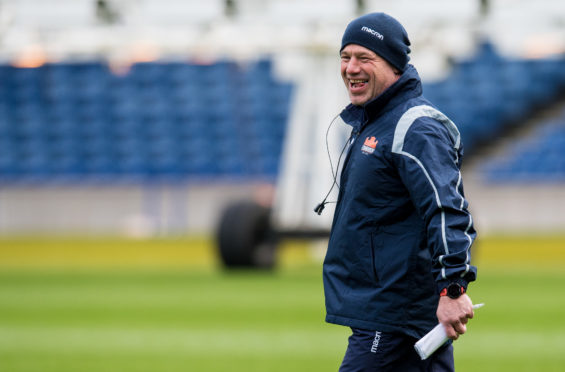 Edinburgh's growth as a team in the last 18 months means Saturday's European Challenge Cup game against Agen is one they should be confident about achieving their targets, believes head coach Richard Cockerill.
The capital side need a win with a bonus point over the Top 14 strugglers to reach the quarter-finals in Europe for the fourth year in succession, although they have lost in the last eight in each of the last three years.
With Agen not having a win or even a bonus from their pool matches so far, it looks set up for Edinburgh to get exactly what they need, and they shouldn't shy away from that, says Cockerill.
"The mnidset is win, with a bonus point, qualify, and see where that takes us," said the head coach, who sent out a less than full strength team that got a handsome victory over Agen in France in the opening game of the pool.
"Complacency is always a danger, isn't it? I thought we were pretty poor against Kings – in the end it was a great win with a lot of points (61) but I thought we played poorly.
"We're starting to mature as a team, and I think we are mature enough to be able to say: 'This is a game we should win, it is a game we should be getting four tries in, and we are going to go out there and do it.'
"It is a different sort of challenge for us, and in some ways a harder challenge than people thinking we are going to lose and being surprises. Well, we should win, I expect us to win, and I expect us to put a proper performance out on the field and get the job done."
"A win will probably be enough to get Edinburgh through to what will be an away quarter-final, but "that's fine" says Cockerill.
"Wherever that takes us, we'll give it our best shot," he added. ""Bristol and Toulon are going well, we could end up in Castres or Leicester, so wherever we go in the quarter-final it is going to be tough. You would prefer to avoid a Toulon or a Bordeaux again.
"They are a very good team. The French table doesn't lie. I didn't realise Saturday was there first time in a European quarter-final of any sort so they were pretty motivated, and they picked their best team to put a performance out.
"We can play better, we could probably pick a better team, so I wouldn't say I would be fearful of going back even though they are a great team."
Cockerill will again shuffle his side with "the odd Test player that we will look after, but we'll be going full out."
Saturday's defeat will also be valuable for the younger players who took part, he believes.
"It is a good learning for those young guys to play under that sort of pressure – and we need to be better because it wasn't good enough," he said.
"The reality is that money buys the quality of squad they have and the depth they have, so they were just bigger and more powerful than us – so when we got things wrong, we got punished.
"The score was probably about right: I was disappointed with parts of how we played, but I was happy with lots of other parts. It's a very tough place to go, and as a group we developed again, and learned some lessons as players, so if we go back there now we know what it feels like.
"Name a better team than them in Europe at the moment in both the competitions? There aren't many – Chiefs, Leinster maybe – but Bordeaux are in that company.
"And we probably should have beaten them here at Murrayfield if we had been a little bit smarter."