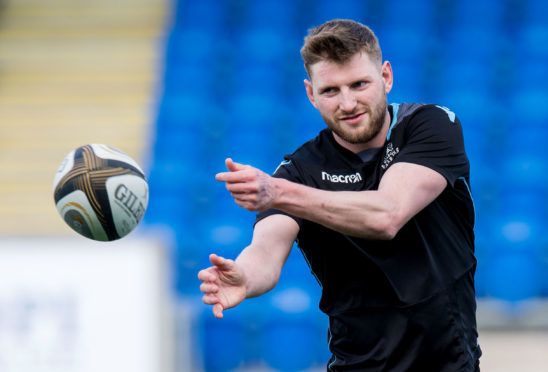 Scotland have "moved on" from Finn Russell for Saturday's Guinness Six Nations opener against Ireland, and won't address the absent star stand-off until after the game is done, said head coach Gregor Townsend.
Townsend didn't sound like he was in any mood for a quick reconciliation with his chief playmaker when speaking from Scotland's warm-weather training camp in Spain, stressing several times that the focus was on Dublin, and making repeated reference to others in the squad who were "desperate" and "passionate" to play for Scotland.
He added that he thought the air had been cleared by "a long meeting, a positive meeting" with Russell after it had been confirmed he would be omitted from the Ireland game for missing training last Monday and refusing to leave the hotel bar the previous evening.
"We had a long meeting to discuss all manner of things, first of all the consequences from leaving camp on Sunday night and not being there on Monday," said Townsend. "It was a positive meeting and we left in a really good place, and at the time I thought he would be back in camp (later in the week).
"It didn't happen and we've moved on. It's not really something that is for us the main focus just now."
There had been no contact with Russell since, he added, going on to stress that any player coming into the squad would have to "be able to live up to the standards expected of a Scotland team player."
"The door is open for any player, whether it is a player returning from injury like Sam Skinner, or Matt Fagerson who just missed out on selection, or Darcy Graham because we are really disappointed for him that he got injured in the first day of training when he is in such good form," he said.
"Finn Russell would be likewise – but, obviously, he is unavailable not because of injury but because of what went on. There's got to be a link to where he would be in terms of with the team, and is he able to live up to the standards expected of a Scotland team player?
"But the focus is so much on us preparing for Ireland that these are questions for a later time."
That didn't mean that any player missing from the Spanish camp would come into the reckoning for the Calcutta Cup game, including Russell, he said.
"We've been together now for just over a week since last Sunday evening when the work started and now being in Spain, we've had a lot of information to take on board," he continued. "We're working to build cohesion and get clarity with what we're doing, to have much more consistent performance, and irrespective of the weekend that's what we'll work on going into our England game.
"The focus now is on Ireland. Finn was aware of the consequences of his actions and aware that he wouldn't be involved in Ireland because of that.
"We had a really good conversation after that information was passed to him, and anybody who wants to come into the team, want to put their hand up for selection, then form is some of it, ability as well, and also being able to be with the team and live up to those team standards.
"That's something that someone who is out the team just now or in the team would have to agree to and accept."
Townsend sounded much more concerned that the team would be missing wing Darcy Graham, who suffered knee ligament damage at their first training session and will miss the first matches of the championship.
"We've had a really good week from a coaching and playing point of view but we had a disappointing start to the week with Darcy," he said.
"That was a real blow, to see a young lad who will do anything to play for his country visibly upset with the news that he'd miss the first game. That was tough for players to see, and for a coach to see.
"We got through a lot last week. On Sunday, Monday, Tuesday and we were back in on Thursday and Friday. Now we're in Spain just building on what we learned and what we have to do to play at our best on Saturday.
"We've obviously had three experienced players retire, but it's good to freshen things up. Players have come in with energy, players who are young and confident and desperate to play for Scotland.
"They also have the quality and the edge around their game that you know they'll do well at test level."
The head coach was effusive about the two players vying for the no 10 shirt in Dublin, Adam Hastings and Duncan Weir.
"Duncan is loving being back. He's a passionate Scot who loves playing for Scotland, is well-liked by all the group, well-liked by the coaches. We've been watching him closely the last couple of years with Worcester and he's been a really consistent performer.
"Adam's been outstanding over the last few weeks. I thought his game against Exeter was one of the best performances I've seen from a stand-off in the last year or two, looking at the quality of opposition he was up against, but also his execution.
"He's a much improved player from this time a year ago and any player goes through tough times when you have to learn and adapt. As a 10 you've so many decisions to make during a game and it's great to see how well he's played this year.
"Playing with confidence and making the right decisions means Adam will be more than ready to start for Scotland in a Six Nations."