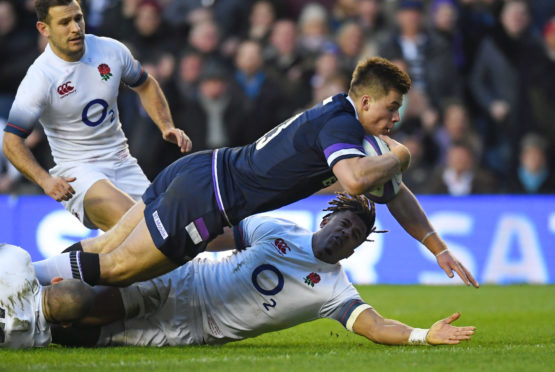 Huw Jones says Scotland's players are "not that bothered" about Finn Russell's walkout from the international squad and have faith in Adam Hastings to perform well in his first Six Nations start against Ireland in Dublin on Saturday.
The centre, poised to make a dramatic return to the starting team against Ireland after missing the Rugby World Cup, says the team are "not hung up" about their star stand-off's departure and that it is of more concern to supporters and the media.
"If you ask the players, none of us are really that bothered," said Jones from the training camp in Spain yesterday. "I would say the media and the public are making more of a meal of the whole story than us.
"For us the focus is on the guys that are here in the squad. As soon as Finn left we got right behind Adam and will do at the weekend."
Russell is a "world class player" and Scotland would miss him, but the players left in the squad "can't get hung up about that," he continued.
"It is obviously not great for the supporters, Finn is a fan favourite and all the supporters want to see him playing," Jones went on. "For any team, when Finn is not there you will notice it and miss him.
"But we as players cannot get hung up on that. That is something for the fans and the media to discuss. We have to focus on the game, the guys who are actually in camp and the guys are playing.
"Adam is a quality player and this can be a great opportunity for him. He has been in great form for Glasgow and has had a couple of really good games. This could be the opportunity that sets him off.
"He won Young Player of the Year in the PRO14 last season, and has progressed again this season, matured a lot and his game management is still as good.
"He has added more to his game, has been brilliant this season and he is a pretty good defender as well. I think he has all the attributes he needs. With this team around him he can go very well."
For Jones, he didn't think he had a chance of a recall for Scotland about a month and a half ago, having not heard from Townsend since he missed the final cut for the World Cup in Japan.
"There was a point about a month ago when I thought I wouldn't be involved and I was accepting of that," he said. "But I went from not playing a lot at Glasgow to getting about three or four games in a row. That is basically what I had been after for a while, and I got it.
"I felt I did quite well and at that point I thought that maybe I could get back into the squad. Before I got that run of games I wasn't really sure.
"I didn't hear from Gregor until I made the squad. He said he thought I had gone pretty well in recent weeks and that it was good to see me playing again and that he was looking forward to seeing what I would do in camp."
The perception was that Jones' defence was what caused him to get dropped, after he had scored ten tries in his first two seasons in a Scotland shirt.
"I don't think I've ever been a bad defender," he said. "There have been times obviously when I have missed tackles in games, but that happens to everyone.
"I think being left out of the World Cup was partly because they wanted to pick a defensively strong squad and maybe they didn't see me as that. I hadn't played a lot of rugby in 2019 due to injuries and it was a combination of things.
"I've been working with (defence coach) Kenny Murray at Glasgow and he's seen improvements there. The new defence coach here, Steve Tandy, has brought in a slightly different system which I am really enjoying and I think it suits me a bit better."
His position means even small errors are magnified, he thinks.
"Centre is one of the positions in the modern game where there's a lot demanded of you," he added. "You have have to be physical, you've got to be quick, be a good defender, a good attacker, and at a high standard at international level. You can't really be a one-dimensional player anymore.
"Maybe a couple of seasons ago I was all about attack and maybe that's why I didn't get selected for the World Cup. Off the back of that I've become a more rounded player and hopefully that will see me stay in the jersey for as long as I can."