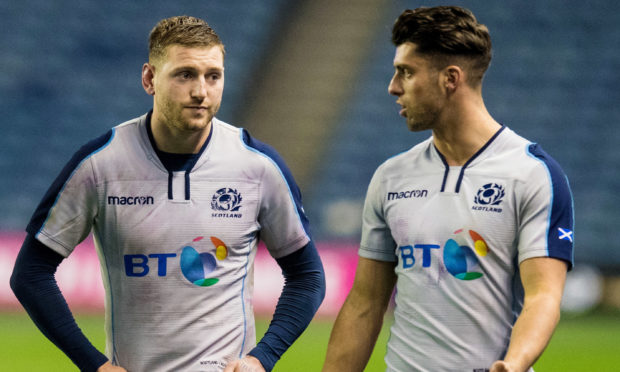 Adam Hastings has the ability and tools to drive Scotland to victory in Dublin against all the odds, believes new captain Stuart Hogg.
Hogg, in his first game in the job he specifically asked Gregor Townsend to do, was measured in his comments about the absent Finn Russell, who left the squad last week in what appears to have been the first challenge to the new skipper's authority in his new role for the 2020 Guinness Six Nations.
Given the crucial nature of the relationship between a captain and his No 10 in terms of strategy, any disruption has been lessened by the response of Russell's replacement in the playmaking role, Adam Hastings, he said.
Hogg talked of "not dwelling on the past" in terms of what had happened at the Rugby World Cup and the previous week when Russell walked out.
"We can't change what happened, and what will be will be," was his response to a question about the Russell affair.
"For me Adam has trained really well, he is confident in his ability to drive us around the field, and so am I.
"Adam and I played together many times for Glasgow for the last couple of seasons and in a Scotland jersey as well. He has incredible ability and he's always learning, asking questions.
"He's a cracking rugby player and he's here for a reason. "I am looking forward to seeing what he can do tomorrow."
The new captain was keen to push the idea of a new start and the opportunity this gave the Scots, despite the overwhelming odds of 7-1 against being quoted for a victory and with just one win in Dublin this century – and that at Croke Park in 2010.
"It does feel like a fresh start, and we cannot keep looking back," he said. "We are aware things didn't go to plan in the World Cup but that has gone now.
"We have a new defence coach, new scrum coach and a new philosophy too. There are a few new caps as well so it's been refreshing and exciting for us all.
"A lot of experience retired at the back end of the World Cup but it gives an opportunity for the young boys to come in and take their opportunity.
"It's up to them to show what they're about. I'm looking forward to see how Nick Haining goes in his first cap, I'm looking forward to seeing Adam.
"But the big thing for me is that we're confident in each other's ability, we're confident as a collective unit."
Hogg knows the odds and he knows the history, but he still believes that the Scots can pull off what would be a considerable upset.
"I truly believe this 23 can go out and win this test match," he said. "We have been written off, no one can back us because no one believes we can come across here and win.
"We have not won here since 2010 and that hurts, we talked about that as a collective today.
"People have written us off, but we believe in the detail and the structure we have been given and we believe in ourselves.
"Write us off all you want. If we get the detail right, stand firm and solid in defence then we will give ourselves every chance."
Hogg believes that defence, apparently overhauled since the World Cup, is where Scotland's point of difference to their last meeting with Ireland, a heavy defeat in the opening game of that tournament.
"We pride ourselves on our defence, and at times during the World Cup it was nowhere near good enough," he said. "But we have changed our coach and our philosophy and tomorrow is our first chance to test ourselves.
"We coughed up the ball too often against Ireland in the World Cup. We beat ourselves and that's what we need to learn.
"We have to play in the right areas and off-load in the right areas. Our kicking game will be massive tomorrow as we know we need to be in the right areas."