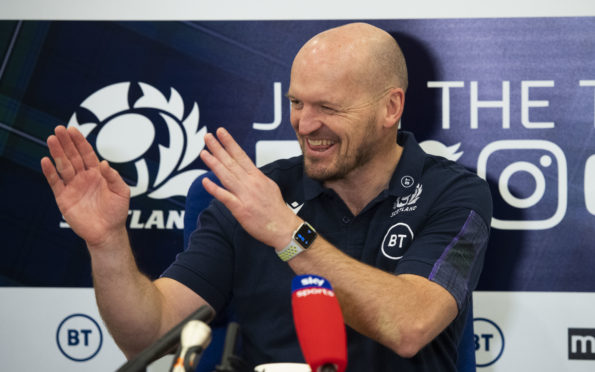 Gregor Townsend doesn't mind the "war" cries coming out of the England camp but stressed the importance of not letting the occasion of the Calcutta Cup go to his players' heads.
The barbs from Eddie Jones and the England camp have been coming thick and fast this week in the build up to their biennial Six Nations visit to Murrayfield, Jones' latest yesterday claiming Scotland were "one of teams that likes to kick most" in World Rugby.
Which had the Scotland squad splurting their morning coffees in surprise, as Scotland were fourth in the listing of average kicks per game in 2019, and the leaders were…England, at 29 per game.
Still, Townsend has no issues with Jones or even the discussions of "hate" and "war" coming out of the visitors' camp.
"They're part of the fun and spice," said the head coach. "Players are getting motivated to play a game but they're all really good friends nowadays in international rugby.
"We are always motivated because it is our biggest rival. It is a game which means so much to our people.
"I remember back in 2000 when we had lost four games in a row in the Six Nations and we won our last game against England, you almost felt the supporters believed we had won four games in a row because the joy they get seeing their team win against England stays with them for weeks and months."
That's for the supporters and the people, he added, but cooler heads are required on the pitch, something he didn't do much in his own career.
"I used to get too pumped up and that carried on a little bit throughout my career," he said. "I remember going to Twickenham and being far too motivated for the game.
"It's important our players are ready for the physical battle but are in control: of their discipline first of all but if they have that fire inside of them and they put it into tackles then great, that's what you want to see.
"Last year, the first action of the game, Sam Johnson flew up wanting to make a big hit and said afterwards that he was just so pumped up to tackle someone. But they scored as a result and you can't do that against top teams.
"You have to stay within the system, you have to transfer what you've worked on during the week onto the pitch, but you've got to have the fire in there to hit hard when you do hit."
There could be some parallels with that famous game in 2000, with a storm coming in for game time with 40mph winds and rain promised. Townsend thinks England have picked a team – with five changes – to play in such conditions.
"England in picked a 6-forwards-2-backs bench this morning, that was a surprise to us and suggests they'll want to play it tight," he said. "The wind tends not to be a huge factor at BT Murrayfield, but it's now looking like it'll be wet and windy around kick-off time, and of course it'll be a factor in how we play.
"England kick the ball a lot, and I don't think they'll kick it less because the weather is poor, they'll kick it more and we'll have to deal with that. We have to make smart decisions if we are receiving ball in our half."
England's back row of three open-sides– in stark contrast to their last visit in 2018 when they picked none – also suggests they'll target Scotland's breakdown, which was a significant bad area for them in Dublin.
Scotland's only change has this in mind, with Magnus Bradbury returning at No 8 after missing last week with a thigh strain, and Nick Haining going to the bench.
"Magnus brings ball-carrying, he brings a physical presence in all the contact areas, that's clearing contact as well," said Townsend.
"I thought his performance at Twickenham last year as a No 8, it was the first time he'd played there for us, was outstanding; great carries off the base of the scrum and restarts, and a great run-in for a try too.
"He was maybe 50-50 at the weekend and we knew it would have been a risky one if we played him."
Simon Berghan, an eleventh hour scratch from the bench last week because of illness, returns for WP Nel.
Scotland team: S Hogg (Exeter Chiefs, capt); S Maitland (Saracens), H Jones, S Johnson (both Glasgow Warriors), B Kinghorn (Edinburgh); A Hastings, A Price (both Glasgow Warriors); R Sutherland (Edinburgh), F Brown, Z Fagerson; S Cummings, J Gray (all Glasgow Warriors); J Ritchie, H Watson, M Bradbury (all Edinburgh).
Replacements: S McInally (Edinburgh), A Dell (London Irish), S Berghan, B Toolis, N Haining (all Edinburgh), G Horne (Glasgow Warriors), R Hutchinson (Northampton), C Harris (Gloucester).