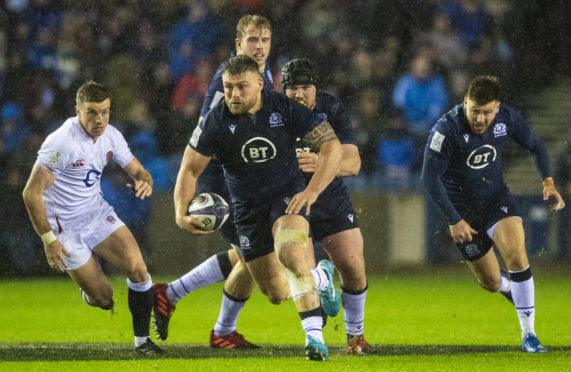 Murrayfield on Saturday was miserable in every way. And things don't look like they're going to get much better for Scotland even when the weather improves.
Storm Ciara played a significant role in the ugliest Guinness Six Nations game most could remember – and the tournament doesn't really specialise in beauties.
It was if as if there was a price due to be paid on Saturday for the three-games-worth of entertainment we had a Twickenham last year.
The usual form after maelstroms like this is that everyone says you can't make excuses because of the weather, and then they go on to do it just the same. Such was Scotland's reaction to the 13-6 defeat to England.
Captain Stuart Hogg – in focus for another "mistake" when in fact he had few options in what was a parlous situation – said, correctly, that Scotland had not adapted to the conditions well enough.
Yet head coach Gregor Townsend wanted us to consider this "a match apart" because of the weather and not part of a rather obvious developing trend – Scotland suddenly seem unable to score tries.
They are a solid zero-for-two in the Six Nations so far, despite having a wealth of favourable attacking positions within the opposition 22 both in Dublin and in Saturday's game.
Going back to the last championship and discounting matches against Eastern European also-rans, Scotland's most recent try scorers are Chris Harris, two by Sean Maitland, Greig Laidlaw, two penalty tries, Finn Russell and two by the tightheads, WP Nel and Zander Fagerson – just seven scored by players in seven tests. In four of those seven games they've been try-less.
This is already a pathetic return for any team at the top level, and especially one coached by the supposed attacking genius of Townsend.
His continuing insistence on his preferred pressure-kicking game (as big a bone of contention in the dispute with Finn Russell as spurious "drinking sessions", it's now clear) bore little fruit against the English, due to a malfunctioning lineout and more guileless bashing in the 22.
Like the Irish a week previously, England seemed almost confident that they could hold Scotland even with their feet on their own line.
For a 15 minute spell after half-time, Scotland had England by the throat. The period was lengthened considerably by England's total inability to kick the East Stand touchline in the swirling winds, but even with four such free gifts Scotland couldn't tighten the grip.
It was reminiscent of the bad days of the early 2010s, when Scotland seemed utterly unable to score against a set defence inside the 22, and one surely does not need reminded who the attack coach was in those days.
What brought this fruitless bashing into sharp relief was what happened when England had their sole sniff of the whitewash at the other end, after George Ford's clever grubber forced Hogg – who really had no other option – into conceding a scrum five.
The immediate fear that England would simply shove Scotland off the ball – both starting props were off and the Scots had been penalised at the previous two scrums.
Perhaps a scrum penalty and an easy three points to keep it to 6-3 would have been preferable for Scotland, but England sensed the win and took it. Two phases off the back got their biggest man, replacement prop Ellis Genge, in position, two team-mates latched on, and they simply drove him over the line through tackles.
The ease and organisation were almost embarrassing after what Scotland had tried. England played poorly on the day, but they got it dead right when they got the chance.
Scotland's one-out bashing never really threatened the English line. The best attacks of the game in blue jerseys were in the same move, Rory Sutherland surprising everyone with pace in space and Huw Jones following up, but England soon regrouped and repelled.
Bemoaning the fact that this was another game Scotland might have won with the bounce of the ball and had Pascal Gauzere pinged Kyle Sinckler for stripping the ball on the deck – "a turning point" claimed Townsend – won't do.
It happens far too often and that's the last three home Six Nations games where Scotland coulda-woulda-shoulda but didn't.
The scorelines, not hard luck stories or weather excuses, are the only thing that count. Townsend's record as Scotland head coach is now better than his predecessor Vern Cotter by just a fraction of a percentage point, and it could slump below 50 per cent by the end of this championship.
Defeat in Rome, and there will surely be no way back for the head coach. But even a win there may not save his job, and will not be nearly enough to get Scotland going forward with purpose again.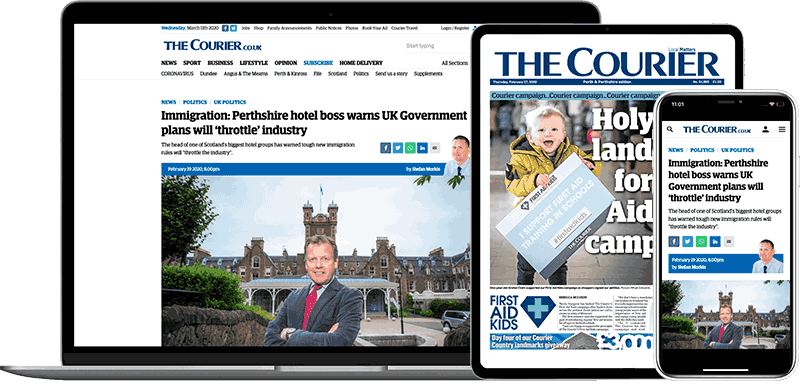 Help support quality local journalism … become a digital subscriber to The Courier
For as little as £5.99 a month you can access all of our content, including Premium articles.
Subscribe