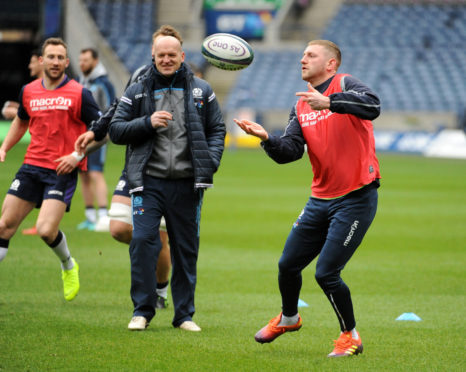 Once we were done studying Gregor Townsend's statement on Monday for the purpose it was released, there were other interesting things to find there.
The statement was a retort to Finn Russell's Sunday Times interview, and we've been through all that. The two sides are entrenched for now, with apparently no room for compromise.
What fascinated me was Townsend's detailed appraisal at what had changed in the squad preparation between the Rugby World Cup and the initial gathering for the Six Nations.
Townsend said he consulted fellow coaches, players and support staff for their views on how Japan had gone. The conclusion was "we clearly didn't perform on the field as well as we had planned and, off the field, certain standards of behaviour had slipped at times."
The reason I was interested was because I was looking for clues about any adjustments to Scotland's playing style in 2019, which had produced just two wins in nine games against premier ranked opposition during the year, one of them in a warm-up friendly.
Some change is evident from just watching – Scotland's defensive structure is more aggressive, consistent and effective. So far, it's a tribute to new defensive coach Steve Tandy, who had less than a month to work in changes to a system that had been developed over seven years with Matt Taylor.
But we haven't seen any real adjustments to Townsend's attacking plan. It's still tending toward a pressure-kicking style, which is a contributory factor in Russell's general frustration.
And it's still not working. At least the over-hyped "fastest rugby in the world" was great to watch. Scotland have been stodgy since the summer of 2018.
A maverick, off-the-cuff stand-off in his time, Townsend has caught a dreadful streak of conservatism as national coach, and it could cost him the job.
I suspect it developed in an attempt to turn around Scotland's dreadful away form, but has seeped into home games.
After the loss to England, Scotland have now lost three successive Six Nations games at home, and have not won in their last six in the championship.
Is Townsend's playing style making the most of the talent Scotland have? I'm not alone in thinking he's got the best group of broad talent since rugby went professional, and two wins in 11 against quality teams is not nearly good enough.
Why hasn't he changed? Why has he effectively blamed a drop in "off-field standards" for the poor performance in Japan? I was there for the duration and I didn't see anyone acting out of order – if anything, there were fewer high-jinks than would be expected by bored young men on a long tour.
Apart from defence, Townsend's approach to change is to double-down – both on the pitch and in the off-field discipline, which was thought by many to be a little over-strict to start with.
But results are catching up with the coach. Clearly a defeat in Rome next week – a tricky task, although the Scots have won their last seven against Italy – will make his position untenable.
I'd go further, however. A win in Italy is not enough. Two wins in this Six Nations remains the absolute minimum target. If Townsend can't get them, it's time for a new voice, and a re-think.
What has Finn really done for Scotland?
I love Finn Russell in a Scotland shirt and the edge he gives the team. If given a choice, I'd rather take some chances playing freelance than Townsend's conservative and unsuccessful gameplan.
But an important question for those who support Finn in this dispute is; what difference has he actually made?
A couple of months ago this column detailed Greig Laidlaw's career and all the games he'd saved Scotland with his goalkicking. Despite that, and his on-field leadership – and also, clearly, his influence on team-mates – Laidlaw had a 43% win rate as a Scotland player.
In his 49 tests, Finn is better – 28 wins, 20 losses and one draw. In the Six Nations, his record is less impressive: nine wins, 12 losses and that same draw.
In how many of those games was Finn the key difference? The two wins in 2017 at home to Ireland and Wales, maybe, but they were really Stuart Hogg's games, at least in my mind's eye.
Italy in Singapore and Australia in Sydney on the 2017 tour, Townsend's first games in charge, okay. Maybe the second game against Australia that same November, although the 50 point landslide was a more collective effort.
England at Murrayfield in 2018 of course, but it was the only decent game he played in that championship; he was hooked early in the wins over France and Italy, and the hooks were crucial, allowing Laidlaw to move to 10 to direct a less expansive path to victory.
There was Italy at Murrayfield last year – big deal – and Twickenham last March. But that was only the second half, and Scotland's didn't win.
I'll willingly agree that Townsend's tactical plan hasn't made the most of Finn. But he's had 49 tests.
If he was so super-talented, so much of a point of difference, so requiring of special treatment – which is what he's demanding – shouldn't he have been even slightly more successful?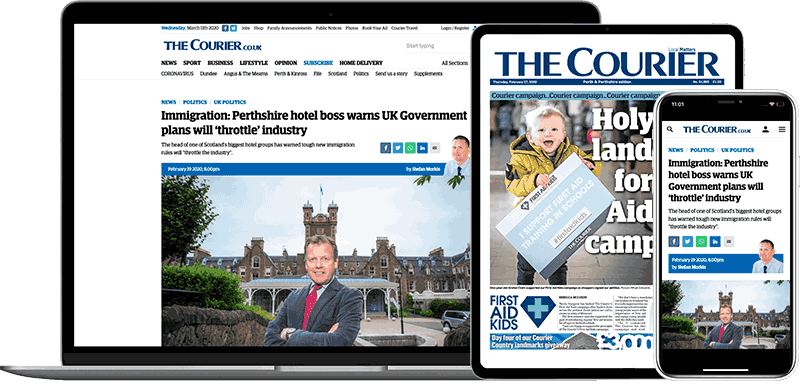 Help support quality local journalism … become a digital subscriber to The Courier
For as little as £5.99 a month you can access all of our content, including Premium articles.
Subscribe