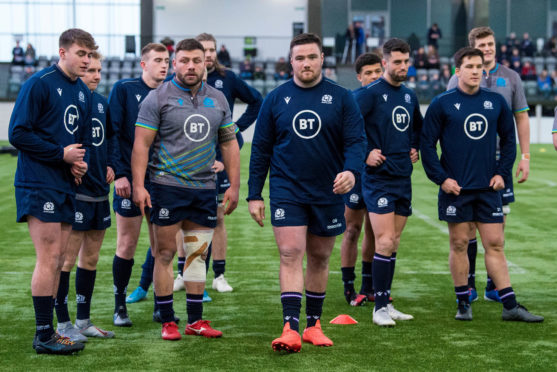 Zander Fagerson is becoming increasingly important for Scotland, and the evidence of that is that they've got him not one but two specialist scrum coaches this season.
The prop only turned 24 just last month, but he's now surely the No 1 choice at tighthead for Scotland, a key player for the long-term as scrummager, carrier and defender and increasingly a figure coaches are coming to lean heavily on.
Hence he's played so much rugby for Glasgow Warriors this season – partly because of injuries to others but also because his engine means he can go for the full 80 if required, a real rarity in modern rugby for a front row forward.
Still, there was probably no more grateful person in Scotland that the Warriors signed two back-up tight-heads last week and secured another for next season, taking some of the load off the Kirriemuir man as he becomes a fixture for the national side.
"I feel like I'm rugby fit, I have those minutes to back that up so if called upon, I feel like I can do it if I have to, but that's up to the coach," he said. "When I am reduced to walking that is usually when I am about to get hooked!
"I'd like to just play first, that's the key thing. It's a vote of confidence, I guess, to get the starts but I don't think it's my jersey now, not at all.
"WP (Nel) is a great player, and he played 80 down in Wales fairly recently. Simon Berghan is great as well, and you can't rest on your laurels. You've got to come into camp every week fighting for that position.
"What's really good is that depending who plays, everyone is supporting each other and helping to make each other better."
Zander's always been a willing ball-carrier and one of the better front-row defenders, and now the work at the setpiece is being honed both at Glasgow and with Scotland, through the appointment of Petrus du Plessis as scrum coach at Scotstoun and Pieter de Villiers joining Scotland for this Six Nations.
"Both Petrus and Pieter have been massive for me. Since Petrus came in I've just constantly picked his brains about stuff. He's been one of the best in the Premiership year in and year out so having him at Glasgow just to tap his brains and drive our set piece has been awesome.
"But Pieter has been a breath of fresh air as well coming in. He's similar to Petrus, lots of endurance stuff and core stuff, and that is not just with the front row but the pack as a whole.
"Petrus follows me around the gym to make sure my posture is always good! It's full on all the time but it's good, and it's great to have that key focus throughout training."
At 126 kgs, Fagerson has actually dropped a little in weight to be better about the park.
"I've always loved carrying, well, at (Strathallan) school I used to love tackling, but I changed my mind, getting my hands on the ball is the key.
"I dropped a few kilos to help with mobility so I can get around the park and offer myself as a carrier more."
Although two seven-point defeats have Scotland under pressure going to the Rome next week, Fagerson feels that the new energy in the squad is going to pay dividends very shortly.
"I feel like we've parked Japan noiw – we didn't play how we wanted to play, we didn't give a great account of ourselves. What I personally wanted to do was get back to my club and get back to enjoying my rugby.
"Coming into camp, there's a lot of younger guys and for me, it's a bit like a Under-20s reunion – got Jamie (Ritchie), Alex (Craig) coming in, Blair (Kinghorn), Darcy, Rory (Hutchinson), Hasto (Adam Hastings).
"It's been a really positive camp, I've been loving it and everyone's got a smile on their face and training hard. We have new coaches and they've all brought something different. Players have bought in and as a collective, there's a really good buzz around the squad.
"There's no cliques, everyone gets on well, so it's good and I'm enjoying it."
The squad players held out of Edinburgh and Glasgow's weekend games had a public training session at the indoor all-weather pitch at Oriam yesterday with Darcy Graham – who missed the first two matches of the championship with a knee injury – returning to action.
A decision on whether other players like Sam Skinner and Matt Fagerson – who also have been out with injury – are called up will be made after the round of weekend club games.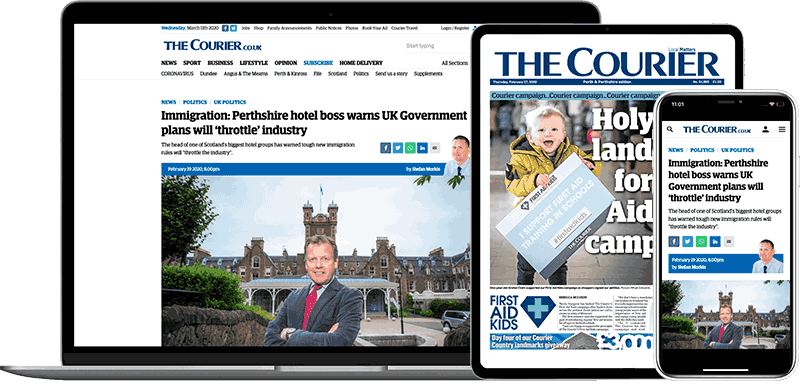 Help support quality local journalism … become a digital subscriber to The Courier
For as little as £5.99 a month you can access all of our content, including Premium articles.
Subscribe