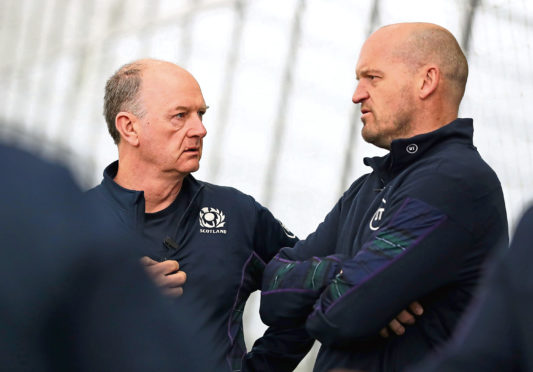 Gregor Townsend is a details man. There's always been something of an enigma about the Scotland head coach, but his meticulous nature has never been in doubt.
When Gregor was Scotland's stand-off, it seemed like Jim Telfer and Ian McGeechan were all that was needed, with the ageless Dr James Robson to piece the players back together.
Creamy and Geech were a "bad cop, good cop" arrangement and they took every part of every session. There was no frippery, no gimmicks, just a few tackle bags and a scrum machine.
These days things are very different. Scotland's warm-up is a carefully controlled military operation, conducted to the sound of loud techno music to establish a rhythm, one supposes.
I'd assumed that this was a Finn Russell thing – he actually loves that Euro stuff – but, no, I was informed by a staff member, it's Gregor's idea.
It's details, even down to the Saltire flag the Scots have taken to planting in the in-goal area on Friday captain's runs and pre-match warm-ups on foreign territory, presumably as added inspiration. And overseeing all this is a vertitable army of suppport staff.
Dr James is still there, still at the top of his game, always a reassuring figure for a friendly chat. But it's hard to keep a tab on the others.
Just this week one of the snappers temporarily seconded to the rugby beat showed me a picture of Gregor sharing a joke with a member of support staff in full training kit and radio earpiece, asking who it was.
Even as a full-time reporter covering the squad for these last six or seven weeks, I hadn't got a clue.
You'd think this flies in the face of Townsend's reputation as a hands-on, full-order control freak.
But there's actually no doubt who is at the head of the operation, directing everyone. There may be a word in the ear now and then, but there's no question who pushes the buttons, and Gregor's reputation as a coach who brooks little debate to his method is well deserved.
Only perhaps this has been turning. Townsend's meticulous plan to prepare the Scotland team for the World Cup was, it has to be said, an utter failure.
It delivered a team out of sorts and the result was a chastening, crushing defeat to Ireland in what was the most important game of Gregor's tenure as national head coach.
He had to do some thinking after that. Initially, it didn't seem he'd learned many lessons, quoting "off-field standards" as one of the factors behind Scotland's poor performance. There's something of this is the narrative of Finn Russell's absence, you can't help but feel.
But perhaps what Gregor learned, if the limited evidence of the four games of this Six Nations is any indication, is a willingness to delegate a little more.
New assistants Steve Tandy (defence) and Pieter de Villiers(scrum) have been enormously effective in their influence on the squad. This has allowed the Scots, undeniably, to establish a "base camp" or foundation to build from.
Against France, there were small signs that the Scots were breaking out from base camp; two excellent tries from largely open play. But still, like in the first three games, many more chances were missed.
Which makes me think Gregor shouldn't be done with his new emphasis on delegating. Tandy and de Villiers need long-term deals and the next assistant he hires should be an attack coach.
Yes, attack is Gregor's baby. He won't like delegating here, but a fresh voice – or even an advanced role for Mike Blair – could well spark Scotland to a properly rounded game in defence and attack.
Gregor is still the grand controller, with the details he loves and with the buck (and the credit) stopping at him.
Delegating has worked decently so far. So let's see more of it.
We can't lose the social game
I detailed my concern about the withering of rugby played for fun last week, and just after the column went to press I got an email that summed it all up.
It was from Gordon Mackersie, an old friend of my late father at Harris Academy FP. He reminded me of the tale from 1978 when the Dundee University club invited Nanterre University from Paris to play prior to the Five Nations game at Murrayfield that year, but then couldn't raise a team.
Harris stepped in, played the game, and hosted the French students to a pie and a pint – okay it was more than one – at Mennie's as after-match hospitality.
Obviously the charms of the 80/- at the legendary Perth Road hostelry proved irresistible. Ever since the guys from Harris and the Nanterre veterans have been hosting each other, and last week – now reduced in number by time – they gathered at Mennie's again.
This week many Scottish rugby clubs will visit Welsh clubs in the same reciprocal, social spirit of the game. It used to be scores, but modern life – there are fewer mining village teams in Wales because there are no pits anymore – has cut into this great tradition.
We've lost something precious if we allow this special kind of camaraderie to wither away. Club rugby is not just for bringing up elite talent, it is for all that's good in our great sport.