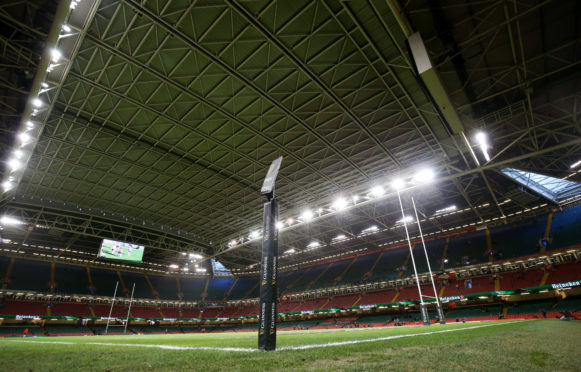 Scotland's Guinness Six Nations game against Wales was finally postponed after the Welsh Rugby Union bowed to the inevitable as one sporting event after another fell to the coronavirus threat.
Just as Scotland's pre-match captain's run at the Principality Stadium in Cardiff was due to start at 2pm an WRU official confirmed that the game would be postponed, just a matter of hours after they had assured fans that it would go ahead and only 24 hours before the scheduled kick-off.
That earlier statement referred to consultations with the Welsh health minister and other "medical experts" which had approved the game taking place tomorrow.
However as one major sporting event after another was cancelled or delayed a result of the coronavirus spread, the Welsh authorities switched position as it became clear it would be the only major sporting event going ahead in the entire world at the weekend.
With football in England and Scotland both closing down, Scottish Rugby announcing a immediate cancellation of all games and the prestigious Masters Tournament joining the rest of golf by announcing a postponement, the WRU had little choice but to fall into line.
"The WRU has maintained an open dialogue with, and continued to seek advice from, the National Assembly for Wales and other stakeholders, including the Six Nations, on this fast-moving issue," read an WRU statement.
"Whilst medical advice remains consistent, we have decided it is the best interests of supporters, players and staff to fall into line with recent measures taken across the UK and global sports industries.
"Given the fluid and unprecedented nature of this issue, a postponement became the only viable option.
"Every effort has been made to stage this game, and we appreciate that individuals will have been inconvenienced."
A Scottish Rugby spokesman added: "Scottish Rugby has acknowledged the decision of the WRU to postpone tomorrow's match in Cardiff.
"While it is disappointing the fixture could not go ahead there are clearly wider public safety issues unfolding at this unprecedented time.  We support the WRU in the difficult decision they have had to make and will continue to have a strong relationship with them going forward.
"All the Scotland players and management team would like the pass on their thanks to the Scotland fans who were aiming to attend the match and share their disappointment this game now will not be played."
Captain Stuart Hogg released a video statement on social media expressing his disappointment and thanking Scotland's fans for their support throughout the Six Nations and in travelling to Wales.
Scotland's squad returned home by charter flight last night.
The game is likely to be moved until October, when it's believed the three other Six Nations games postponed earlier in the tournament, Italy vs England, Ireland vs Italy and France vs Ireland, will be played.