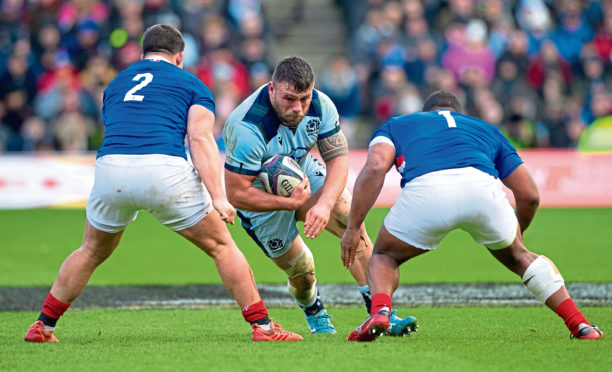 Now we're in effective hibernation – or house arrest, whatever way you look at it – and the dust has settled on a unsatisfactorily unfinished Six Nations, it's time for a proper audit of Scotland.
I think we've addressed the situation of Gregor Townsend already. The head coach is in a strong position – much stronger than he was in in January, and stronger still if tests against South Africa and New Zealand are not, as seems inevitable, played as scheduled this summer.
He has to pick a new forwards coach to replace Danny Wilson. But he found a defence coach and a scrum coach who added real value to the backroom team.
Two wins and two defeats, with one left unplayed, doesn't mean we can be definitive in our judgement of the direction of the team and personnel. But here's a stab at the main positives and negatives.
Positives: Rory Sutherland
It's safe to say that when the Edinburgh loose head prop's name was called at the pre-championship squad announcement, there was a communal raising of eyebrow among the scribes.
It was a legitimate question, after a two-year injury nightmare, whether the Hawick man might actually be done. He couldn't find a place in the Edinburgh team with Pierre Schoeman such a dynamic force in the 1 shirt.
Scotland had a gap at loosehead, but this smacked of desperation. Townsend's enthusiasm about Sutherland when I directly questioned him about the selection seemed odd.
But kudos to Gregor, he got this one right. Sutherland was a revelation from the off, and a prime reason why Scotland's scrummage was rock solid.
He outduelled Tadhg Furlong and Kyle Sinckler, forced the Italians to sub their tight head by half-time, and France's Mohamed Hauoas got so frustrated he lashed out and got sent off.
Now Rory's being quoted for the Lions. There's a way to go yet, but to his massive credit, he's solved a problem position.
Jamie Ritchie
Really this should be Ritchie and Hamish Watson, which allowing for injury will be Scotland's flanker duo for the next five years.
But the growth of the St Andrian into an international class player in 2019 was hugely impressive, and in 2020 he's moved on into leadership as well.
And Jamie's still just 23. One way you know he's doing well came when he got in the way of Hauoas' punch in the France game, and the churlish reaction of rival fans – especially, curiously, the Irish – on Twitter.
If he's annoying the Irish and other opposition fans, then he's definitely headed in the right direction.
Blair Kinghorn
This might seem odd to some. Big Blair didn't score a try while replacing Darcy Graham on the wing, and many think the wee flier's absence blunted Scotland's attacking potential.
And yes, Kinghorn's attacking attributes need to come out a little more like they do for Edinburgh, where his pace and power work well in the open spaces at full-back.
But Kinghorn – again only 23 – matured in his championship. His defence was a key feature in Scotland's massive improvement in that area, and the occasional brainstorms – think of Josh Adams' try for Wales in 2019 – have been eradicated.
It's not a given that Darcy comes straight back in when they are both fit.
Honourable mention positives
Zander Fagerson probably edged Kinghorn as most maturing player, but we suspected that would happen. He'll be a fixture on the tight-head, for some the most important position on the field, for years to come. And he's just 24.
Scott Cummings continues to develop and has now played in 12 successive tests since his debut. He's not quite the finished article yet, but we're getting there.
Chris Harris. I'm not going to admit I'm wholly wrong about this just yet, but he does his job and does it diligently.
Stuart Hogg. If you don't mind, given the lack of current action, I'm saving a deeper analysis of the Scotland captain for a future column.
Negatives: Stand off
Adam Hastings came out roundly positive, but not overwhelmingly so. I'd like to see Finn Russell run this gameplan – whether he has it in him to do so. But the situation that developed was wholly regrettable, disruptive and unnecessary, from all corners.
Lineout
Scotland won just 75 per cent of their own lineout throws in the championship, losing 14, and stole just five in the four games.
This is first on the "to do" list of the new forwards coach. It's been an issue since Dan McFarland left and, minus Richie Gray, it's been the same people throwing, catching and lifting.
And the biggest negative of all?
There will be no rugby now, in all likelihood, until September at the earliest.