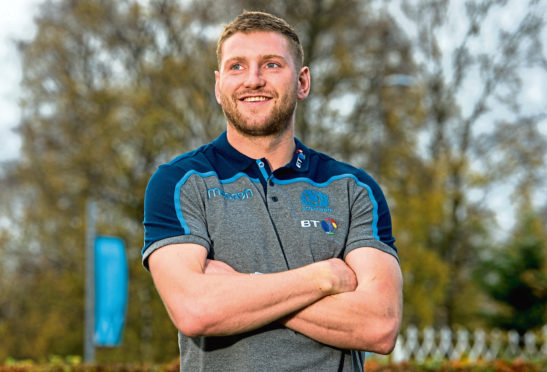 Finn Russell has "no regrets at all" about his actions over missing the Six Nations but believes he and head coach Gregor Townsend are poised to move forward together in future and a return to Scotland duty is likely.
The star stand-off, who left the Scotland camp before the first game against Ireland and didn't return, believes that discussions with Townsend already and in the future – in person or by phone call or video call if need be – are going to make a way forward.
"For me, I want to fix things," he said in a video call interview from his home in France with former Scotland lock Jim Hamilton, published on the RugbyPass website. "We'll work it out over the next few weeks and months.
"The plan to is to catch up with Gregor, if that's not in person because of the current situation then it'll be by phone or facetime or Skype, and try to progress things," he said.
"We've spoken a lot about the summer tour, how we can work on things for then and come back together for that."
He believed that the dispute could lead for a better relationship with Townsend, for the benefit of them both and the Scotland team in future.
"The way it all came out is the way it is," he said. "I think now we have a better understanding of each other.
"We've spoken a few times during the Six Nations and I think he sort of understands where I'm coming from. It'll take a lot of discussions and catch-ups to fix things, but in the long run I think it'll be good for the both of us as well. We can have a better relationship and we can work (together) going forward."
Russell confirmed he made the first move in mending fences with the national coach, calling him in the fallow week between the Italian and French games.
He continued: "I called Gregor and just said `I don't know if I was going to come back again (for France) but can we just leave it for now, start again after the Six Nations and move forward from there'.
"There was a lot of talk around and I just thought it was better before the last two games to let the boys focus on those games without anyone going on about it.
"We've talked a few times since then, and I gave them some advice about the French players ahead of that game, spoke about player traits, and a few things about what they do, what they do when they're comfortable and what they do when they're on the back foot."
Russell still does not regret his stance nor the newspaper article in the aftermath of the Calcutta Cup game, and believe she still has a good relationship with his team mates.
"The way it all came out, I kept quiet at the start but after a point I had to say my side," he said. "I was getting frustrated at what was coming out about me in the media, on social media. And I thought, this isn't the whole story, it needed me to stick up for myself.
"There's always two sides to every story and I needed to say mine. I don't regret it at all.
"I have a good relationship with Hoggy (captain Stuart Hogg) as well. I spoke to him and Ally (Price) after the England game, I said there's stuff coming out tomorrow that's my side.
"I texted him before and after the games. I think it'll be alright."
Russell is in lockdown due to the coronavirus pandemic with France's extended by at least another week, and he admits the aim of being involved in the summer tour to South Africa and New Zealand may be overtaken by events.
"I've not even thought about rugby much with all this going on," he said. "They've talked here about 45 days (break), then two weeks training and then back into games.
"I spoke to Greig (Laidlaw) and he'd heard about a top eight play-off. Our league goes on until the end of June.
"Gregor and I talked about the summer tour, and of course Scotland still have a Six Nations game to play. Who knows, I may hopefully play a part in the Six Nations this year after all."