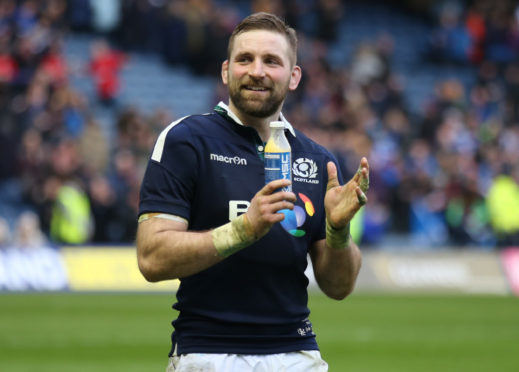 Former Scotland captain John Barclay has likely played his last game for Edinburgh if the rugby season can't be restarted, although head coach Richard Cockerill still wants to see a conclusion to the season.
The flanker, who retired from international rugby in December, has completed his two-year contract with the capital side and Cockerill wants more opportunities for his batch of young Scottish talent in the back row.
Barclay's fate is just one in the balance as rugby remains locked down in the coronavirus pandemic with the rest of sport, no clear plan in place to complete the 2019-20 domestic season, and very little certainty about the path ahead.
"John will not be with us next season, unless we play before 1 July I would assume that he has played his last game unfortunately," said Cockerill.
"When he has been fit and available, he has a lot of experience and he has played well for us, but we do have a fantastic stable of young Scottish back rowers who are coming through and the evolution of the squad is such that the back row is a very competitive position with lots of young players there.
"I think John has every intention of playing on, as far as I know."
In the meantime, Cockerill hopes that a satisfactory conclusion other than outright abandonment can be drawn to the 2019-20 season, but accepts that it'll whatever happens, it's not going to be ideal for all.
"We're hoping that in some way, shape or form we can have a conclusion to the season, because a lot of hard work has gone in from everybody," he said.
"Clearly the health of everybody is far more important and we'll go with the government guidelines around all of that, for obvious reasons. But if we can, if it means we're playing in July and August, or later on, and then we just roll into next season, then I think I'd be accepting of that.
"That's how the financial model of the game works, we can all get the thing up and running and we can all make it efficient again and we can all pay the bills. At some point the world's got to get back on its feet and start earning again."
Ending the Guinness PRO14 season with a play-off between the current conference leaders Leinster and Edinburgh would leave other clubs "feeling pretty aggrieved," he continued.
"Whatever the outcome getting a resolution to the season is not going to be ideal," he said. "Personally, it would probably be better to have quarters semis and finals with the top three from each conference.
"But we are all guessing when we will be allowed to have public gatherings or play behind closed doors or anything else. I'm sure there will be, if possible, the fittest and best way to get this up and running."
Edinburgh were already 95% complete with recruitment and retention of players before the lockdown started, but although all contract will be honoured, Cockerill feels a recalibration of the game is coming.
"Clearly it's shown that the game is fragile," he said. "It's not unique to rugby: if you don't have a product and you're not selling it, you don't make money – and for obvious reasons, that causes problems.
"I think it may well bring into sharp focus that the majority of rugby clubs spend more than they create, and that will maybe bring a levelling of the market place around the cost of players and what it costs to run the game.
"I was fortunate enough to have a proper job before I turned professional, but for the majority if not all players now they've joined the real world and are outside of that bubble.
"In the real world people have to make sacrifices, and either take less money or be made redundant. When this all starts again I can see that the financial models will be slightly different, salaries offered and demanded will be significantly less, I would have thought."
And club rugby may have to take a back seat to the international game, with the money-spinning national teams likely to form the basis of rugby's re-start, whenever it happens, he thinks.
"Inevitably the international game across all countries is going to take precedent over the club game because it is the thing that generates most money," continued Cockerill.
"In Scotland we are a small nation with two pro teams. If that means Scotland play four games through autumn and get revenue across the world from the Test arena, then all clubs would have to accept that because these are exceptional circumstances.
"The amount of players we'll lose (to the national team) won't make it ideal for us but for the world game and every Union it will create a profile and a product that TV companies want to broadcast and people want to come and see."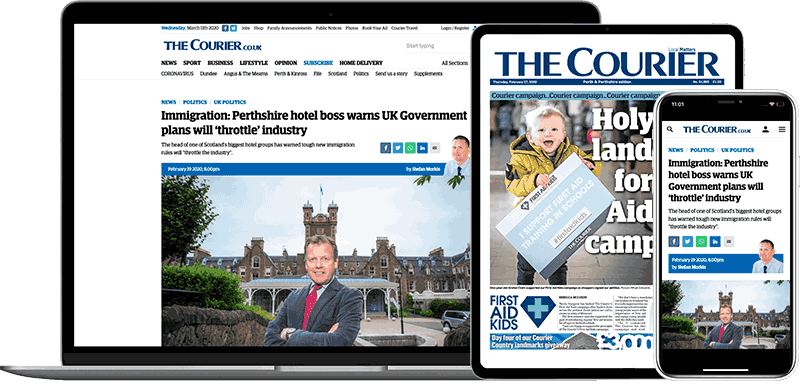 Help support quality local journalism … become a digital subscriber to The Courier
For as little as £5.99 a month you can access all of our content, including Premium articles.
Subscribe