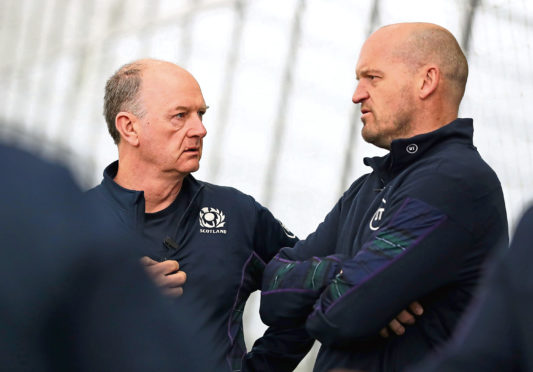 Closed doors games in any sport can't happen "until some semblance of normality returns to our NHS and private health providers" after the coronavirus pandemic believes Scottish Rugby's head of medicine Dr James Robson.
The former Dundee GP is perhaps elite sport's most experienced medic, having been at the front end of player care for Scotland, the British Lions and a go-to figure for authoritative advice in the entire world of sport since the late 1990s, but even he hasn't experienced anything like this pandemic before.
But while maintaining a "incredible amount of work" remotely with Scotland's players during lockdown he's concerned with the possibility that sport wants to come back too quickly.
"Taking matches behind closed doors just removes the logistical problem of having a crowd, it doesn't change the physical nature of sport," he said. "It changes some aspects but it doesn't fundamentally change the aspect of rugby or indeed any sport, and that is injury.
"And really, we can't contemplate going behind closed doors until we get some semblance of normality back to our NHS and private care providers."
From a rugby point of view, Dr Robson believes the lockdown means that effectively a "sort of pre-season" will have to be played to ensure players aren't endangered after their long lay-off.
"For example, if you've got a sports person who's had Covid-19, how does their return look (compared) to someone who's not had it?" he asked. "And remember there are certain sections of the population who are not even aware that they've had it. We're just beginning to get to grips with the possible post-viral complications.
"The bottom line is that you can't just rush players back. When we've had a break of any significant period you have to do it in a step-by-step fashion in the same way that you have a graduated return for people who've had concussion.
"When we get a handle on when we might start playing matches, we will need to instruct the players what they need to do to get ready.
"You would be taking around four weeks to be ready, perhaps five weeks but as the lockdown goes on, that may increase. A typical preseason evolves over six to eight weeks.
"Once we know a restart date then I'll be working with my strength and conditioning colleagues to come up with the appropriate coaching staff to come up with a plan to get players ready to play rugby. It's not simply something you can just switch off and then switch on again."
Dr James is aware of players within the Scotland player group that has contracted Covid-19, over and above those from the Scotland women's team who tested positive after visiting Northern Italy.
"I am aware of one or two of our players who have almost certainly had the illness, but currently we have a reasonable state of health and of course we are monitoring that very closely," he said.
"So far, the initial player from the female squad is the only person I am aware of who has ended up in hospital, which is a good place to be.
"There are two aspects to the illness in our population. I did say to the players when I was first telling them about the virus that they were relatively safe because they were younger, but they put such a toll on their immune systems with the amount of training that they have to do that that makes them slightly vulnerable.
"You always worry about somebody testing positive because we know that you can be seriously unwell at any age. That's the message we have to get out.
"While predominantly the diseases affecting very badly the number of deaths occurring in the aged population, we are seeing stories of young people and people in the frontline succumbing to this illness.
"I wouldn't like to elaborate (on identities). It should come as no surprise that you will come across people in all sports that have had the illness. But all our guys and girls at the moment appear to be well and healthy."
There is concern about their mental health in lockdown, however.
"We're well versed in listening and as we've come into the lockdown we've made sure we've communicated very quickly and got stuff for everyone to access," he continued.
"Sports people are perhaps as if not more vulnerable because their usual routine has been quite significantly curtailed and they're usually a gregarious bunch.
"Each of the team doctors for the pro teams, myself and from the other groups like U20s and women's team are all accessible to the players should they wish to contact us.
"Nobody would fault you for seeking a human voice and care, because we're all stumbling. Not just the players but the staff, we're all struggling with the change in our regime."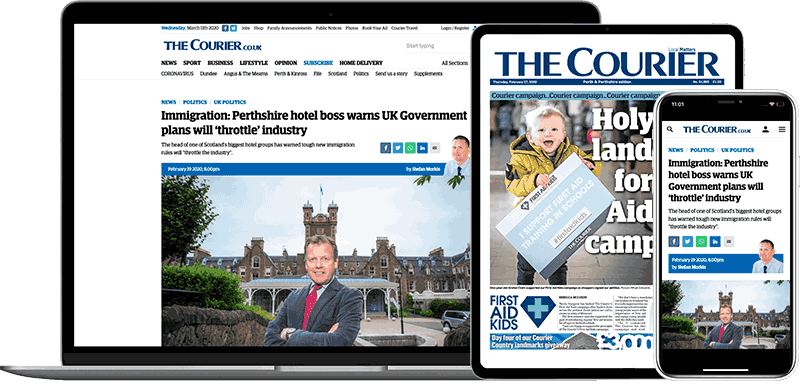 Support The Courier today.
The Courier is committed to delivering quality content to our communities and right now that's more important than ever — which is why our key content is free. However, you can support us and access premium content by subscribing to The Courier from just £5.99 a month. Because Local Matters.
Subscribe