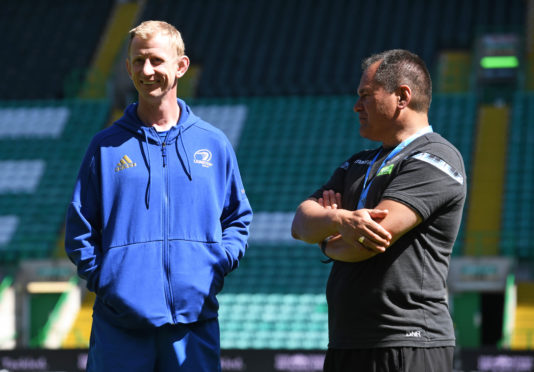 Unbeaten Leinster should just be given the Guinness PR014 title for 2019-20 with no prospect of rugby being played before the late summer, believes Glasgow Warriors' head coach Dave Rennie.
The New Zealander is set to leave the Warriors for the head coaching job in Australia at the end of June and doesn't think we'll see any rugby before his time with the club is up, but he's mostly concerned about the demands on player welfare if they try to finish off the season currently stonewalled by the coronavirus lockdown.
"It is difficult with time frames now with timeframes," he said. "We are not going to be playing rugby in June and there are players and members of the coaching staff who won't be there beyond that point.
"At the moment there are a lot of people dying in this part of the world, others have lost their jobs. The whole world is taking pay cuts. The importance of us getting back playing quickly does not really rank very highly because of those events.
"Whatever decisions is made it must have some integrity involved in the thinking because to try and push the finals back till August or something like that and playing them with whoever is left…I am not sure that would do the league justice.
"We have seen other sporting competitions just awarding it to the team that is leading. You can't argue about Leinster, unbeaten all year, miles in front of the competition. It is hard not just to award them the competition, isn't it?"
The Irish province have won every one of their matches in 13 matches in the PRO14 this year, nine of them with try bonus points, to stand 14 points ahead of the other conference leaders Edinburgh. Leo Cullen's team have won all six of their Heineken Champions Cup matches as well.
But Rennie is also worried about the demands on players if they try to shoehorn the tail-end of the postponed campaign into next season, even if that starts on schedule.
"I would be an exciting thing that the boys would in play-off mode and with a chance of winning a title, but I think all these decisions have got to be made around player welfare and what's best for the state of the country," he continued.
"At the moment players are in limbo a bit, they're still training hard at home in the hope that maybe we'll come back and play some footy.
"I just worry about the effect that will have if we eventually we get a date and they come back and they try and finish this season and then go straight into next season.
"Obviously there's some financial issues and they have to look at ways to make some money, but you want to make sure that they're not trying to flog the players and you end up with a 13 or 14 month season. From a player-welfare point of view that wouldn't be ideal."
Glasgow are staying in contact with players in lockdown and the squad are staying positive he continued.
"We are calling them all every week and the boys have done a really good job of keeping connected. They are all in small groups as well and we have quizzes every Thursday.
"There's lots of stuff happening over Zoom and WhatsApp and various things. It is different because they are used to having routines and they are trying to make the most of the situation, enjoying the opportunity to get out and train once a day and maximise time with family.
"A couple of the Fijian boys, Mesu (Dolokoto) and Leone (Nakarawa), pretty much got the last plane out of Scotland when it was clear that things were shutting down and we weren't going to come back in a hurry.
"Their partners and kids are back in Fiji, so instead of being locked in isolation on their own for months here we thought it important to get them home. We are still in touch with those guys week to week."