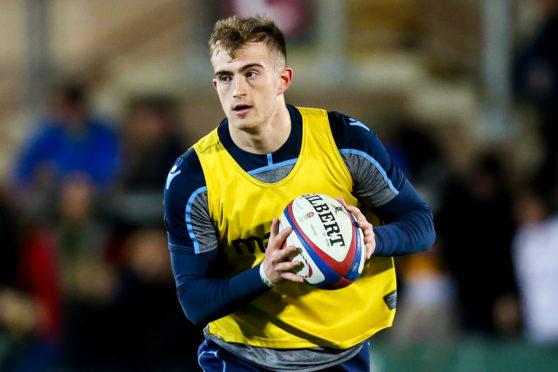 Richard Cockerill relishes finding "the balance" as Edinburgh head coach as they club unveiled the latest academy intake including Scotland's star Under-20 stand-off Nathan Chamberlain.
The 20-year-old, who scored a hat-trick of tries and 32 points in Scotland's last representative match before the coronavirus shut-down against Wales Under-20 at Colwyn Bay, is one of three signings with back rower Ben Muncaster and prop Dan Gamble on FOSROC Stage 3 Academy contracts, which will become full pro contract after a year.
The head coach knows a primary part of his job is bringing on young Scottish talent to be potential international players, but at the same time he has to put a winning team on the field.
"It's getting the balance, isn't it, getting the Scottish lads coming through and making sure we're competitive when the Scottish players are away with the national team," he said.
"We've got a good system that is producing players and it's just about getting the best ones in the system as soon as possible and giving them the opportunity to develop, and also give them the best chance to be good enough to play at the level of the pro teams and for the national side.
"We've got six players that are all young Scottish players who we're developing and hopefully they'll come through and do some really good things, as are lots of other guys that have come through in the last two or three years."
At the same time, he won't "pick Scotsmen simply because they are Scotsmen".
"We'll have 75 per cent Scottish qualified players in the squad next year and we'll bring Scottish players through as much and as best we can, but we have to try and win and develop at the same time, which is a real key part for me," he said.
"They have to be good enough. We have to make sure our environment has quality and is robust and we're producing the right quality across the board for Edinburgh winning games, learning how to win, and developing decent players who can go on and play for Scotland.
"Our record in the last two years, and we had 15-16 guys in the squad for the 6 Nations – I think we're pretty robust in producing guys. The evidence is there for everyone to see."
Chamberlain was at the Bristol Bears Academy but Edinburgh were talking to him even before his outstanding performances for Scotland Under-20s this spring.
"He was keen to come up and join us and I was keen to give him the opportunity to develop a succession plan moving forward for that position and other positions in the squad," continued the coach.
"His stage three contract will turn into a pro contract. We're not just looking at one year, but looking to develop a player who will push to be part of our team and move up.
"I was very pleased that every time he played for Scotland at Under-20 he got better and better in every game. (Wales) was a great performance, a good win for the team on that night and his contribution was fundamental. I watched him at Gala against France and watching with interest for a while."
Muncaster, who attended Rugby School, was in the Leicester Tigers Academy while Gamble, from Kelso, is a young tight-head who has already been training against Pierre Schoeman and Rory Sutherland.
Sam Grahamslaw, the young loosehead, Scotland Under-20 captain Connor Boyle and fellow back-rower Rory Darge will also be on Stage 3 contracts for next season.
Cockerill said there was never any contact with Sean Maitland, who has opted to stay at Saracens having been rumoured to be coming back to Scotland, and instead the club will also bring in three more Scots, two from the Super6 competition left incomplete due to the coronavirus and "an experienced Scottish lock".
"The Super6 to this point has done a really good job in less than ideal circumstances. It had a really positive start, there's some good things happening there and something that we can as a union and a country we can build on and make it better and better," he said.
Cockerill was pleased to hear the news this week that the PRO14 are examining ways to finish the season rather than award the title to unbeaten Leinster, as Glasgow counterpart Dave Rennie suggested.
"That's Dave's personal view," he said. "Leinster are a great side, they've had a fantastic season to this point, but the beauty of sport is that on any given day good things happen – that's the romantic side of sport.
"There is no reason why an Edinburgh can't beat them, or an Ulster or a Munster or a Glasgow. I have no doubt that on any given day, any of those sides are capable of beating each other.
"For me, if we can get any resolution to the season – whatever that looks like – I would love that to happen. Some way shape or form around the play-offs, to give all those six teams who are in the play-off places, a chance to potentially go head to head and get a champion."