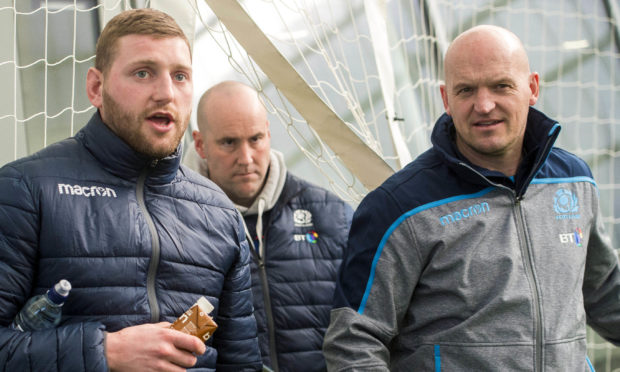 Scotland head coach Gregor Townsend is now in regular contact with Finn Russell and admits that the dispute that nearly derailed Scotland's start to 2020 was one "we could have handled better".
The coronavirus lockdown has meant that the coach and his premier stand-off have not been able to have the face-to-face, in-person talk they planned before the summer tour to South Africa and New Zealand, although the cancellation of those three tests set for July is now little more than a formality.
However there is a regular dialogue between the coach and his squad playmakers more than most, and it seems Russell is now fully back in the loop after his departure from camp on the eve of the Six Nations back in January.
"I would hope so," he said yesterday when asked about Russell's potential return. "I'm in more regular contact with the midfielders, the 10s and the centres, and Finn's very much part of that group.
"We've had a few conversations over this period.  We're all waiting to see what happens when rugby does resume, but I'm sure he'll be very much in our thoughts and let's hope he's keen to play."
As for what happened, Townsend's isn't sure what the most valuable lesson moving forward is.
"I'm not sure there's one clear thing that stands out from it," he said. "These things are ongoing processes, and relationships are ongoing.
"It's one incident we could have handled better but at the time the priority was we obviously we needed to get the team ready to play those games.
"We'll reflect back on what I could have done better as a coach and whether we could have handled things better as a group, so that when we come back into camp next time we have everyone available for us."
In the meantime, Townsend was encouraged with his debrief after the truncated Six Nations and believes Scotland now have what it takes to win the championship before long.
"We have to have that view," he stressed. "Not only that, I have seen the playing group we have and how they have got better and risen to the challenge.
"This year, we saw how close we came to winning all four of games. We only won two, but we had chances in the Ireland game and then the England game when it was 3-3 with about 15 min to go we believe there was a penalty to us that would have taken us to 6-3.
"This team can create those opportunities but it is important that we do better and we take them. Of course I believe we can win the Six Nations."
And he is looking forward to adding candidates for competition in the squad once rugby return, such as the three South African-born players who qualify through residency this year – wing Duhan van der Merwe, prop Oli Kebble and stand-off Jaco van der Walt.
"I have spoken with Duhan at various points this season and in the last couple of weeks," he continued. "He would have been in the mix for summer tour. That is unlikely to go ahead but we will keep watching how he plays for Edinburgh.
"He is an excellent player, and he has shown this season a different level of play as well. His work off the ball has been excellent and his defence has been up there as well.
"He is quick, he's strong, he makes a lot of line breaks and tackle breaks and he is a young player who will get better the more he plays.
"Duhan is available now, Oli is October and Jaco is the middle of November, and they are playing very well for their clubs.
"Oli has been a regular in the team at Glasgow and Jaco will be competing hard for a place at 10. They are three players who will add to our depth and could certainly play international rugby.
"We should have more players available whenever we play again. Jonny Gray will be back, Darcy Graham, so hopefully we will have more to select from, whether on their club form or what they did with us in the Six Nations."
Townsend is in favour of playing behind closed doors for any autumn tests if need be, pointing out that the players will want to play.
"The players' window of employment for what doing what they is much shorter than for us as coaches, so to give them an opportunity to get back to what they love doing in a safe environment is the right way," he said.
"If that means no supporters, and that's the guidance, that's the down side but we'd all want to get back to playing. There are innovative ways to create atmosphere even in those situations."
Never one to sit around, Townsend is spending his lockdown time connecting with as many coaches from as many sports as possible, having been involved in discussions with groups as diverse as Belgium soccer national coach Roberto Martinez, baseball's Toronto Blue Jays coaching staff, and even the Red Arrows air display team.
"It has been a unique opportunity for us to learn as coaches, almost every coach around the world is available to do a Zoom session or skype or whatever," he said.
"The session we had with the Belgium coaches was excellent – Roberto Martinez led that but he had others there as well so we got the wider learning than just head coach to head coach.
"Last night we were with Blue Jays and their staff – we had about 30 on that call, and the Red Arrows was probably the most interesting – just after they'd had the VE Day flypast.
"Their leader and another member of the crew talked about what they do in training, how they debrief training, and that was fascinating."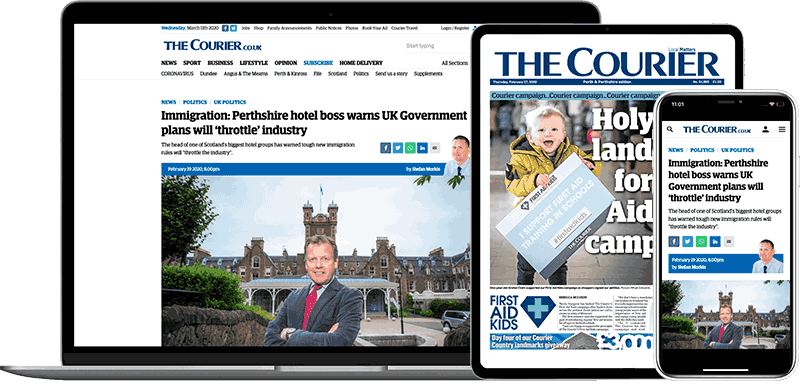 Help support quality local journalism … become a digital subscriber to The Courier
For as little as £5.99 a month you can access all of our content, including Premium articles.
Subscribe