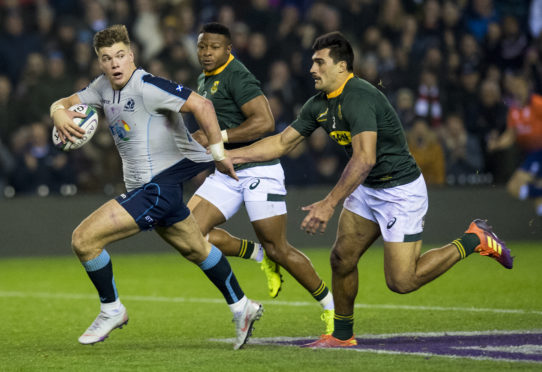 World Rugby has bowed to the inevitable and "postponed indefinitely" the entire July test window that included Scotland's tests against the world champion Springboks in South Africa and their first test in New Zealand for 20 years.
The international game's governing body was widely expected to take such a step in the light of the COVID-19 pandemic, with international travel now restricted and quarantine conditions varying from territory to territory.
A statement issued on Friday morning by World Rugby said the entire programme of internationals within the July window "has been postponed due to ongoing government and health agency COVID-19 directives"
"Travel and quarantine conditions in numerous countries, and concerns over adequate player preparation time, mean that any sort of cross-border international rugby competition cannot be hosted in July," it added.
"Monitoring of the potential impact on the remaining 2020 international windows continues in collaboration with international rugby stakeholders and the respective authorities.
"All parties, including member unions, international competitions, professional club competition and (players' association) International Rugby Players will be involved in the evaluation of potential contingency options with a view to achieving an aligned calendar for the reminader of the year."
That indicates that World Rugby still hope to play some July tests in the international window in November, although they go on to stress "all decision-making will be entirely contingent of national government travel, quarantine and health advice and important player welfare considerations."
There were a total of 16 test matches to played in July. Scotland were due to play two tests against the South Africa in Cape Town on July 4 and Durban on July 11 before facing the All Blacks in Dunedin on July 18.
Scotland head coach Gregor Townsend said: "It has been clear to our players, staff and supporters that the significant impact of COVID-19 across the world has meant international travel at this time was going to be very unlikely in the coming months and so it has proved.
"As a team we were generating some positive momentum in the Six Nations and we were all looking forward to the exciting challenge of playing the World Champions, and the All Blacks, on their home soil this summer.
"As a tour it would have provided an excellent learning experience, but we fully understand the reasons why it can't go ahead.
"We wish the players, staff and families of both South Africa and New Zealand well at this difficult time and look forward to testing ourselves against them in the future."
Wales' tour to New Zealand, Ireland's to Australia, France to Argentina and England to Japan are the other major test series affected.