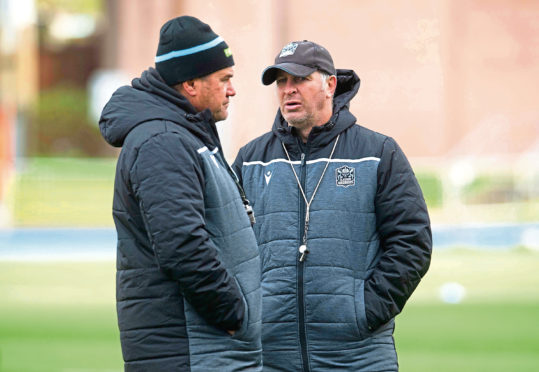 Rugby's great diaspora obviously comes from New Zealand. The place were the game is closest to a religion has spawned missionaries far and wide.
Only the results, it's fair to say, have been patchy. We're accustomed to seeing players who look other-wordly in All Black shirts look plain ordinary in other colours when they come north.
In coaching, for many years the most successful advocate of the New Zealand ethos wasn't even a Kiwi – Jim Telfer seemed bent on moulding every aspect of Scottish rugby to a New Zealand style stopping short only of adopting the haka.
Warren Gatland, of course, became the most successful Kiwi coach in the Northern Hemisphere, and then some. Joe Schmidt had some success with Ireland. But both were arch-pragmatists, and became synonymous with a very Northern Hemisphere style of game.
The stream of Kiwi coaches in Scotland has been a fraught business. Keith Robertson, Kiwi Searnacke and Tony Gilbert were all hired from successful tenures in their homeland and were all rank failures as head coaches of Scottish pro teams.
We tried Australians for a bit and that fared no better. Sean Lineen did pretty well with Glasgow and continues to do so with Scotland Under-20s, but Sean's as adopted a Scot as there can be.
The mould changed a little with Vern Cotter, his many years in France having attuned him to European rugby than most of his countrymen.
But Scotland became a decent team under his watch (at last!) and it was Vern who focused on Scottish strengths and traditions rather than trying to ape other countries' methods.
This week Dave Rennie, the latest Kiwi to come and coach in Scotland, departs Glasgow to be head coach of the Wallabies.
Has Dave been a success? There's been no more trophies at Scotstoun, just one more qualification for the knockout stages in Europe. At times they've played sublime rugby, but that's Glasgow for you – easy on the eye, hard on the heart.
He came with a massive reputation – two Super Rugby titles with the Chiefs, and some talk that he might even succeed Steve Hansen as head coach of the All Blacks.
He's largely retained that reputation – Australia is one of the four biggest coaching jobs in world rugby and they went after Dave almost immediately on parting with Michael Cheika.
So what, some will say, he couldn't win the PRO14. And yes, Rennie's biggest regret will be, as he's said previously, playing the best rugby in the comp for two months only to edge off for the final at Celtic Park and lose to Leinster by three points.
But for the most part I think Rennie has been a success as Glasgow coach. The team have remained among the top ten club teams in this hemisphere during his tenure, and if Saracens hadn't been in their way (almost constantly it seems) they'd have fared better in Europe.
Also, he's nurtured and vocally supported the talent placed under his care. The Fagerson brothers, Scott Cummings, Adam Hastings, George Horne, Sam Johnson and others have become Scotland regulars on his watch.
Also, I've never heard Dave once disparage his players in the way previous Kiwi coaches did. Now, they were at least part-way justified in their frustration at the lack of basic rugby skills a New Zealander thinks are passed down in mothers' milk, but if Dave ever thought such a thing, he never said it publicly.
Instead, everyone seemed to be a "good man" which was Dave-speak for "top bloke" (an aside: all of us are going to miss the recurring Rennie vernacular of "footie", "the paddock", "the comp", being "rapt" and all the rest).
Dave also embraced the culture of the club, and indeed of Scotland. He didn't try to lecture anyone with "we do it better", he assimilated himself.
I think he did a very good job. Glasgow are often the best team to watch in all of European rugby, and hopefully new head coach Danny Wilson will continue that legacy going forward.
And don't forget Jason
If there's an unsung hero in Scottish rugby over the past five years, for my money it's Jason O'Halloran, who is also leaving Glasgow to return to New Zealand next week.
O'Halloran was a Vern Cotter appointment, plucked from the New Zealand system –  where he was highly thought of – to be Scotland's attack coach after the 2015 Rugby World Cup. They'd already shown signs of life in that event but under Jason's guidance Scotland almost instantaneously became an attractive, attacking team.
Personnel had a lot to do with that, Finn Russell maturing (sort of) into a key man. But O'Halloran unquestionably was a huge factor until he, unfairly in my view, was sent to Glasgow when Gregor Townsend became Scotland head coach.
The Warriors already played open rugby, but they did it even more with Jason as Dave Rennie's lieutenant.
I thought he might have a shout for the Glasgow job, but it seems he wanted to go home for his family. He'll be very much missed.
John Jeffrey steps into chair at Scottish Rugby as Colin Grassie exits early