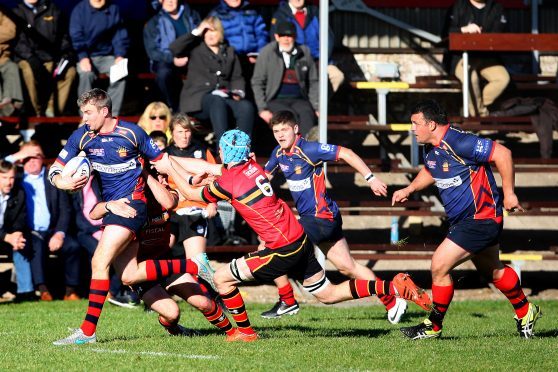 Fully competitive rugby between adults in Scotland's clubs won't be played until October even under best-case scenarios, Scottish Rugby believe.
The governing body's six-step route-map back to playing from the coronavirus lockdown was released yesterday, and director of domestic rugby Sheila Begbie conceded that it was likely that club leagues would not be played in their usual form during the 2020/21 season.
Murrayfield remains "open" to clubs' input on how club rugby competitions will look once play restarts, but it anticipates at least another three months before any kind of normal games can resume, and believes that regional competition may now be the most realistic option for the entirety of next season.
The first two steps in the routemap passed at the beginning of the week, with club facilities able to re-open for individual training, and small-group touch rugby is expected to be allowed in the next phase of the Scottish Government's routemap out of lockdown to be released next week.
However clubs will have to risk assess, appoint a Covid-19 safety co-ordinator and have hygiene stations at pitchside as part of the process.
Stage Four targeted at the start of August will allow larger group contact, gyms can re-open and some limited fixtures, with September seeing clubhouses permitted to re-open, full contact team training and some localised fixtures.
In October, competitive fixtures may resume but the success of the route-map back to play is dependent on the national situation and the progress of the government's staged exit from lockdown.
Sheila Begbie said that Murrayfield was minded to a restructured 2020-21 season along regional lines, but would treat suggestions from those clubs playing national leagues with "an open mind".
"I think what we're saying that clubs shouldn't expect a traditional season," she said. "We've asked with council members to work with the championship committee to decide what a season would look like, what kind of competition clubs they want, what their thoughts are.
"From our perspective we'd prefer something regional or localised because there will be local incidents of infection and transmissions, as the First Minister outlined this week.
"We've seen it happen already in the South West and in Leicester in England, and our concern is we start a National season and we have to shut down the whole game, when a regional model we can shut down specific regions but allow other parts of the country to keep playing."
Pro rugby is targeting a restart in competitive play on August 22 and contact training in two weeks, but the logistics were hugely different, she added.
"The rigours we've had to go through to start the pro game have been huge," she added. "The medical staffs and the testing regime around the pro teams is the big difference.
"We just don't have that capacity for the clubs. We know there's a big risk in our clubs going back too soon, and we want to ensure that all players will be safe.
"Parents will not want their kids to go anywhere near a rugby club unless it's a safe environment and it's the same for adults. We badly want to come back to playing, but it has to be driven by public health and it has to be safe."
Many clubs have already received emergency support from Murrayfield's Club Hardship Fund and remaining funds from that and more will be available to prevent any club that runs into trouble with no games likely until the autumn.
Clubs are permitted to open outdoor catering facilities as of this week, but most depend on matches for their week-to-week revenues.
"We understand the impatience, especially as it seems Ireland and England are two weeks ahead in coming out of lockdown, but we are driven entirely by Scottish Government and their health advice," added Begbie.
"There will be more support for clubs that get into difficulty. We want nothing more than games being played, clubhouses and bars being full, but it has to be done safely."