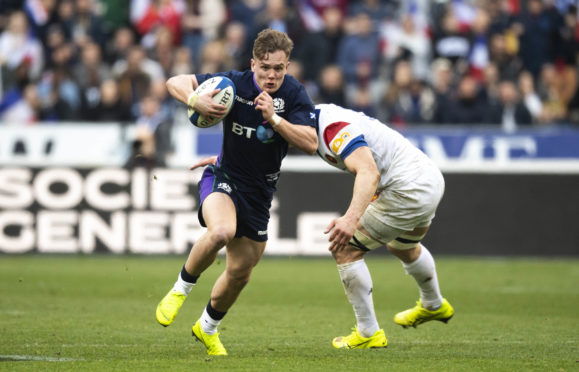 Jim Mallinder is a serious sort of guy, so one wondered where Murrayfield's Director of Rugby was headed when he was speaking to the rugby press the other week.
Jim invoked Scottish Rugby's perpetual crowd-pleaser, the Third Team. This is our El Dorado, a mythical golden palace where all Scottish rugby's wrongs will be righted and competitiveness on a European and worldwide stage will be enshrined and ensured forever.
Well, the last time we tried a third team it was less like the golden city lost in the Amazon and more like the BBC's El Dorado soap opera made for pennies on a flimsy set that floundered in derision after a few months and was cancelled.
Still, however, we are drawn to the myth that a third team is feasible financially (it's not, especially right now) but also even desirable.
The logic is decent. Spreading the player base over three teams instead of two would breach positional log-jams that currently exist.
As one example, perhaps George Turner, the athletic, powerful and pacy Glasgow hooker, would have emerged far quicker had his way not be barred by others.
The idea is that Gregor Townsend will eventually end up with more options that have been properly hardened at professional rugby's coalface, and the national team will benefit as a result.
Yes, we probably need to get more of our fringe players operating regularly at a higher standard. But past evidence suggests that a third team is not the way to do this.
We saw it all when the Borders team existed from 2002 to 2007, if you're willing to look at it dispassionately, which few are: Borderers still look on the failure of that team as yet another Murrayfield betrayal, while fans in Caledonia look at it as an opportunity that was wholly missed, placing the team in an area that was largely hostile to pro rugby at the time.
What happened with the Borders should be a salutory lesson to all, as it proved that Scotland's player base is insufficient to sustain three pro teams at the highest level. The Borders were rarely competitive themselves, and they dragged down the other two teams at the same time.
When the team was wound up, Edinburgh and Glasgow immediately became far better – not suprisingly, as Edinburgh got the likes of Ross Ford while Glasgow got Kelly Brown. The base from which both teams have become relatively successful was established.
I don't see that even today we have another 40 players of sufficient quality to make up an entirely new third team that's going to be anything other than "developmental" and therefore cannon fodder in the PRO14.
Yes, there are still positional log-jams, but really only about three or four – we're still bringing in non-Scottish qualified recruits and filler to ensure that we have two consistently competitive teams,
Are we seeing Scots players vanishing down south because of the lack of opportunities back home? Not in the slightest.
There is an element of chicken and egg about this, in that how can you create a bigger player base without expanding the opportunity for it to develop in the first place?
There's a point there, but the fact remains it takes years – decades maybe – to build a player base and Scottish rugby's player stream has barely wavered in the last 20 years.
Rob Moffat, one of our game's best thinkers and innovative coaches, was interviewed by Jamie Lyall on the Rugby Pass website bemoaning the lack of opportunity for developing talent. However his example, curiously, was Darcy Graham.
The story of Graham's career – thus far – seems to always been narrated as his battling to overcome perceptions about his size; brave wee Darcy fighting against the doubters.
Only nothing seems to have got in his way at all. I've met no-one involved in his rise – from schools through age group to academy to pro team to Scotland cap – who thought he was anything but a highly talented individual who has been given all the chances he needed.
He's seized those chances, of course, but the idea that Darcy – and Rufus McLean, a similarly sized wing from the Borders who has signed with Glasgow – has had anything but a seamless progression to the top level is nonsense.
The point is that while Scotland's development of native players seems inadequate – half the Six Nations squad and RWC squad learned the game somewhere else – but this is normal, and actually we've done pretty well in bringing guys through in the last decade.
Historically, the best Scottish teams have been littered with exiles or residency discoveries – all the Grand Slam teams were. We've never had a native player base to match the other major nations, and seriously, we never will.
We certainly won't create one by wasting money and player resources on a third team, unless we're willing to actually reduce standards for years.
The best option for Jim Mallinder, as I see it, is a share in a club elsewhere – maybe a resurrection of the deal with London Scottish that worked decently for some of our players.