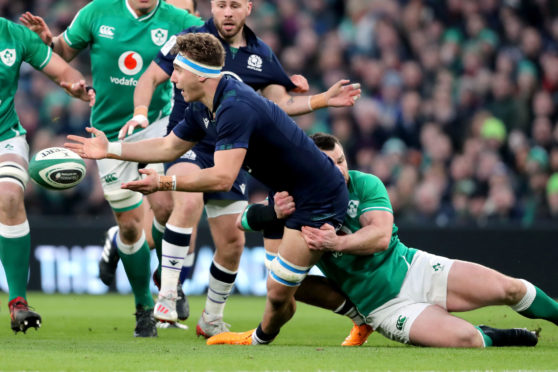 Jamie Ritchie is "humbled" by being mentioned as a future British and Irish Lion by the likes of Sir Ian McGeechan, but his focus is on simply getting in the Edinburgh team in two weeks and not on glamour tours next summer to South Africa.
The former Madras and Strathallan School player, still only 23, was coming into his own after being arguably Scotland's best player in the World Cup, enjoying a fine Six Nations and being part of a hugely improving Edinburgh team when it all came to a halt with the coronavirus.
Still, his stock has risen so much that Sir Ian, three times a Lions head coach, said that the combative back rower would be in his squad for the next Lions tour.
"It's extremely humbling to be included in those conversations, especially from guys like Sir Ian," he said. "But a lot of people can get caught up looking too far ahead. It's a bit of a cliche, but you're only as good as your last game.
"I'm just concentrating on trying to get back into form after this break. If the call comes, the call comes, but I certainly won't be holding my breath.
"It would be a huge honour. It's something I've dreamt about since I was a kid, don't get me wrong, but I need to put myself in that position and there's a lot of rugby between now and then.
"Hopefully I'll be in with a shout, but I just need to keep playing well."
There was slight frustration at the abrupt end to last season when things were going so well, but the father-of-two moved seamlessly to childcare duties – partner Millie was working full-time from home – and he didn't have enough time to dwell on things during the lockdown period, he admitted.
"It was most frustrating in Wales (before the final Six Nations game was called off), I think we were all fairly confident that a win was going to happen.
"We thought we were going to be the only sports fixture in the world at one point! But, unfortunately, it fell by the wayside, as did everything else.
"With Edinburgh as well, we were top of the conference and flying pretty high, and it seemed typical that when we reached that stage, something like this would have to happen.
"Personally, I'm not too worried about the long time off. I'm pretty sure that I'll hopefully be able to get back into some kind of form off the back of having this time off. It's just a case of making sure I prepare properly.
'With these two Glasgow games, I'm not expecting to be firing right from the off. It sometimes takes a couple of games to really get into it."
The time off has been welcome, and Ritchie believes that it might even have elongated a few careers.
"This period of time will have been the longest a lot of us will have had off – the older guys might even get a few years more playing out it. I've been at Edinburgh six years now and it's certainly the most time I've had.
"Everyone came back pretty fresh. This period is about trying to build up as much robustness as we can because, when the new season starts, we're probably going to be at it for a wee while without a break.
"I think you'll see some rotation with Edinburgh and I imagine in the international games as well, with so many in such a short space."
Lockdown did give him time to think a little about how quickly he's progressed in the last 18 months.
"It's been a whirlwind, I can't believe how it's gone so quickly," he admitted. "There's been so many highs and lows on and off the pitch.
"Lockdown did let me take stock of a lot of things I probably took for granted, and now I'm extremely grateful for them. Especially having the family time we've had.
"I finally watched back the Japan game (at the World Cup) at last. "That was a wee bit frustrating, given all that it meant, but it was great to watch in the sense of it reminded me of the atmosphere on the night."
Ritchie, as a member of the national squad leadership group, was consulted by head coach Gregor Townsend over the move to make John Dalziel the new national forward's coach and it has his fully approval.
"I think he'll do well, I said to Gregor I thought it was a great idea," he said.  "I worked with JD previously in a couple of my years with the Under-20s, around 2015 and 2016.
"He's a good coach, innovative, he's passionate, and he knows his stuff. I'm looking forward to seeing what he's got to offer again."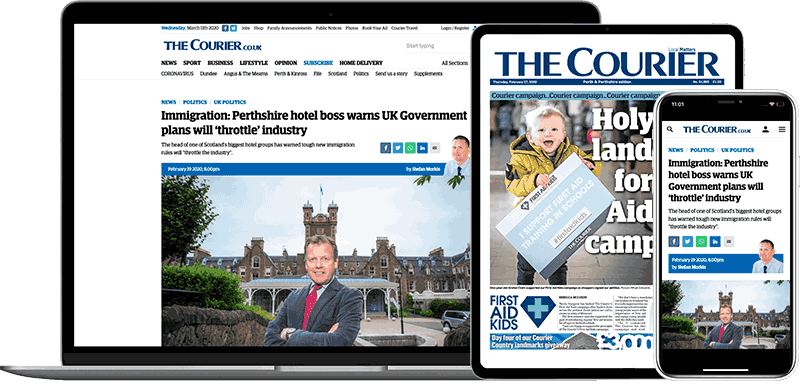 Help support quality local journalism … become a digital subscriber to The Courier
For as little as £5.99 a month you can access all of our content, including Premium articles.
Subscribe