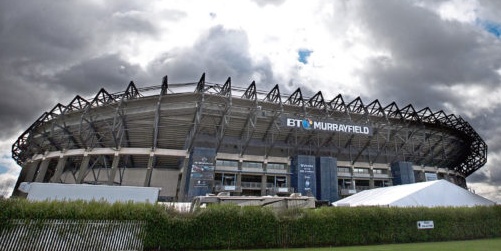 For someone who has seen almost all he worked in his role as chief executive of Scottish Rugby crash down around his ears, Mark Dodson didn't sound all that emotional.
In truth, the veracity of the economic miracle Dodson and sidekick Dominic McKay induced at Murrayfield was never that clear cut. The idea that the organisation was "debt-free" at the last accounts, as they claimed, depended on how creative your view was.
Nonetheless Scottish Rugby was, at least, on a sound financial footing when the coronavirus pandemic struck. It's not anymore.
Last week Dodson announced there was a £18 million hole in Scottish Rugby's finances as a result of the shutdown. This disparity of revenues has caused the chief executive to seek £14 million cuts in all departments across "the business", a description which in itself will rankle with some of the diehards.
This was neither a best-case or worst-case scenario, said Dodson – it was the current scenario. Things could get better – the Eight Nations Cup event planned for November might get live, paying crowds and broadcast deals that would help fill the coffers, and at present the event has been budgeted without those potential revenues.
But of course, things could get much, much worse. No Six Nations – BT Murrayfield is set to host three games in the championship next year – and we will be in difficult, possibly existential territory.
An £18 million revenue gap and £14 million of cuts means you don't have to be a mathematical genius to figure out roughly what the loan from the bank is. Scottish Rugby was £20m in debt in the bad old days, so maybe it doesn't look so parlous.
They didn't wipe out the entire £20m but when you consider the debt burden of other unions and indeed other comparable sporting organisations within Scotland, they did well enough.
According to Dodson "our track record of increasing revenues and reducing debt in our recent history" convinced the bank to loan them cash, in the belief that when we return to some kind of normality the same methods will restock the coffers.
But how to do it when you're slashing £14 million out of the business? And how to do it without touching community rugby or something like the 7s and age-grade programmes?
It makes no sense, said Dodson, to plan for a rebuild while stripping away parts of the foundation.
"Our mission is not to cut rugby development as deeply because we believe our clubs need our support and we think our community development officers and support staff will be needed to get (club) rugby played as soon as we can," he said.
The RFU in England has already made brutal cuts in its development programme with 100 DOs and development coaches made redundant. They've also scrapped their sevens programme, but Dodson wants to ringfence Scotland's.
Of course he tried to slash back on sevens before, and says that a message came through then "loud and clear from the public and our stakeholders".
"We took note of what was said in 2015," he says. "The business school solution would be to cut back on things that are extra to the core business, but there is the Ned Haig and Melrose connection here."
Sounds great – a listening CEO protects our interest the form of the game Scotland gave to the world; only there might be a convenient way out here. With England pulling out of sevens, and other unions considering the same, there might not be a competition for them to play in.
Still, only minor cuts to development, and keeping the 7s, where are the savings coming from? Over half of Scottish Rugby's outlay is on staff, and Dodson described Scottish rugby as being "a recruitment free zone" for the next few months.
Those earning over £50,000 a year took a pay cut until September 1, and it seems certain this will be extended, in both calendar and in scope.
But Dodson believes the savings can be made without "losing a body", ie, no redundancies, which seems fanicful.
"There are savings in things that we havenlt been doing because of lockdown and things we no longer are doing," he added. "We have to make sure this is a blended solution across the whole piece, without losing staff as we go because we are going to need them all when we come back.
It's a proper Gordian Knot for Dodson to unravel, and this time a big cut down the middle is not a solution.
Reduced residency helps Scotland
World Rugby have suspended the new five-year residency rules for international rugby because of the pandemic – and possibly because Gus Pichot, whose was behind the extension from three years to five, is no longer there.
It means Pierre Schoeman, the Edinburgh prop, could play for Scotland in 2021 rather than 2023.
A position of severe weakness just a year ago at the World Cup is now, with Rory Sutherland's renaissance and Oli Kebble's residency at Glasgow, about to become a major strength.