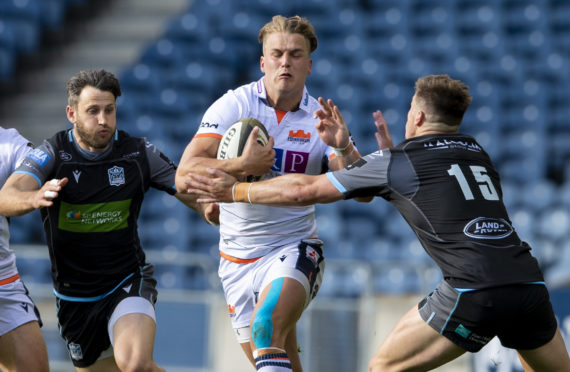 "Don't worry about playing!" shouted Richard Cockerill from the coaches' area as time started to wind down in the first post-lockdown rugby game at BT Murrayfield on Saturday. Some things, despite empty stadia, facemasks and pandemics, never change.
The Edinburgh coach has a radio mike to converse with his lackeys at the sidelines should he want instructions relayed to the players. This exclamation, one suspected, was for those watching in the press box and the few scattered around the dignitaries' socially-distanced section.
Edinburgh led Glasgow 23-15 and Cockerill apparently didn't want his team to play too much rugby in the dying minutes with the result, the 1872 Cup and the play-off semi-final place just about secure.
But almost instantaneously as the words left his coach's mouth, substitute centre George Taylor forced a turnover near halfway, the ball went wide and young scrum-half Charlie Shiel, also a replacement, set off on a mazy run from 40 metres to score the clinching try.
One recalls something similar happening in the last 1872 Cup game, in January in those pre-pandemic days when things were almost innocently simple – Cockerill shouting loudly from the box for his team to play it tight, and then Darcy Graham shooting off in flagrant disregard for instructions to score a super try.
Cockerill likes the narrative that his team are super-structured, methodical and without flair, but no-one believes it now, especially when you see Duhan van der Merwe, Blair Kinghorn, Graham and Shiel on the run. As the coach himself says, they're a better rounded team than Glasgow, and that's actually been the case for a couple of seasons now.
But the structure is still their core strength, and occasionally the team needs a reminder that it is.
"It was messy, we didn't control the game as well as we would have liked and we got into a bit of playing like them at times, throwing it side to side," he said of the first half, which ended with Glasgow leading 15-13.
"We got ourselves stuck in our own half and as you saw with both teams, if you don't exit your half you get punished.
"We did the basics really well after half-time. We don't need the fancy stuff, chucking balls, fancy offloads. We scored some really nice tries in that second half but we'll create those without putting ourselves under pressure."
The game was actually a good leap above the usual pre-season fare, relatively well-played and entertaining given neither side had played competitively for five months.
Edinburgh completely bossed the second half and didn't conceded a point while scoring 17, even if it took them too long to get the ball into van der Merwe's hands.
So starved was the star wing that on his first touch early in the second half he went on aimless run across the field trying to make something happen and got turned over when tackled.
Second time, brandishing the ball like a child's toy in his right hand, he thundered forward past one defender, cut past a hopeless attempt at a tackle by Adam Hastings, and off-loaded to Nic Groom for the score that deservedly took Edinburgh ahead for good.
Danny Wilson later bemoaned "two soft tries" as being the difference between the teams but almost all tries scored these days in rugby look "soft" to those conceding them. Glasgow faded badly in the second half because their scrum came under pressure with Oili Kebble's departure and Pierre Schoeman's arrival, and their solid lineout possession evaporated once Richie Gray came off.
Adam Hastings looked good in the first half but was anonymous in the second. Opposite number Jaco van der Walt got the man of the match nod, but he just had more solid ball to work with over the 80.
Glasgow also conceded six penalties at the breakdown in the first 20 minutes. They did better as the game progressed, but Edinburgh seemed far more prepared for the new interpretations than the Warriors were.
Edinburgh's scrum was solid and their lineout did okay there considering Jamie Hodgson, the sixth choice lock, had to come on early for Andrew Davidson. Cockerill will be relieved next week's return match now doesn't matter and allows some time for his ailing second rows to recover.
It won't matter because Munster lost to Leinster, and Edinburgh have a home PRO14 play-off semi-final, against Ulster on September 5.