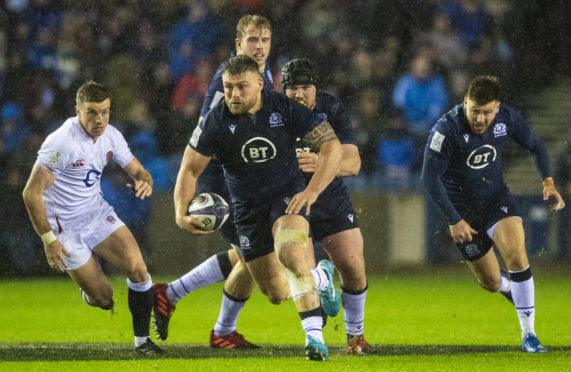 Rory Sutherland's last visit to Bordeaux turned out to be a real career-changer, and the Scotland prop will be looking for more of the same when he revisits Stade Chaban-Delmas for the Challenge Cup quarter-final this week.
In January "Suzz" was a bit-part player at Edinburgh after a long injury absence, at something of a crossroads in his pro career, but was given a rare start for the Challenge Cup pool game against Bordeaux-Begles.
Gregor Townsend was watching and reckoned he saw something that might cure Scotland's problem position at loose-head prop. Less than two months later, Sutherland was in everyone's Six Nations team of the year and being quoted as the probable frontrunner for the Lions' 1 shirt worn by Scots legends like Ian McLaughlan, David Sole and Tom Smith.
"That was a big game for me," he agrees. "I realise now that it was a massive opportunity for me to turn my career around.
"For a couple of years before that I had struggled with injury and just not performing well enough to be in the team, so to go out there and start and then perform well against a big pack and have Gregor think that I had a good enough game to go and start in the Six Nations was awesome."
Although he had started Sutherland in just a couple of games to that point, both in the Challenge Cup, Richard Cockerill believed in his ability.
""When I got picked for the national squad to go out to Spain (for the pre-Six Nations training camp] he messaged me to say 'congratulations, well done and well deserved' after the performances against Wasps and Bordeaux and just told me to keep my head down and keep doing what I'm doing.
"He said if I did that it would be enough to get myself in the team and it was. I hadn't played much rugby that season so to get those two starts and be able to put my game out there and be lucky enough to be selected for Scotland was amazing, and I really enjoyed it."
Although slightly frustrated his momentum was stopped dead by the lockdown, Sutherland has returned firing on all barrels, getting the starting nod for all three games so far. He could be absolved of Edinburgh's collapse against Ulster in the PRO14 semi-final – they were leading by 14 points and in control when he was replaced – but it's always a team responsibility at Edinburgh.
"We had three days off then came in and had review days and one of our main focus points and it has been for this weekend getting a strategy to stop Bordeaux's driving game," he said.
"I don't think (Ulster) was as much a problem in the forwards. We played a lot of rugby in the wrong half of the field, and we made too many errors. Everyone involved has to take responsibility and try not to make those errors again.
"This weekend against Bordeaux it is about how we have prepared to take the game to them. We'll look to dominate in the scrum and the tight. We've had the extra week to prepare for the side of things, we've had (Scotland scrum coach) Pieter de Villiers in to work with us, so we've had a good prep and we're ready to go out for the win.
"Pieter's been really good. I really enjoy Cockers' style of training and Pieter's is slightly different so it's nice to bring both those styles together on a week like this to come up with a strategy to beat their pack."