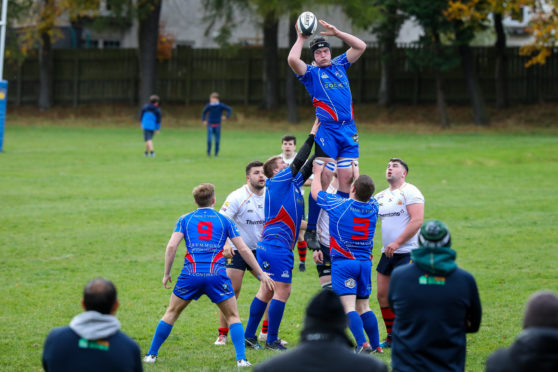 Scottish club rugby is set to restart with regional leagues at all levels on the last day of October, pending the smooth progress of restrictions being eased against the pandemic.
The National League set-up has been replaced with regional conferences for the 2020-21 season, with the top competition featuring a conference of four clubs from the Caledonia region – including Dundee High Rugby – a conference six clubs from Edinburgh, six from Glasgow and six from the Borders.
After an opening stage of home and away games, the teams will be merged into pools of 10 and 12, for further home and away fixtures, and the top teams from both pools will play quarter-finals, semi-finals and a final at Murrayfield, scheduled for May 15 next year.
A second tier competition will also feature four conferences, with Kirkcaldy, Howe of Fife, Strathmore and Perthshire competing. The current regional leagues will remain on two tiers, also be played in pools home and away culminating in play-offs and grand finals.
Mens and women's leagues will be sponsored by Tennents Light, while junior competitions will be sponsored by Mitsubishi.
"I am really pleased clubs can now see what the season ahead looks like and they can begin planning and looking forward to playing competitive matches again," said Scottish Rugby president Ian Barr.
"I know a huge amount of work has gone into getting us to this point and I'd like to thank everyone who has contributed to what was a complex and challenging process.
"Our hope is that teams can play as much rugby as possible in the circumstances and we encourage them to take a common sense approach to fulfilling fixtures and ensuring the sport can resume safely, at every level.
"I would also like to extend my thanks to Tennent's and Mitsubishi Motors for their continued invaluable support."
Director of Domestic Rugby Sheila Begbie stressed the fixtures were dependent on Scottish Rugby progressing through stages 5 and 6 of their Return to Rugby roadmap, which in itself was dependent on the approval of the Scottish Government.
Stage 4 of the roadmap, which allows small and limited full-contact practice games within clubs and schools, was approved last weekend.
"It is really pleasing to be able to share the fixture list for the 2020/21 season with all our clubs and schools today," she said. "It marks a very positive step and one that I know a great many people have contributed to across the game, and in our Rugby Development department, and for that I'd like to thank everyone involved.
"We are still taking a cautious approach and are committed to supporting the public health guidelines set out by the government. I wish all the teams the very best for the season ahead and hope we can have a safe and enjoyable return to rugby in the months to come."
Dundee High, who only avoided relegation last year because of the season being called null and void, will play in a four team conference within the National Competition One with Aberdeen Grammar  Rugby, Highland RFC from Inverness and Stirling County. Their opening fixture on October 31 is away to Aberdeen at Rubislaw, with the first home game scheduled for Mayfield against Highland on November 7.
The regional split means that Kirkcaldy will play in a regional conference which stretches as far as Berwick in National Competition Two, with Stewarts Melville, Lasswade, Peebles and Preston Lodge.
Howe, Perthshire and Strathmore will play in the same six-team conference with Caithness, Gordonians and Murrayfield Wanderers.