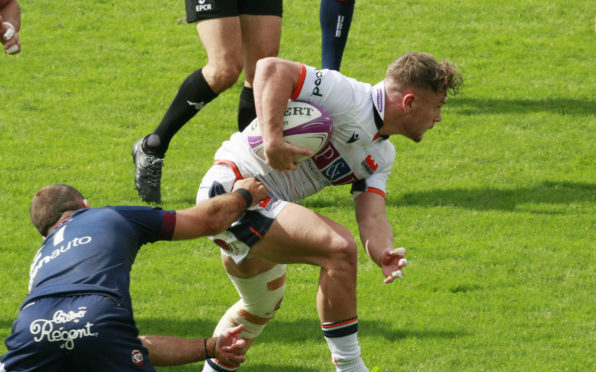 Edinburgh "did the right things, had the right strategy" but another blank spot ultimately cost them a defining win in Bordeaux European Challenge Cup semi-final, admitted wing Damien Hoyland.
The Scotland international scored a try on his return to action in place of the inured Duhan van Der Merwe, but even if Edinburgh "won" the last 70 minutes of the game 14-9 it was two tries in the first ten minutes that undid them.
"It's a funny one, as well as frustrating and bitterly disappointing," said Hoyland. "We gave them an early start but then did all the right things to give ourselves the best chance to win the game, and really it is way more frustrating when you do that then come up short.
"In some respects, we were unlucky but with the amount of mistakes we made against a top five team in Europe, they were always going to punish us.
"We were still in with a chance, we had done the right things and we had the right game-strategy, and we were so close."
But the team still feel they are advancing, proving to themselves that a huge club like Bordeaux with their huge resources and their reserves of on-field power can be beaten in their backyard.
"The thing we can take from this, and we took it from the Ulster game is that we are on the up," he continued. "From these two games, there are a lot of things we are going to be better at. And going into next season we will be gunning for it, and we know what works.
"Even after that start we were resilient. We never felt like the game was getting away from us, and it is that fighting spirit – this team will always have that – that makes us confident of winning big games."
Minimising the errors that allowed Bordeaux their fast start is the key, he continued.
"Errors happen and Bordeaux did really well to capitalise," he added. "Mistakes happen – the best player in the world will drop the ball – and there is no point looking into that too deeply.
"I think we stuck to our game strategy really well, so I wouldn't say it is us forcing things, it is just that sometimes games happens in games."
Hoyland's try came from a trademark bit of elusive trickery by Darcy Graham, who dodged away from four tacklers in a confined space before flicking an inside pass to Hoyland just as was going into touch.
"You've always got to stay alert when you've got someone like Darcy on the ball," continued Hoyland. "I don't know how he managed it, but you always have to expect that because if anyone can pull something like that off then it is Darcy.
"I'll get him a beer for that very soon, I'm sure."
Hoyland hasn't been a regular and is probably not in Richard Cockerill's first-choice XV, but he's added full-back to his resume and is likely to get lots of playing time with the schedule of international games meaning Graham, Blair Kinghorn and newly qualified van der Merwe will be required by Scotland.
"I have been training really hard and waiting for this opportunity, and I'm really glad I got it here in such a big game," he said. "It is now about continuing to push the other guys, but Cockers has made it clear that if someone takes their opportunity then they will keep their place.
"It is all about the competition because that is what keeps pushing all of our standards up.
"Cockers makes it very well known that the door is never closed for a player to break into the side if they are training well, or for a player to drop out if they are not performing well."
The head coach did address the cloud the team left behind in Edinburgh, with one academy player testing positive for Covid-19 after he and two team-mates had attended a house party contrary to team restrictions.
"They've let down the whole team, simple as that," said Cockerill of the group, now self-isolating. "They know how they should behave, they know all the things that have been put in place to get games to be played and crowds in the stadium.
"I'm disappointed that they chose to ignore it because those rules didn't apply to them. It was no distraction to our performance , but it was a distraction to me and people up the chain because we have to deal with the situation, which is disappointing.
"Young men do what young men do and they're going to have to learn that lesson, but it's far from ideal."