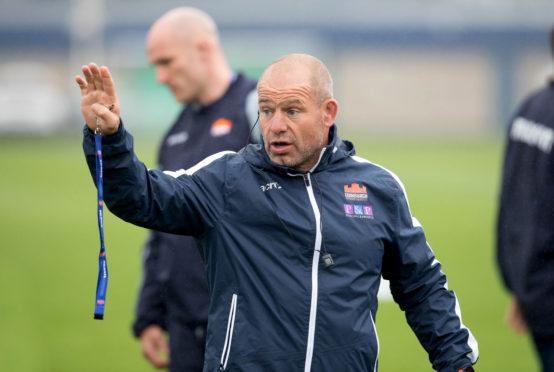 Edinburgh Rugby have reached a tipping point in their development under Richard Cockerill – but it's not at all certain they'll be strong enough to take the next step, and a lot of it's out of their hands.
The new Guinness PRO14 season begins this weekend, really before the air's completely out of the last one. The capital team's 2019-20 season fizzled out disappointingly with a terrible loss to Ulster in the PRO14 semi-final at home and a creditable – but still avoidable – defeat away to Bordeaux in the European Challenge Cup.
Stock-taking of that little lot has been necessarily swift, as Edinburgh pile straight into the 2020-21 campaign against Ospreys on Saturday. But Cockerill has just two games with all hands available before he'll wave away 15 or more front line players to the Nations Cup to be played over the end of October and throughout November.
Needs must – the revenues from TV for international games, even if the fans aren't able to return in limited numbers, is absolutely crucial to there being a professional rugby structure at all, it seems.
The Doomsday scenario of no fans at the Six Nations, the game's premier financial driver, now looks possible and even likely as we go into a second wave winter of the pandemic.
In practical terms it leaves Cockerill having to make and mend with fringe players, academy starlets and Super6 novices to fill out a matchday 23. Anyone he brings in on piecemeal loans has to be ledgered against existing budgets; there's literally no more money.
Well, everyone's in the same boat, aren't they? Up to a point, perhaps, but Leinster, Munster and Ulster, despite the grave warnings from Dublin about the future of Irish professional sport, seem to have free rein for recruitment.
It won't help him immediately but perhaps this was the point of Cockerill's plea for a PRO14 salary cap.
He framed it in the context of long-term competition rather than immediate help for Edinburgh being undermanned, but with it now appearing certain that the four leading South African franchises are joining the league, probably in the 2021-22 season, it makes perfect sense for the likes of Edinburgh, Glasgow and the Welsh teams.
"You'd have to phase it in over a season or two or three because everyone's got contractual obligations," said Cockerill.
"I think with the current climate with both Covid and the teams that have the most money are generally the most successful, then maybe that's something worth looking at.
"A cap was brought in to open up the Premiership, and generally the best run teams there are the ones who are in the mix year in and year out. It becomes about recruitment and about coaching rather than just money."
With a full compliment to pick from, Cockerill has as strong a 23-man squad as anyone in the league, which makes one think the pattern of the season before last rather than the one just finished might be the most practical aim this year.
In Cockerill's second season, Edinburgh qualified for the Heineken Champions' Cup and thrust all their resources into it. It worked, as they dominated their pool, won away in Toulon and Newcastle, and secured a home quarter-final they should have won against Munster.
Edinburgh didn't get to the league play-offs that year, but they were on track until a squad plainly exhausted by an international and European schedule looked worn out at the business end of the PRO14 season.
Cockerill knows what happened, he has a greater depth now when all the front-liners are available and won't be picking the exact same 15 for every game as he did two years ago. Edinburgh should have more sticking power if their big guns avoid injury down the stretch.
The key to the season, as always in the PRO14, is the international windows. Can Cockerill develop fringe players and novices into a unit that can keep the league position solid while his front-liners are away?
Sam Thomson, a lock who filled in a few spots here and there last year, has recently complained that the atmosphere at Edinburgh when he was there was often a case of fringe guys being little more than tackle bags.
It's a shame he didn't impress enough to win a new deal for this year, because it seems they're going to get plenty chances in this season.
A complication, however, is the new PRO14 schedule, which appears to have been planted on the competing teams largely without warning. There's a number of Sunday and Monday games each week, which has major complications for clubs like Glasgow and Edinburgh.
They spend the latter part of most international weeks waiting for the four or five players rendered surplus to requirements in national camp by Gregor Townsend. If they have Sunday or Monday games, Gregor's going to want to keep those players in camp for full early week squad sessions.
It means Cockerill will have to lean even more on the kids. It's going to be a significant measurement of his quality as a coach, but it's a challenge I think he's well capable of meeting.