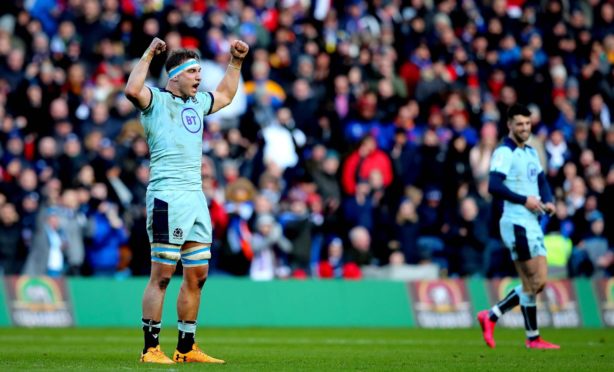 Richard Cockerill probably didn't need another example to confirm his lamentation on the lack of leaders in Scottish rugby, and especially not one quite so soon at such a crucial juncture.
In the dying minutes of their PRO14 game against Munster at Thomond Park last Saturday, Edinburgh had eked out a five-point lead and seemed set for a second win in a row in the southernmost Irish province. All they had to do was negotiate the final few minutes.
However, an aimless kick on a routine exit gave Munster possession, a penalty was needlessly given away 40 yards out, Munster went for the corner and the inevitable happened from there. CJ Stander's try and Ben Healy's conversion made for another hard luck story.
Two massive errors of composure, and by reasonably experienced players to boot. Where was the leadership to take control, to put the foot on the ball?
Only a few days earlier Cockerill had noted that Scottish players didn't seem to lend themselves to leadership in general.
"There's not many natural leaders within the Scottish game, particularly. I don't think lack of leadership is necessarily just an Edinburgh issue.
"My experience of working here (and) with other teams is that the Scottish guys are quieter and a bit more subdued. They're good guys and they work hard but they're not natural, overt personalities or leaders.
"So we've got to keep working on that. They've got the knowledge. We've just got to get it out of them in the key bits to manage certain situations."
This was not a criticism, said Cockerill (surely it is, kind of) but a reality. "We need to be a little more cussed and a little bit more bloody-minded and we need to be a bit nastier about how we go about our business. We need as many of those people as we can."
It was interesting then that Cockerill just a few days before the Munster game had named Stuart McInally and Grant Gilchrist as co-captains. They were both off the field at the finish of the Munster game, but both have also been regarded as "natural" leaders for some time.
Gilchrist was Vern Cotter's original choice as Scotland captain when he assumed control of the team in 2014, when the big lock was just 23 and had barely any caps.
His gravitas and knowledge – he remains Edinburgh's biggest rugby nerd in studying film – were evident even then, but long-term injury meant he lost the job and on his return, Greig Laidlaw had re-asserted himself as Cotter's leader of choice.
McInally was Scotland's captain at the last Rugby World Cup, but was so affected by the collapse against Ireland in the opening game that he lost his starting job to Fraser Brown.
Gilchrist and McInally are both "by example" kind of leaders, but one suspects their communication skills are not a match for Laidlaw's, for example. It's curious that Cockerill should in one moment be bemoaning a lack of leadership and then appointing the obvious candidates, not trying to change anything.
Perhaps that stems from his decision at the outset of his time with the club to make Magnus Bradbury captain, an imaginative move which backfired almost immediately when the back rower had a rather public disciplinary issue. It's clearly a problem the Edinburgh coach has been concerned with for some time.
Scotland head coach Gregor Townsend, who appointed McInally as his captain for Japan but has since moved to Stuart Hogg, doesn't agree with Cockerill's assessment.
"What I saw during (this year's) Six Nations was a real emergence of players that can stand up and lead, in team meetings, training, on the field," he said this week. "Players not traditionally seen as leaders in the past taking leadership roles.
"I am a great believer in the players that we have can lead. It is being able to make decisions, to say what you believe is right at that right time, and bring in others at your best level."
Who does he mean? Well, Hogg for starters, who many people didn't consider to be captaincy material but has at least a B grade so far.
The way he dealt with Finn Russell's challenge to his authority on his very first day as skipper at training camp in the spring (I'm pretty sure Finn didn't mean it like that, but effectively that was what it was) and the howler against Ireland were exemplary, I thought. By the end of the Six Nations, and ever since, Hogg has been flying.
Another I think Townsend is referring to is one of Cockerill's players – Jamie Ritchie. After his brilliant 2019 – he was easily the best Scotland player during the calendar year – he joined the Scotland squad leadership group at just 23, and is taking responsibility more and more.
Ritchie leads by example all right, but he's also a vocal and confrontational player. It's been a while since we've had someone who so successfully gets up the nose of the opposition and has the outstanding ability – surely Lions-worthy – to go with it.
Cockerill wants a natural leader who is "bloody-minded and nastier"? He's already got him, I think.