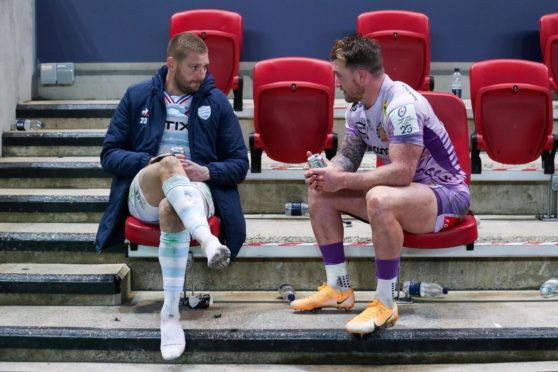 Saturday's Heineken Champions Cup Final was a microcosm of what kind of player Finn Russell is, most seem to agree – inspiration or calamity, sometimes in the same game.
It was such for the Scotland stand-off playing for Racing 92 against Exeter. Unleashing a lot of his considerable distributive arsenal, Finn slashed the Chiefs to pieces on occasion, especially for the pass for Simon Zebo's first score and in the build-up to Juan Imhoff's try.
But he fumbled a routine pass behind his own line, had a grubber kick rebound and counterattacked, and threw a howler of an interception to Henry Slade. Three errors, three tries (eventually) for Exeter, and the difference in the game.
Typical Finn, seems to be the verdict. Great talent, but he loses you games.
He's not the reliable fulcrum Warren Gatland will want for the Lions on that showing, we hear. Much better to have Owen Farrell or Dan Biggar, who don't make mistakes and don't take silly risks.
What utter claptrap.
To address the last bit first – Gatland is never going to pick Russell as his Lions 10. Finn's far too much of a free-thinker for Gat's regimented style already and nothing, from Saturday's game through to next June, is going to change his mind.
Gat will pick Farrell (fair enough, I'd say) or Biggar first, even though the Lions outside backs can wave goodbye to any serviceable attacking ball if he sticks with his old Welsh reliable.
As for the idea that every Russell performance is a mixture of glory or farce, it is complete nonsense, especially when he plays for Scotland.
I've gone back through his 49 caps thus far looking for a game where a heinous bit of Finn trickery has cost the national team a game, or even a try. There's nothing that stands out, maybe a couple of loose kicks and one dropped ball in a World Cup warm-up game against France springs to mind, but nothing blatant.
There have been games when he hasn't played terribly well, for sure. But you can't pin those on mistakes caused by unnecessary risk. For Scotland, Finn's been overwhelmingly reliable.
Indeed, you can even look at two players considered at various times as "the reliable option" to Finn. I'm certainly not decrying the abilities or contributions of Duncan Weir and Peter Horne, but playing for Scotland they've both thrown passes intercepted for tries, and Finn to date hasn't.
Furthermore, you look at the number of tries scored when Finn's been the one doing the intercepting and you see this "maverick" is statistically a far greater problem for the opposition conceding gift scores than benefitting by them.
Gregor Townsend agrees with this, even though this spring's contretemps between the two suggested a fundamental difference in philosophy.
"It's great to see players having the courage to go for what they believe is right and with someone like Finn with his experience and skill set, those decisions will be the right ones far more often than they're not," he pointed out.
Errors happen, said Townsend – and he should know, during his early career, the late great rugby journalist Jack Adams took to calling any error on a rugby pitch a "Gregor".
They even happen to ultra-reliable legends like Jonny Sexton, last seen in an Ireland shirt fumbling the ball behind his own line for gift try for England at Twickenham, you might recall.
Sexton's mistake was even rarer than Finn's have been for Scotland, of course, and clearly there's more it than just that: Russell plays far more loosely than the Irish great.
And you know, that's fine by me. I'd rather see Scotland give it a lash with Finn throwing loop passes all over the shop than try to play station-to-station, dull-as-ditchwater rugby as Ireland often played under Joe Schmidt or Wales have done under Gatland.
Yeah, they've won many games and some Slams playing that way, and well done. Scotland don't have the resources to play the way they do, and mimicking them with a grunt game has never worked for us.
Finn will get his 50th cap off the bench against Georgia, and I think it's reasonable that if Adam Hastings is halfway decent on Friday night, Townsend should be allowed to let the young man finish the job he did in the Six Nations by playing in the closed doors game against Wales.
But after that, we should see Russell regain the shirt that is really his. The positives outweigh any negatives by such a distance that they can't even be measured.
The Lions at Murrayfield
One hopes fervently that there CAN be a crowd for the Lions' test at Murrayfield against Japan next June. The occasion deserves one, and I for one can't wait to see the Brave Blossoms again, so inventive and entertaining were they in the World Cup.
How many Scots will be on the pitch, however? Probably not that many. I can't see Warren Gatland doing anything other than picking what he knows and has relied on in the past, especially as he's been out of the European game for over a year now.