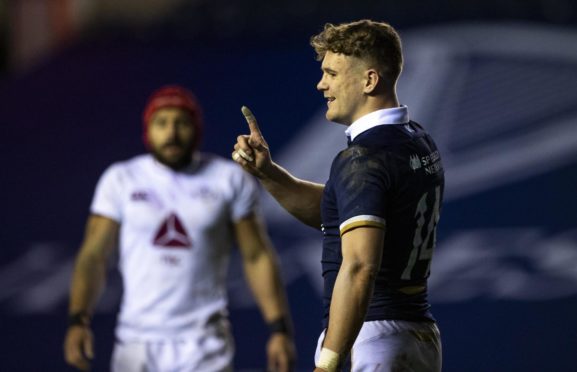 Darcy Graham's toughest transition from raw talent to international player was not his size as most suppose – it was having to learn English…
So Hawick was the diminutive winger when he first came up to Edinburgh that he had to re-tailor his dialect just so his team mates could understand him.
"I have to speak proper English now, so I have changed my accent," he said, still sounding fairly Hawick, it has to be said, and despite being all sophisticated the home town is still a big part of his life.
It's likely there will be three Hawick natives in the team this weekend in captain Stuart Hogg, prop Rory Sutherland and Darcy, which is definitely the most since professionalism and probably since the halcyon days of the 70s.
"It's definitely a buzz to have three Hawick boys in there," he said. "I've looked up to Hoggy all my life, pretty much – he has been a big part of my journey.
"To see him and Suzz coming along and playing so well, coming back from that long-term injury, and playing so well is really nice."
Having missed the first four games of the Six Nations due to an injury sustained on the Monday before the first game against Ireland, Graham is delighted to get a chance to contribute with the delayed game in Wales this weekend, albeit in vastly different circumstances than his debut two years ago.
That was in front of a full house of 78,000 in the Principality Stadium in Cardiff, this will be in the virtually empty Parc Y Scarlets in Llanelli.
"I was buzzing that day and this will be different but we need get out roles right – iof everyone does that, I'm sure we'll come away with the win.
"Wales have got a really good defence, so we're only going to get a few chances, so we're going to have to really take them when they're on. We won't see as much ball as we did on Friday night against Georgia, so we'll have to get our heads around that defensively.
"Two years ago on my first cap we had a few chances but we never executed them and we ended up losing the game. So when we get our chances on Saturday we're going to have to be clinical and finish them off."
Graham was thrilled to play with Edinburgh back three team-mates Blair Kinghorn and Duhan van der Merwe against Georgia, and they all scored tries – the first time that has ever happened.
"I know what Duhan can do – he's done it for two years with Edinburgh, he's been outstanding," he said. "Me, Blair and Duhan complement each other really well so it was really exciting to have our whole Edinburgh back three.
"I kind of know what Blair is going to do before he knows it. I always give him room to work off. Duhan has fitted right in and has not looked out of place.
"The Scotland camp is a great environment and these boys can easily slip in and it showed on Friday, he didn't look nervous at all and he took everything in his stride really well, which is great for him."
Graham has licence to go looking for ball to create havoc with his pace, and he's added an unexpected little something to his game as well – hitting the rucks.
"I'm loving a wee jackal," he said. "We've worked hard on it at Edinburgh.
"With the work my centre partners are doing, they are defending really well and so guys are just falling at my feet and I am getting on the ball. I really enjoying that kind of battle."