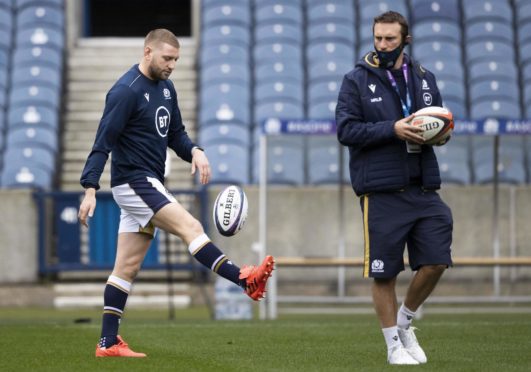 Finn Russell is the complete stand-off with a kicking game that could be a crucial factor for Scotland in the delayed final Six Nations game against Wales at Llanelli, says attack coach Mike Blair.
The former Scotland captain and scrum-half has the Racing 92 playmaker back under his wing in camp this week, and thinks Russell's knack for exploiting space and the support of "a New Zealand-style second five-eighth" in James Lang at 12 will help the Scots in conditions expected to be difficult for passing.
"The kicking game is a really interesting one, because probably a lot of the flair decisions that are spoken about with Finn are in his short kicking game," he said. "A major thing is obviously the execution, but the other part is seeing the space.
"Playing in tough conditions, finding kick space is really important, and we believe that Finn is fantastic at finding kick space and being able to execute.
"That's a major thing for us. With the weather conditions as we foresee them being, there will be less of that opportunity to throw the long skip pass, but Finn is equally good at finding a short pass.
"That vision, which makes up a huge part of the off-the-cuff type of plays he does, is just as important for when you're playing a more tactical game as well."
Lang may not have been many people's choice for the 12 role prior to these autumn games, but Blair believes he is a great fit there.
"He can play as a 10 or a 12," said Blair. "We've got other kickers around the pitch to share the load,  but his ability at 10, he knows what Finn and Adam will want whenever they're on, he knows he can help them communication and options, seeing the kick-space as well, so there's a big emphasis on that."
Blair had his own heartbreaks in Wales during his career – not least in 2010 when Scotland lost the game deep into injury-time – and he feels the different venue and atmosphere will be a factor.
"Certainly compared to playing in a packed-out Principality Stadium, there is a big difference there," he said. "
"I think I'm right in saying (on the original date) in March the roof was due to be open. Part of that was we believe a dry ball with the roof open is better than that kind of sweaty ball that happens with the roof closed. The other part of it is when the roof is closed the noise is greater as well – and that can really spur them on.
"Not having the crowd there takes a little bit of that away, but as Hoggy has talked about, crowds whether for you or against you create energy. And a big thing for our players is to create our own energy."
Blair doesn't buy that most Scots will be happier out of the cauldron that is the national stadium in Cardiff.
"Ask most of the guys and where their favourite place to play games is, and I'd have thought the Principality would be up there," he said. "It's an amazing atmosphere and arena.
"But it will be so different at Scarlets. Edinburgh and Glasgow have both won there recently so there are good memories from there, and that might be something as well, it being a place where many of the squad have won."