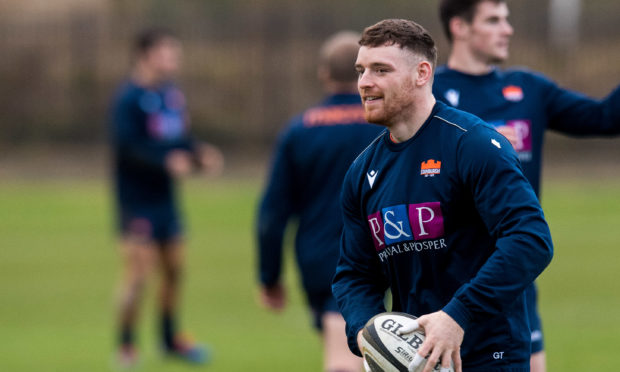 Edinburgh's George Taylor will need surgery on multiple facial injuries after what Richard Cockerill described as "a flying head butt" by Scarlets' Josh Helps.
The young centre suffered a broken jaw, cheekbone and nose and will be out for at least two months after Helps led with the head in a tackle in Sunday night's Guinness PRO14 game. The lock forward received a straight red card for the clash.
"It was a pretty nasty one, to be honest," said the head coach. "I know there was lots of comment about no intent, but if you lead with your head, which effectively is pretty much a flying head-butt, really, you're going to cause damage.
"That's Scarlets' third red card for the same offence in three games. Look, the disciplinary process will takes its course, but we've got a player with basically a broken face who won't play now for at least two, potentially three months.
"It's a nasty tackle, and it's as nasty as you'll see, and it's something that we need to get rid of in the game."
Red-card tackle takes place at 1:34:
Taylor was also heavily concussed, and Cockerill said he couldn't see why the challenge had been made.
"There are accidents and mitigating circumstances, but in this case I just don't understand what the player was trying to do," he added.
"He's just led with his head straight into someone's face. He's a young player, and players make errors, but if it wasn't intentional, what is he actually trying to do?
"As far as I'm aware there was no apology at the time or since. Even when the player was leaving the field he was shaking his head, as if to say that was the wrong decision.
"Like I say, the authorities will deal with it as they see fit and we're waiting to see what that is."
Edinburgh did win their first game of the new season by the slimmest of margins at Llanelli, and Jaco van der Walt's absence at his wedding this week will mean young Nathan Chamberlain will step up against Cardiff Blues on Monday.
"Nathan has played bit parts over the last few weeks, obviously he had a full game against Glasgow and has been running through things with the team as much as possible, so it is a great opportunity for him.
"He obviously did some good things in the 20s and he has an opportunity to step up now for a run of games. We have been working hard with him, he has been working hard, so we look forward to seeing how it goes."