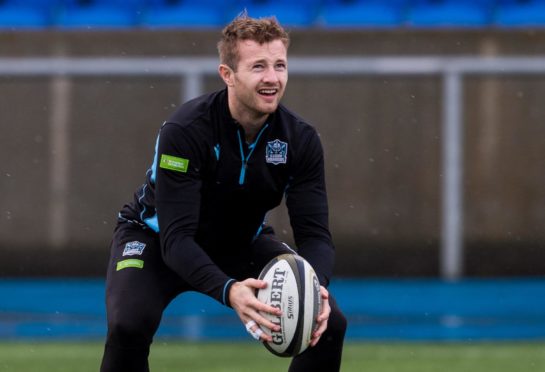 Glasgow youngsters "have no fear" about playing in tough places like Belfast's Kingspan Stadium against Ulster as their chances to replace Scotland stars come at them quickly in the next few weeks.
Scotland's 35-strong camp has closed for the duration of the Autumn Nations Cup and it's only injuries that will see any returns to Scotstoun, but new attack coach Jonny Bell – an Ulster and Ireland stalwart in his playing days – has been hugely impressed with the Warriors' young players and is relishing seeing them get their chance.
"It is certainly a massive opportunity for the younger players who usually have to sit on the bench or don't get too many opportunities," he said ahead of the Ulster game on Monday.
"It's a great chance for them to get a concerted period of game time.  I am excited about that – we have a lot of young backs coming through like Ollie Smith, Paddy Kelly, Robbie Nairn, and Robbie Fergusson who have been training really well and causing the international boys a lot of problems.
"(Ulster) are probably going to be licking their lips a little bit and getting excited but, you do know what? Our young lads have got no fear.
"We've got the likes of young (lock) Hamish Bain who has come in this season and played his first two games of pro rugby and managed virtually 80 minutes both times. And he's just going to get better, all these guys are going to get better – there is no quick-fix so we've just got to keep working hard for each other, be a little bit more accurate and take some more of our chances.
"Because Scotland have decided – and rightly so – that they are going to keep their players and not release any back, that's the way it is and we've just got to get on with it now by making the best of what we've got. It is going to be challenging at times but what else can you do?"
The ripples from injuries in the national squad will fan out to affect Scotstoun as well, with Adam Hastings' long-term injury being keenly felt back at his club as well.
"Losing Adam is a blow to everybody – to Scotland and to Glasgow, so we which him well in getting back, but it is part and parcel of the game," continued Bell.
"We are very fortunate to have the likes of Peter Horne and Brandon Thomson, who is a player who probably hasn't had a great deal of opportunity but has trained really well for us. Getting more game-time is going to give him confidence.
"The young guys are energised and excited so, let's transfer that onto the pitch and let's not be worried about what happens if it goes wrong. That is not how we are going to look at it, we are going to look positively at it."
"We might have to take some pain at times, but we're going to see what these guys are made of, so we're going to back them because that's where we are the moment."
It's important that Glasgow set no particular targets for this season, said Bell, with so many young players required to step up to the mark.
"We are going out to win these games, but we are going to really focus on blooding some new, younger players and letting them have a crack at it," he added.
"Then we are coming straight back into Europe, so that is our internationals back in when we have a tough group.
"I honestly could not give you an answer what our target is this year, we are going out to try to develop this group, then re-establish the internationals back in and have a really good crack at Europe.
"We will end out where we end out. There is massive pressure, we have to win games, but players have to go out there and deliver it, hopefully deliver the best version of themselves."