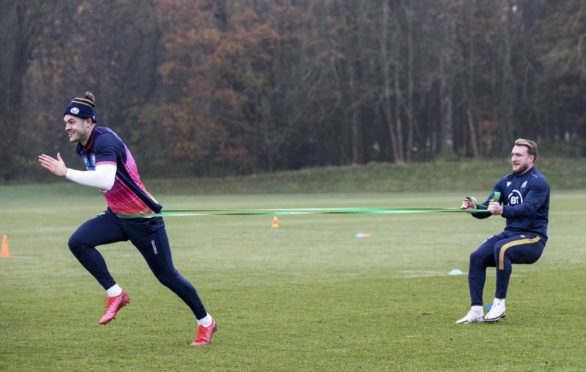 Scotland's run of five successive wins is like a train, and the players don't intend to get off, says Blair Kinghorn.
The change in atmosphere in the camp at Oriam and in the confidence on the pitch is totally different to a year ago when the Scots came back from the World Cup in Japan, Kinghorn's first long international camp.
"Everyone is buzzing in training," he explains. "Being on the `win train' is good.
"I've been on the end of a couple of defeats in a row and it does get pretty dark sometimes. You start questioning yourself, but confidence is high just now and we're looking forward to trying to get another victory against France at the weekend."
It doesn't mean that the Scots are resting on their laurels on what has equalled the best run since rugby went professional in 1995.
"Even when you win, you still look at yourself pretty harshly because we always know how much better we can be," continued Kinghorn.
"It does make the mood in camp a lot better if there's been a victory at the weekend. Players are happy and the coaches are happy.
"Even though we can get better, there's a good vibe in the camp. There's no impending sense of doom hanging over your head when you've got team meetings coming up."
Kinghorn is a full-back 100% of the time with Edinburgh, but with captain Stuart Hogg first on the team sheet he's been a wing most of the time with Scotland, and that's part of learning his trade.
"I've played over three quarters of my international rugby on the wing and felt very at home there," he continued. "I feel that I'm still developing as a winger but it's definitely getting closer.
"The World Cup was a great learning experience for a lot of people. For me, it was the longest camp that I had been involved in.
"Being away for so long, you learn a lot about how professional you need to be. As a squad, we obviously didn't perform the way we wanted to. But to then have a really positive Six Nations on the back of that showed how much everyone wanted to improve.
'We are still learning and improving. But five wins on the trot is good going so far."
And there's a new threat to his place on the squad in his friend and clubmate Duhan van der Merwe, who has scored twice in two starts and had 150 metres made against Italy, more than double anyone else on the pitch.
"Competition is the thing that brings out the best in any team," says Kinghorn. "If training is competitive, nobody is sure they've got a starting jersey, everyone's working hard, then that brings the best out in us.
'It was great to see big Duhi thriving last week. I've watched him now for about three years with Edinburgh, this is just the start of his international career and he's doing well."
Kinghorn's defensive displays in the last Six Nations – and his ability under the high ball – should be what sees him get preferred for France, after being part of the win against them in March.
"We know that they've got great individual players so we try and take their strengths away from them because if you let players like Antoine Dupont, Romain N'tamack, Virimi Vakatawa get into the game they are very dangerous.
"They are playing really well. You could argue that we're getting up there with some of the best form teams in world rugby at the moment but France would also be a good shout.
"We back our defensive system and we know our attack is good enough that if we just stick to our guns and play well then the penny will fall for us."