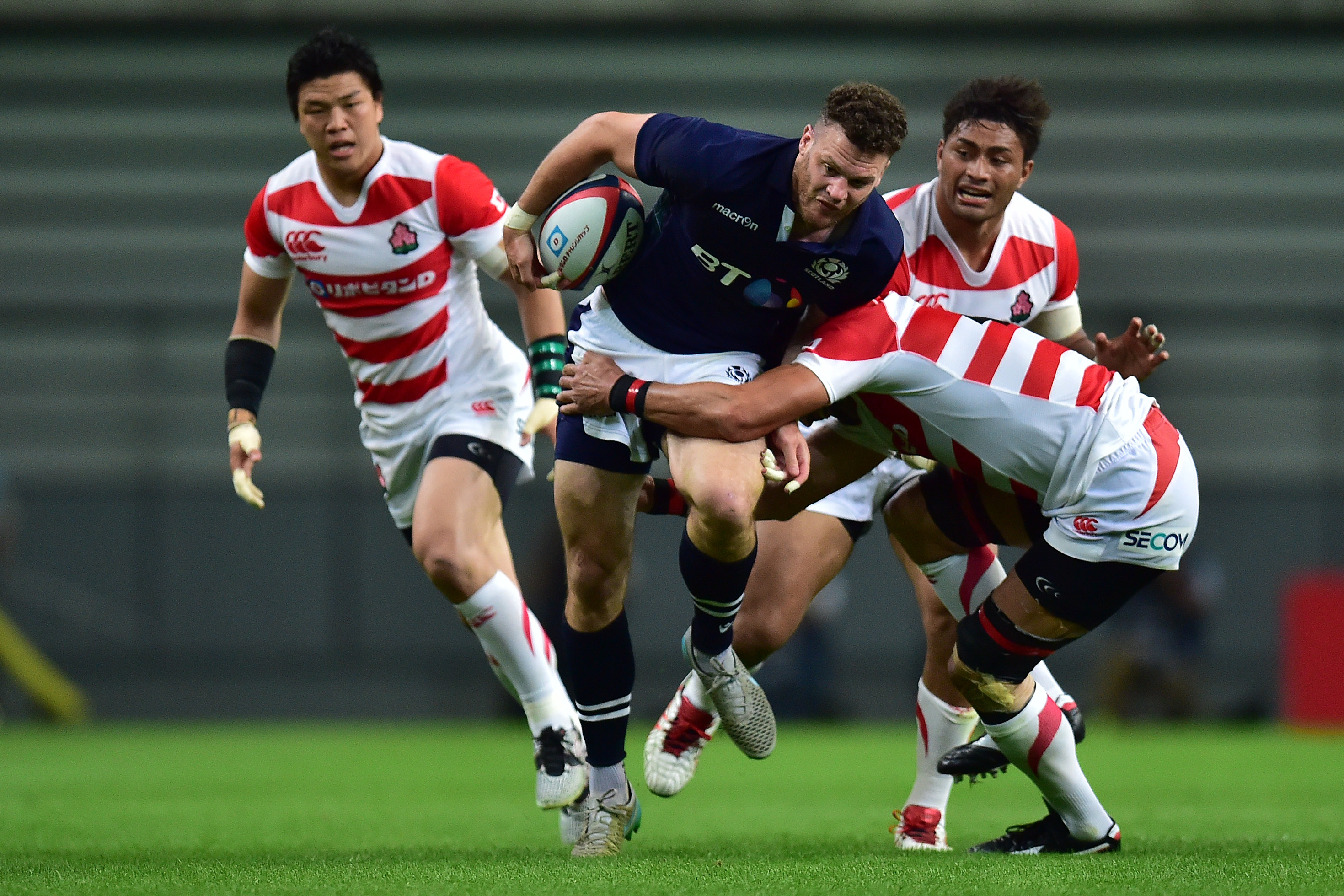 Scotland centre Duncan Taylor is heading home from the tour of Japan due to the hamstring injury he suffered in Saturday's first Test.
The Scottish medical staff had been keen to give Taylor time to see if he responded to treatment, but have now agreed he has no chance of making the second Test this weekend.
Head coach Vern Cotter will not call up a replacement.
Cotter had already pointed out that the team are well covered in the midfield, with South Africa-based Scottish-born Huw Jones – a surprise call-up days before the tour – in line to win his first cap as part of the matchday 23.
Matt Scott and Peter Horne finished the last match as the centre pairing, while Sean Lamont has also won Test caps in the centre and could be another option.
Heading in the opposite direction to Taylor is prop Gordon Reid, who was called out immediately after the first game when it became obvious that Alasdair Dickinson would play no further role in the trip.
He has now arrived and revealed he knew nothing about what was going on in Toyota until he got the phone call telling him to pack his bags and catch a flight the following morning.
"I was having a nice day down at Ayr beach, then I have to have a word with my missus and say, 'I've got to go away'," the 29-year-old said.
"She was pretty angry to be honest, just because it was such short notice. She was delighted for me. It was just because I was leaving her – young love, eh!
"It is great to be here, great to be back with the boys. When the team was named at the start I was a bit disappointed, I really was, but I was happy to get a full pre-season with Glasgow. Now that I have been called out for the second week, I am pretty happy to be here.
"I brought the Scottish weather over with me. It was nice, a good surprise when you are training to have all this heat. The boys are getting used to it, they have been training in it all week.
"I have been getting used to the heat, the humidity and all that kind of thing. I think it is going to be warm in the game. I think we are going to do well."
The tourists were 26-13 winners in the opening Test at the Toyota Stadium on Saturday, although Cotter was dissatisfied with elements of Scotland's performance.
Captain Greig Laidlaw is confident his side can fix their problems, and the players can also take some heart from the post-match analysis of the opening game which showed that some had run almost twice as far as would be expected in an average RBS 6 Nations game.
"A few of the boys were around the 11-kilometres mark," he said. "Seven (km) is is a fair bit of running. Myself, Tommy (Seymour) and Hoggy (Stuart Hogg) were up there in terms of running metres, so it was a quick match and we've got the numbers to back it up.
"We coped well and came out with a victory, which was a credit to the boys when you consider the heat as well. It was a different game to the Six Nations as that is how the Japanese wanted to play.
"We matched them and if we converted a few more opportunities we would have come out with a better scoreline in our favour."