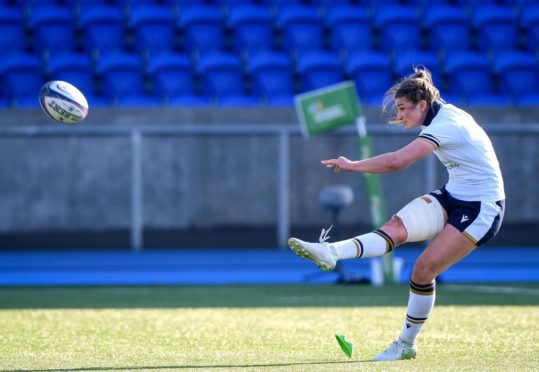 Captain Helen Nelson wants to unleash the unused firepower in Scotland's backs as they seek to win their first Six Nations game in three years against Wales.
The Scots are in the unusual position of being favourites with the Welsh having yet to score a point in two heavy defeats in the championship under new coach Warren Abrahams.
But Nelson, continuing as skipper in the absence of Rachel Malcolm and moving back to stand-off this week, feels the breakthrough is close.
'Ultimately our end goal is the World Cup'
"A win would be very good for our confidence and belief," she said. "It has been a tough year, and ultimately our end goal and aim is still the World Cup qualifiers.
"So it's not all the be all and end all to win, it is about performance and getting ourselves to the World Cup next year."
Those qualifying fixtures have still to be finalised, but Italy who beat the Scots at Scotstoun last week will be one of the opponents. That made last week's debrief a thorough exercise, with coach Bryan Easson allowing the players to take charge.
"It was a really good exercise, I think being together straight after a match was good," said Nelson. "We all sat in groups and held a really in-depth analysis.
"Our defence was poor at times last week. We were caught arrow too often and when Italy turned the ball over we were slow to react.
"They got the better of us out wide. Our defence has to be sharper. Equally in attack when we get the chance to get our hands on the ball and move the point of contact.
"We have really dangerous backs, but we just haven't seen that enough so far. We have to use them and get the ball into the wide channels."
Lack of regular rugby has been an issue
The difficulty the Scots have had this season is so many players not getting week-to-week opportunities because all of women's domestic rugby bar the English Premier 15s has been shut down.
Nelson plays for Loughborough Lightning in England but just six of her squad colleagues have had regular rugby. One of those, half-back partner Jenny Maxwell, has just recently returned from an ACL injury.
"We had France in October, then before that England in February, so it has been quite intermittent," said Nelson. "That probably has been quite tough, with a lot of the girls not having competitive games.
"You can prepare well with training, but it's hard to bring that match intensity into training.
'We 100% have the ability to get that win'
"The ability and depth we have in this squad right now is as good as it has ever been. The fitness, the understanding and the skill level is as good as it has been or better. We 100% have the ability to get that win.
"It is about tidying up things and making them better. Game management and decision making were things that let us down against Italy.
"We've shown glimpses of what we can do. Now it's about tying it all together and getting that full 80-minute performance that we keep talking about."