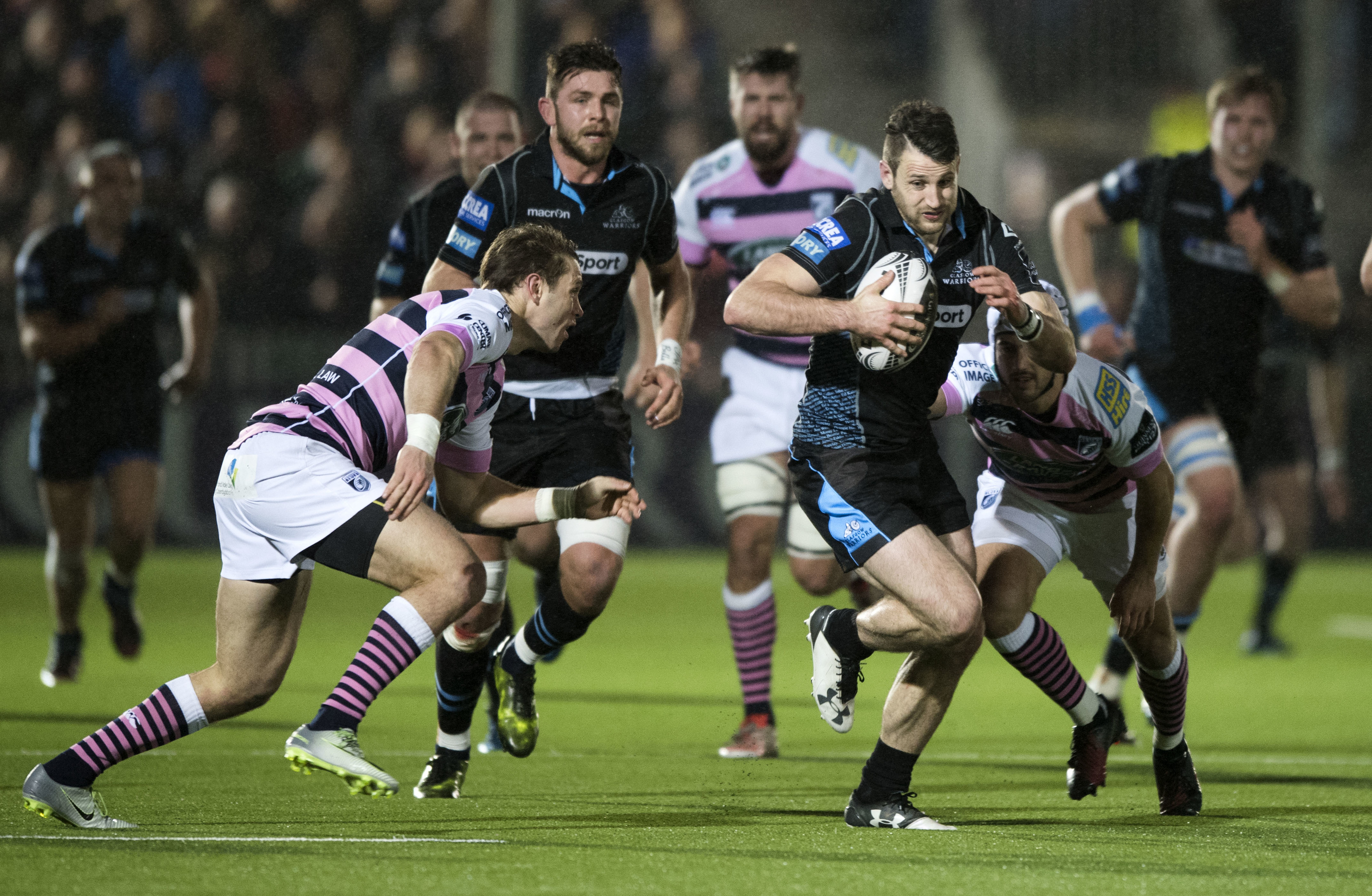 If the Glasgow Warriors were a car, they'd be a classic but temperamental sports coupe.
Sometimes they start up first time, the V8 engine roars and they drive forward with an authority that can't be stopped. It doesn't last though, something starts to rattle and cough and they have to go into cruise mode to get to the end.
Other times, like Saturday's Guinness PRO12 clash with Cardiff Blues, they do the rattling and coughing when they get underway, until with little or no warning all the constituent parts click into gear and they suddenly surge forward with an audible squeal of tyres.
In these surges – the deluge of tries against Leinster earlier in the season, the blistering first hours against Leicester and Racing at Scotstoun, and Saturday's sudden triple blow of tries to slap down the Blues – they could be a Ferrari or Lamborghini. Other times this season, however, in parts of games they've looked like bit more Austin Allegro.
The 80-minute performance everyone's aiming at is rugby's lottery win, with the odds against almost as great. It probably doesn't exist and Gregor Townsend might retire happy if it ever actually happened.
But for all that another sellout crowd left Scotstoun buzzing and happy on Saturday and the coach described the 29-15 win – generously – as "one of our best performances of the season", next week's game will require something much nearer to the 80-minute ideal.
Because Munster are the Articulated Lorry of European Rugby right now, smashing all aside in their path on a crusade to honour their late coach Anthony Foley. Surges and spurts aren't going to work against this Red Irish juggernaut, who swatted aside Racing 92 with ease in Paris earlier on Saturday.
Yes, Racing picked almost a third XV compared those the Warriors beat on successive Saturdays last month, and the French champions' pitiful capitulation to others in the pool is an unfortunate by-product of the Warriors' ending of their European ambitions.
As a short aside, Racing's lack of interest in the Munster contest and the revelation of how they "tapped up" Leone Nakarawa on the morning of last year's European meeting with Glasgow – a match postponed because of the Paris terrorist attacks, remember – besmirches the reputation of both that once-noble club and French rugby in general.
But to return to the point, Munster would probably have won anyway and are flying right now, with one loss in ten – and that to a last kick 50-metre penalty – since their tragic loss. Scotstoun will hold no particular fears for them, even if it was an understrength Warriors team they beat there in the PRO12 in November.
Next Saturday's clash loomed over the last 20 minutes on Saturday as with the game won, Glasgow entered "no surprises" mode, making sure no-one important got hurt and the new tackle law didn't result in any unwelcome red cards – if the citing commissioner doesn't find something, that is.
The 15 minutes after the Blues pulled level at 10-10, however, were vintage Glasgow. Tommy Seymour capped what was already a fine all-round game by springing through gaps to set up a pair of tries for Peter Murchie, while James Malcolm scored at the end of an untidy driving maul.
The home pack did a lot of mauling – no doubt in preparation for Munster – but the Blues, with their three open sides and no ball carrying muscle, were ripe for exploitation there. Next week will be the stiffest test yet of the Warriors' much-improved form in the tight.
The visitors' largely successful scrambling defence in the first half was also notable, given that Munster are the best defensive team in the PRO12 right now – maybe even in Europe – and will be even harder to break down.
Once Finn Russell, a little too loose in the first half, seemed to over his week off, the Warriors were pretty much unstoppable.
The question of who partners him at half-back next week is an interesting one, with Ali Price now firmly a Scotstoun favourite, but the experience of Henry Pyrgos must be tempting for Townsend especially with Conor Murray in direct opposition.
With Stuart Hogg returning next week, no-one thinks Glasgow lack with star players compared to next week's opponents, but it's the collective will of the Irish visitors that is their greatest strength, just as the lack of it was the Blues' weakness.
For an essential win next week, Glasgow have to be less flash and more relentless, more reliable and consistent within the game. Rather than a Ferrari, they should be a Mercedes, if still hopefully attractive enough to be a sports model.