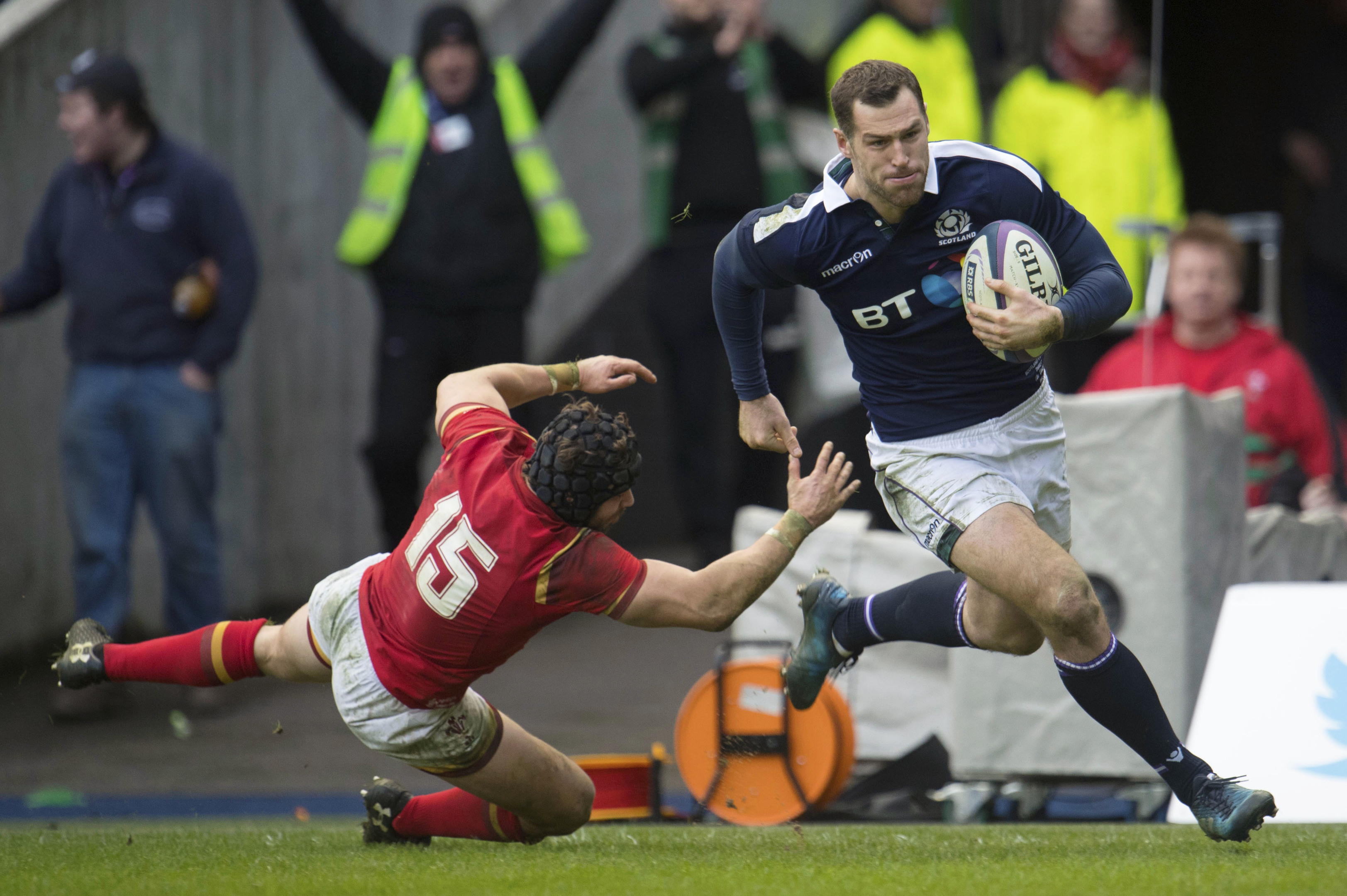 Tim Visser has seen Scotland break three of their most nagging losing streaks in a year and sees no reason why the biggest of all shouldn't go the same way in a fortnight.
Scotland haven't won at Twickenham since 1983 – before any of the current squad were born – but will go into a Triple Crown match with the Grand Slam champions with growing confidence after the 29-13 victory over Wales.
Visser has a pivotal role in the second half on Saturday with a try, an assist and a try-saving tackle as the Scots surged to victory with 20 unanswered points, beating the Welsh for the first time in ten years.
Just over a year ago he scored as Scotland beat France for the first time in a decade and of course the Scots won their opening match of the championship against Ireland for the first time in 11 years, a sign that the old obstacles are falling one by one.
But England at Twickenham? Why not, reckons the prolific Harlequin wing.
"Anything is possible," said Visser. "You've seen that with this win, we won our first game in the championship for the first time in a while and we beat France last year.
"England will be another step up for us. We will take the positives from this – but also really analyse that first half today, we can't allow ourselves to get into that position again in the next game.
"Beating England at Twickenham would be the best result I've ever been involved in, but we're not getting ahead of ourselves.
"We're not the finished article, by any means. England are formidable and have been for the past couple of years.
"But of course we believe we can win at Twickenham. Just look at the evidence and what we've done in the last couple of years."
Visser thought that the most important aspect of his best performance for Scotland was not his involvement in the tries or the tackle of Rhys Webb inbetween them that preserved Scotland's lead in the second half but his play under the high ball.
"It's something I've worked on a lot at Quins," he said. "I've been getting my reward at club level, so it's great to take that on to the international stage and claim the ball back for the team.
"It's so important. It's something that Tommy Seymour has done for a year or two now. It used to be a weak part of my game. It's good to see results from the hours of work I get working with anyone I can find after training."
Visser also paid tribute ot the contribution of Stuart Hogg in both tries.
"We know he can do special things, we saw that last year against France, with that wonderful pass over his head to me," he pointed out. "A lot of times he doesn't pass! But I called him to make that one for my try and it's important to try to anticipate him.
"Hoggy called the set move for the first try. We hadn't got the ball wide in the first half and we wanted to try something different. Huw (Jones) ran the perfect short line and all I had to do was get round the back and find Tommy."
The scots squad noiw feel they want to provide something more for Vern Cotter before he moevs on at the end of the campaign.
"I think, for us as a team, we are building on the performances we've had under Vern over the last couple of years," he continued.
"We knew this kind of form was coming. As players, we believe in ourselves and we do believe we can do special things for Scotland.
"The fact that Vern is leaving has really put a date on the end of this era. We're trying to leave him with as much as we can."
Meanwhile the Scots suffered another injury blow with John Hardie out of the championship with a medial ACL injury. The back rower came off after 25 minutes but replacement Hamish Watson had a storming game in his place.
The Scots' options do look to be improving with the second bye week, Duncan Taylor playing a full 80 minutes for Saracens at the weekend and David Denton also continuing his comeback from injury for Bath.