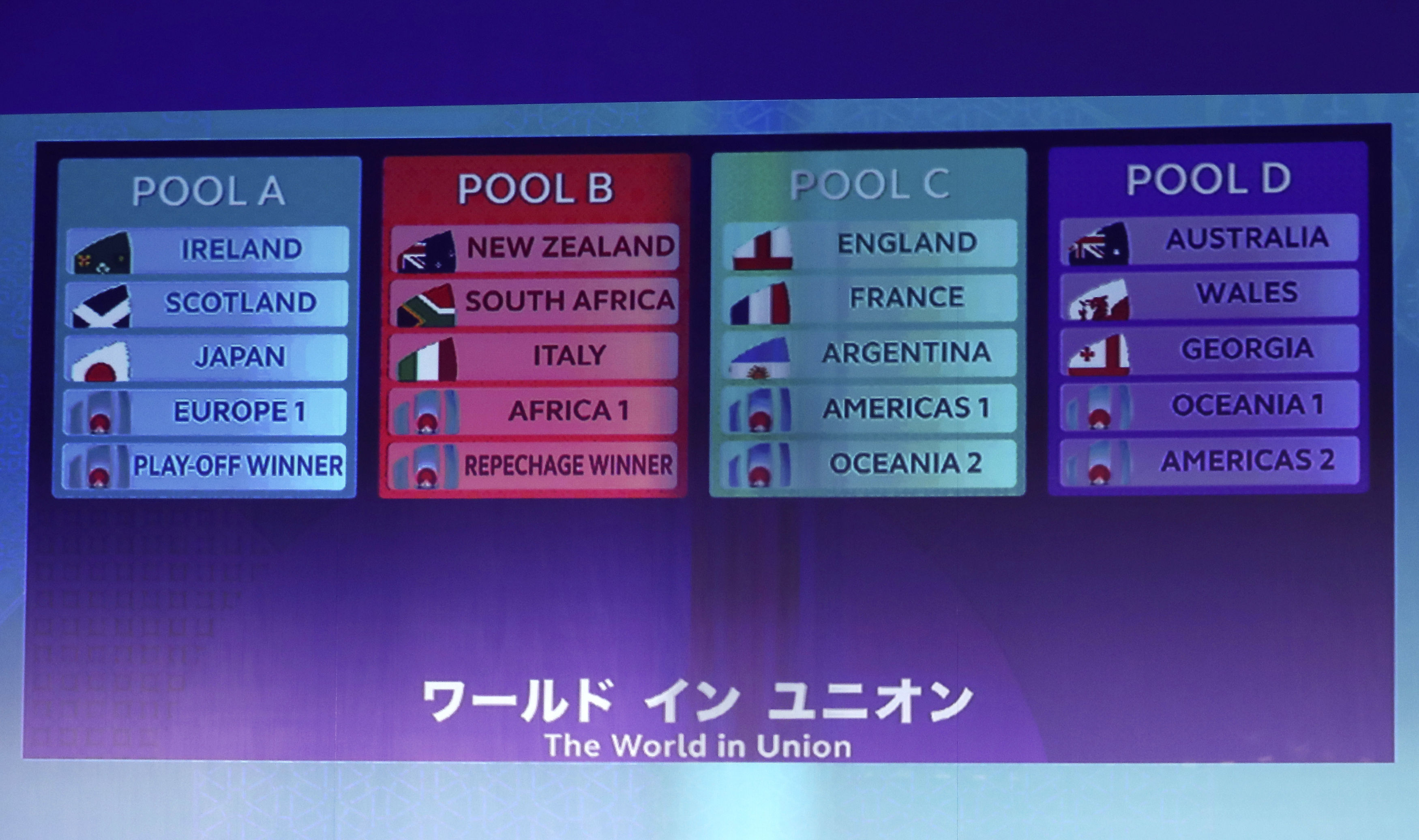 Gregor Townsend pronounced himself "excited" by a first round draw that saw Scotland paired with Ireland and hosts Japan in Rugby World Cup in 2019.
The Scots, in the second rank of nations in the draw,  drew the lowest of the four top seeds – Ireland lie just one place above them in the World Rugby Rankings at present – and have avoided the "Pool of Death" which would have resulted had they been grouped with Argentina, who were in the third tier of automatic qualifiers.
Instead the Scots may end up playing in the opening game of the tournament against Japan, who they met in the pool stages in 1991, 2003 and 2015, when they won 45-10 at Gloucester. Scotland have never lost to the Brave Blossoms in seven tests, including two in Japan on tour last year.
The Scots have been drawn in the World Cup against Ireland only once, in 1991, when they won at Murrayfield on their way to their only semi-final appearance in the tournament to date. Ireland have never progressed beyond the quarter-finals.
Townsend, watching from home with SRU director of performance Scott Johnson in attendance in Kyoto, said the draw put "the entire tournament into sharper focus."
"The first reaction is one of excitement that we know which pool we'll be in," he said. "It looks from the draw today like it's going to be another great tournament.
"It's a new venue for the World Cup and I'm sure there'll be a lot of interest in our Pool draw, especially when we get there, because now we're taking on the host country.
"The 2015 World Cup was a great tournament with some brilliant rugby played and I'm sure the next one in Japan will be even better."
Townsend is a known admirer of Ireland head coach Joe Schmidt and said any team the Scots would have drawn from the top band of four was going to be a tough game.
"Ireland have been one of the most competitive and most-improved sides over the past few years and a lot of that is to do with their quality of players and the influence of Joe Schmidt," he said.
"They have shown real consistency over the past two or three years. They are one of the best teams in the world, but the again we know Ireland pretty well and have a couple more opportunities to play them before the World Cup, while we also know a lot about their players through the Guinness PRO12."
Townsend believes that Japan will improve quickly under their new coaching team of former All Blacks Jamie Joseph and Tony Brown.
"They obviously made a memorable impact at the World Cup two years ago, beating South Africa, and will have tremendous support," he continued.
"They'll be targeting getting out of the pool and we know how dangerous they can be, having played them in the World Cup and on tour last year.
"The majority of our players who will feature in the next World Cup have already had that first contact with them and the style of rugby they aspire to play.
"Playing the hosts makes it a bigger challenge but one we will relish. It's pretty much guaranteed that we'll play them in front of a sell-out crowd and that will be great motivation for our players."
The two remaining teams in Scotland's Pool are not yet known, but will be become clearer over the next few months. The "Europe 1" qualifier will not be Georgia – who qualified automatically for the first time – but is likely to be Romania, who won the second tier Rugby Europe tournament this spring.
Romania are currently coached by former Edinburgh head coach Lyn Howells and Scot Rob Moffat, and have a two-point advantage over Spain heading into the second half of qualifying next spring.
The Spanish are probable favourites to finish as "Europe 2" who will have a chance to be Scotland's fifth pool opponents from a play-off match with the team ranked "Oceania 3".
The Oceania qualifying tournament featuring Samoa, Fiji and Tonga is halfway through with Fiji currently leading, Samoa second and Tonga third, although the Tongans have yet to play either of their two home games.
Results have gone for home advantage so far and it could be any one of the Pacific Island teams that end up playing in the play-off, which they would be expected to win.
Scotland's quarter-final opponents should they progress are likely to be either reigning champions New Zealand or twice-winners South Africa, who were drawn together in Pool B.
England, having failed to come out of the designated "Pool of Death" when they hosted the tournament two years ago, have been drawn in it again with France and Argentina the opposition.
The only home nation having to take on one of the Southern Hemisphere big three in the pool stages will be Wales, who like 2015 have been drawn against Australia.