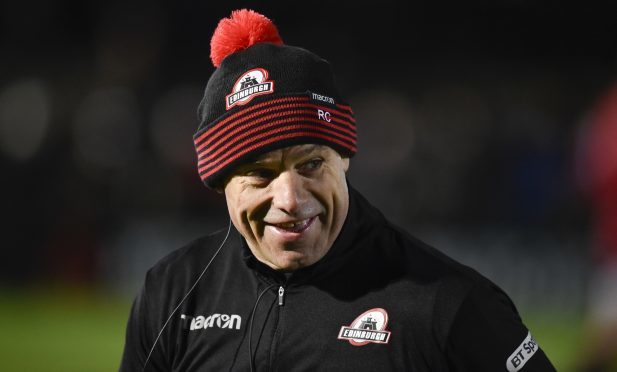 Edinburgh want to make progress in Europe, but Richard Cockerill would trade being known as a "cup team" for consistency in the Guinness PRO14.
With three wins and three losses in the opening block of six league games, the capital club have been anything but consistent in performance so far – quite the definition of the "cup team" cliché the head coach thinks the club have deservedly earned in recent years, with some decent runs and a final appearance in the Challenge Cup recently.
But while this week's Challenge Cup date at London Irish and next week's in Moscow against Krasny Yar offers Edinburgh an opportunity to make an early impact in the competition with games at home to come, Cockerill thinks it's only a bonus for his team.
"I think it's a good competition for this team because they've done well in it in recent years, although it's still the second tier of Europe and we're all striving to be in the main competition," he said.
"Clearly for this club, one-off games have suited them and that's why they've been better in the cup competitions. But I'm striving for consistency across the board.
"We're going to London Irish to win, 100 per cent. If we can get two positive results in these first two games it puts us in a really strong position with home games to come.
"You would hope to get a result in Moscow but it's Edinburgh, so who knows? But we know we're good enough to raise our game against London Irish and win, we've done it before."
London Irish are very similar to Edinburgh, believes Cockerill, both in their start to the season and their expectations, with one crucial difference.
"They've started games very poorly in the Premiership, and finished games very strongly, while we're probably the other way around so that will be interesting," he said.
"They're fighting to stay up even though it's early in the Premiership, their focus will probably be on Premiership points more than Europe.
"For us, we have the luxury that we don't have relegation and that takes the pressure off us. We have less pressure in a different competition, so we can just go out and play, but if anything takes preference, it'll be the league – consistency in that competition is the key for us."
Cockerill's big aim is to continue to work to develop his young players – he singled out Jamie Ritchie as one who is already fulfilling his brief in terms of consistency of performance – while getting his senior men to take more responsibility
"The only way for young players here to get top-end experience is to play in the pro teams," he continued. "There is no LV Cup to blood youngsters, you're either playing in league or in Europe, so when they play they're in games that matter.
"We also have limited resources and we have to plug in younger guys more often. Some of the senior players I'd like to lead a bit better, take a bit more responsibility but I've got to give them the framework and environment to do that. That's a two way thing."
Edinburgh could be without Blair Kinghorn this week as the young full-back suffered a nasty laceration to his knee from a stray boot in last Friday's wrestle for the points against Zebre.
"We're OK," added Cockerill. "We've got a few bumps and bruises, but no more than they have.
"We've got a good squad with lots of players of similar ability, and until someone really nails down their spot, there will be rotation."