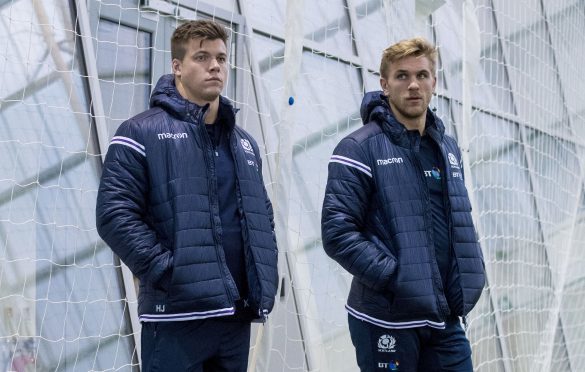 Huw Jones arrived fresh – or to be entirely accurate, a little weary – from South Africa yesterday morning intent on proving that he's no one-season wonder on the international scene.
The big find of Scotland's 2016-17 season completed his South African years with two tries and a man of the match award in Western Province's victory in the Currie Cup Final – the country's provincial championship – and the celebrations went on long into Saturday night.
However on Sunday he flew from Durban to Cape Town, picked up the rest of his belongings and then flew overnight to London and eventually Edinburgh, to join up with the Scotland squad and ultimately start his new career with Glasgow Warriors.
There's been plenty time to think though, as injuries have meant the centre is actually fairly fresh in terms of games played, considering that if he'd stayed fit he'd had played through three "seasons" – two in the southern hemisphere bookending one in the northern hemisphere – without a break.
"Definitely has been for the better, in hindsight," he said. "I was gutted to miss the summer tour because of injury, I would have loved to visit those places as well as play there, and the guys played some great rugby.
"But to have had that much time off was a good thing and now going into a long season without a break after this with Glasgow it was good to have a rest.
"I've enjoyed my time with Scotland but I don't want to be the one-season wonder. I'm hoping to keep building and improving and not think 'now I've made it'."
There was more than a little bittersweet feeling leaving Cape Town, and not just because he is heading into the depths of a Scottish winter. Playing with the province and the Super Rugby Stormers is what made Jones an international class player.
"I could not have wished for a better send off from Western Province, getting on the end of two tries and winning the trophy," he said. "It's the first piece of silverware I've ever won.
"I've been looking forward so much to this but Western Province will always have a place in my heart. It was very emotional leaving Cape Town."
Jones has been able to pace himself this year, with injuries in the Autumn Tests and then during the Six Nations meaning he missed the Super Rugby season and only got back to regular play once the Currie Cup season started,
"I missed a lot of rugby and my thoughts going into the Currie Cup was just to try and get back to the same form as last year," he said. "I think I am there or thereabouts now and happy to be called up.
"It took me longer than I hoped to reach form during the Currie Cup, we had a bit of an up and down season.  My performances were a bit up and down, but like the team did I have thankfully hit form now."
He's now completely ready to start the next phase of his career with both Glasgow and Scotland.
"I'm very much looking forward to it," he said. "I've seen what Gregor's done with Glasgow and what he did in the summer.
"Having spoken to the Glasgow boys they only have good things to say about him and how he coaches. I had a taste with the couple of days' camp up in St Andrews. I'm very excited to work with him."
He's also keen to link up with the Warriors and Dave Rennie.
"They show most of the Glasgow games in South Africa, I have been keeping tabs on things and it is great to see they are unbeaten in the PR014. They've been a bit unlucky in Europe, but I am excited to get there and get going.
"I have been in touch with Dave already and I look forward to properly meeting him."