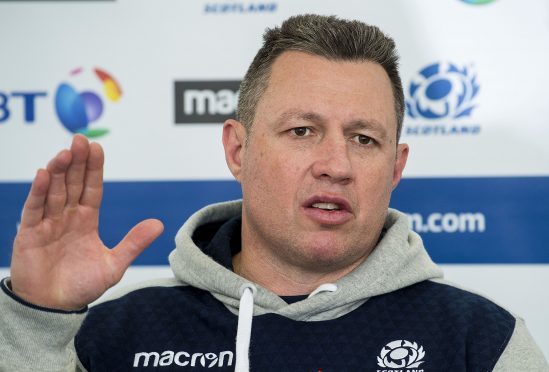 John Barclay is back with Scotland and assistant coach Matt Taylor hopes the back rower "leads us into the next World Cup".
Everyone scheduled to be at Oriam for the first training session of the Autumn Tests camp was there, including the skipper in the last six tests, who was undergoing tests for an ongoing concussion problem and hasn't played for a month.
But he has been given a clean bill of health to retain the leadership role – Greig Laidlaw's injury made it a stick-on – and Taylor for one is delighted to have him back.
"We are really privileged to have him in the team," said Gregor Townsend's lieutenant and the only survivor of the Vern Cotter coaching team. "John is an excellent leader, brings a lot of experience, gives guys a lot of confidence.
"I think the way he talks to referees is excellent because it builds a really good rapport. If you look at all the really good rugby teams around the world, their captains all build good relationships with referees. They get them onside and know how to talk to them, when to push things and when to pull back. I think John is very good at that."
The irony that Barclay had two years in the international wilderness is not lost on Taylor.
"Some coaches see more in a player than another coach," he said. "From my point of view, he has always been an excellent player. He adds to the way we play, particularly now.
"We try to move the ball, but he is also a very good defensive, destructive player as well.
"We're just lucky that he is with us. He has played really well over the last couple of years and I'm hopeful he can play for at least another couple of years and lead us into the World Cup."
Of the remaining squad members, Huw Jones was given a watching brief after flying in from Southy Africa in the morning, while newcomer Chris Harris also sat out having played a full game for his club Newcastle on Sunday.
"Chris is an excellent defender, and it's very exciting to watch him play," said Taylor. "He says defence is one of his strengths and he brings good line speed and makes good decisions. He is also a good attacking player and he's versatile so can play 12, 13 or wing.
"The other new guy Luke (Hamilton) has come into form particularly in the last month, with his ball carrying. He is good over the ball and he has been tackling well. It is exciting to bring him in too."
Alex Dunbar is back in training and it hasn't been decided whether he will sent back to Glasgow to play on Friday but he will be contention for the Samoa test whatever the case, added Taylor.
After the thrill of beating Australia in Sydney, there was the let down of losing to Fiji and that is still foremost in the squad's minds, added the coach.
"We have talked about it and we want to put it right. Samoa and Fiji are very similar teams in that there are big and physical, so it's a great one to start our campaign in terms of putting a few things right that we didn't get right in Fiji.
"We are definitely looking to start by being physical. That is going to be a big part of who we are and what we are as a team."