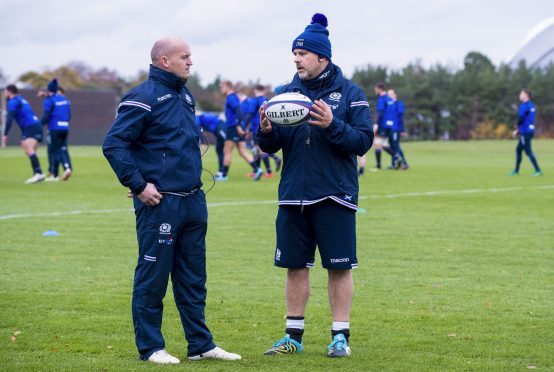 Scotland don't have challenges from their ever-growing injury list, only opportunities, believes assistant coach Dan McFarland.
Two players – prop Zander Fagerson and Alex Dunbar – are in concussion protocols while several others are under medical attention, although none – not even Luke Hamilton, who was stretchered from the field against New Zealand – has yet been ruled out of Saturday's final Autumn Test against Australia.
Hamish Watson and Darryl Marfo are also receiving treatment, but the Scots added only the recovered Sean Maitland and Fraser Brown to the squad yesterday, although it's not clear whether either will be considered for the Wallabies.
In the meantime, says McFarland, the way the newcomers have reacted to quick promotions shows that Scotland have the depth to cope with any injury crisis – even one that could mean ads many as seven props – five looseheads and two tightheads – could be unavailable for selection on Saturday.
"It is a challenge, but it's also an opportunity," said McFarland. "In the end we still have to prepare for Australia.
"They have a good scrum and a front row that's been together for a long time. They are just off the back of playing New Zealand, South Africa and Argentina in the Championship, so they have had some top-level scrummaging.
"They'll be ready for us but the lads are looking forward to that. You can't buy that experience, going against top packs and front rows. We'll get so much out of that.
"Guys are coming in and getting an opportunity that they perhaps didn't think they were going to have. In terms of taking those, I think the inexperienced lads coming in have done an absolutely terrific job this month.
"Hats off to them for the way they've prepared for that and jumped at it."
McFarland agrees that New Zealand should have had a third yellow card – and maybe even a penalty try against them – for Kieran Read's "slap down" under the posts on Saturday but is under no illusions why the match finished in defeat as it did.
"Were there things we could have done better which could have won us that game? 100 per cent yes," he said. "We'll look at those and look to improve on them but at the same time there will be a massive focus on the positive side of things.
"Why did we put ourselves in a position to win the game? What were the good aspects? What do we need to repeat next week? All of those.
"I thought we could have dealt with New Zealand's quick lineout a little better last week. We won all our own ball and had two steals but we could have had more. And the scrummage, we had some really good ones, but some when we were caught."
In the meantime, McFarland is confident that Finn Russell will continue his advance when he leaves Glasgow, although he admits to concern about the stand-off's overall welfare out of Scotland.
"Finn's a world class fly-half, when we won in Australia he was the stand-out player," he said.
"He's a great character to have around, very relaxed and yet extremely competitive. "When he's on the pitch he is a calmness about him which belies the difficulty of the position and he'll continue to grow.
"He's eager to learn and make improvements in his game. For example you sometimes don't expect your 10s to be good in contact, but Finn is very good.
"I look after the contact and sometimes I'll look and think 'who was that?'. It's Finn clearing breakdowns. That's special to do that skill well, and really good for a No 10."
He wasn't being specific about Russell, he added, but it was "definitely better for Scotland to have Scottish players playing in Scotland."
"That's not a complicated issue," he continued. "In Scotland we have a good record of managing players and making sure that their long-term welfare is looked after so they can represent their country and their clubs. That has been done well.
"Players are looked after here. Longevity of your career and being at your best for key games are things players take into account when making decisions.
"But it's a marketplace. It's difficult for anyone to compete with the French clubs. That's true if you are Scotland, England, Ireland, South Africa, even New Zealand."