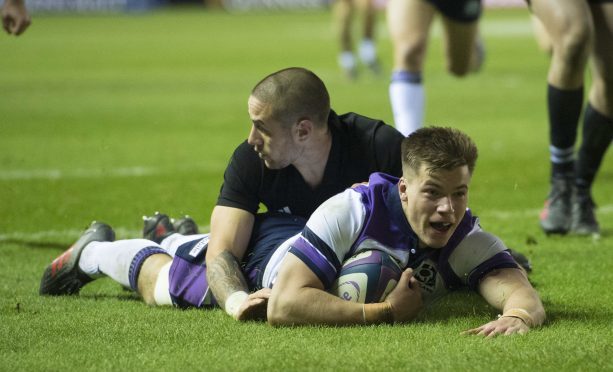 Scotland aren't joining in the admiration performance against the All Blacks because the Wallabies are in town and they know what went wrong, says Huw Jones.
The prolific centre scored his sixth try in eight internationals against New Zealand but the debrief has been much more about what didn't go right, chiefly the result.
"We need big improvements for Australia," he said. "I guess five more metres of pitch and Hoggy would have got round, so it was agonisingly close.
"But while a lot did go right for us but quite a bit went wrong as well. When you look at the stats we had about 60 per cent possession and didn't manage to score a lot of points.
"We missed an awful lot of opportunities, especially in the first half and again in the second half we were in their 22 for ages and didn't convert it into points even when they were a man down.
"It was a nice little move for my try and that's what we want, the backline linking up along the edge. But I wish we'd done that a lot earlier in the game.
"We'll be looking at that, and the tries they scored against us, those defensive errors. We won't over analyse it, we've got a different kind of game this weekend but we'll look at those mistakes and look forward to Australia."
Not that the Scots will get too hung up about the analysis, added Jones.
"If you're going to be playing a high tempo game then mistakes are part of that, but it's how you recover from those and work to get ball back," he said. "There's always going to be mistakes in a game of rugby, no-one's ever played the perfect game."
Australia and Scotland are meeting for the third time in little over a year, and on the last six occasions less than six points has separated the teams, but there's not a lot that can be drawn from those previous meetings, argues Jones.
"It seems we play against Australia far more often than say New Zealand," he said. "I think we're sort of similarly matched teams.
"The games have always been fairly close, but I wouldn't take too much out of those games because it's different personnel and there's no point analysing someone who isn't playing.
"They have different plans now, even from June. It's more important to be looking at what they've been doing in their last couple of games."
Australia were unlucky against England, Jones thinks, but their general form is strong.
"They're playing nice rugby and they beat the All Blacks the other week, plus they beat Wales fairly comfortably before England.
"The changes they've made are mainly personnel, they've done a few tactical things with kicking, but they haven't changed anything massively."
Replicating the atmosphere and the performance from New Zealand – and not taking a step back as the Scits did without Jones in Fiji in the summer – is a mindset thing.
"Barcs (caoptain John Barclay) alluded to it after the game when he said that pretty much every team will have their best game against the New Zealand because they are No.1 in the world," added Jones.
"But it's getting into that mindset in every game of wanting that intensity and level of performance, no matter what the opposition is.
"I think we're getting there, it's more about focusing on ourselves rather than the opposition. If we can get to that level every game then we should get some really good results."
The first two games of the Autumn are a case in point, he continued.
"Against Samoa we didn't have our best game and while we didn't underestimate them perhaps that's because mentally we might not have been in our best place possible.
"But for the All Blacks, for most of us it would be the biggest game of our careers so far, and if you're not going to be in the best headspace possible for that game then there's something wrong with you.
"It's replicating that and getting to the right frame of mind for every game."