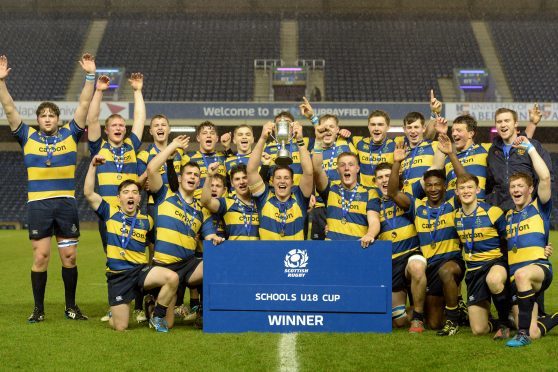 Strathallan's historic Scottish Schools Cup win could just be the start of a progression of success for the Forgandenny school, believes first XV coach Ed Kalman.
The former Scotland international prop came to Strath when he retired from playing in 2014 to be a physics teacher, but has become thoroughly involved in the culture developed at the school by director of rugby Andy Henderson.
Henderson's programmes have turned Strath from a peripheral school in Scottish Schools rugby into arguably the premier nursery in the game in SCotland and now Schools Cup winners, after Wednesday's 52-8 crushing of Perthshire neighbours Glenalmond College at BT Murrayfield.
It's definitely possible that some of the players in this year's 1st XV can follow in the footsteps of recent Strathallan old boys who have gone on to play professional rugby – Jamie Ritchie, Murray MacCallum and Cameron Fenton are all with Edinburgh, while brothers Zander and Matt Fagerson play for Glasgow, Zander having already won 14 caps for Scotland at just 21.
"Some of these lads have a real opportunity to go and play pro rugby," believes Kalman, who has watched the current team develop over the last two years.
"It's probably since Andy took over as director of rugby that there's been an acceleration of development of rugby at the school," said Kalman. "Initially it was in development of individual players, and that's why we have quite a few guys now playing pro rugby and Zander playing for Scotland.
"But it was a natural progression from there that we're more than just individuals, we've developed a group.
"These guys have been together for two years, reached the Under-16 Cup Final and drew that, and watching their development has just been fantastic. To cap it all off by winning the Under-18 Cup for the first time is just brilliant. "
Keeping that development going when so many of the winning team will now move on out of Under-18 rugby is the real challenge, Kalman agreed.
"Schools rugby is so unbelievably quick, we start in September and finish it here," he said. "It comes in cycles. The group we have here all came through together and the final was almost the end of the process for them.
"But we've got roughly half the squad coming back next year we had a strong Under-16s team this year and hopefully we're getting to the stage where it's a continual progression as a school in rugby terms."
Several of the Strath squad might be set for bigger things. Captain Murphy Walker, huge lock Cameron Henderson and powerful centre Ollie Smith are all in the National Academy system, while Josh Henderson, Andy's son, is currently seconded to Stade Nicois in France as part of his development.
The last Midlands school to win the Cup were the Bell-Baxter HS team from Cupar who won in 2006, and although the High School of Dundee and Dollar Academy have reached recent Under 18s finals, they've been unable to break the recent dominance of the big Edinburgh schools.
Strath's emergence as a power in Schools rugby – despite having just 600 pupils – had been hinted at, but beating first defending champions Stewarts Melville and then their 21-3 victory away to previously unbeaten George Watson's at Myreside in the semi-final this year signalled a changing of the guard.
"It's a massive breakthrough for the school," said captain Walker, a Scotland Under-18 cap. "We had such a strong group of players who really gelled from the first week of pre-season, and we've been pulling performances out of the bag all year.
"It's a huge achievement for the school  because we've come up short in the semis four times previous to this, but winning the game at Myreside to get through at last was a big thing for us.
"We enjoyed ourselves on the big pitch and scored some great tries. That Cup is going to look great back in the cabinet at Strath."