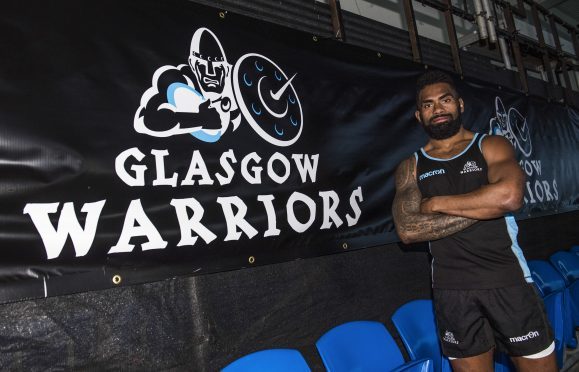 Niko Matawalu is thrilled to be staying Glasgow with his adopted family, and would play hooker for the Warriors if he was asked to.
The flying Fijian made a return to Scotstoun after two seasons in the Aviva Premiership with Bath and Exeter on an optional contract for the current season, and one of those options was to extend for another year.
Such has been the speed of him getting back to life with the Warriors and his impact on the pitch that the extension has been swiftly executed to the satisfaction of the club and the player, who knows where his proper home in the UK is.
"This club is like my family," he said. "It was my first professional club when I came from Fiji. It was the first country I knew in the UK.
"I'm thrilled to be back in Glasgow and especially to see all the boys. It is a lovely town, I think it's a more beautiful town than Edinburgh!"
Some think Niko should never have left Scotstoun, and he understands that feeling, but has no regrets.
"I don't regret it, I never regret," he continued. "Sometimes you have to try something different and I wanted to try the Premiership.
"I really liked it, but it is a different kind of league and a more physical style. I have more freedom to play here. It's a big difference; the coach knows my abilities to play what's in front of me, but I have to stay disciplined.
"When I signed at the start of the season it was optional that I might go somewhere else at the end of the year, but I really enjoy being here and the kind of game the coach likes to play."
While the Scotstoun crowd have welcomed Niko back with open arms, he's noticed there's quite a few more of them than before.
"Lots of things are different, the club is a bit more professional now," he said. "The support is getting bigger and there are a lot more sponsors.
"Before it was sometimes 1,000 people at a game, but now the place is full every week and it is really good to see, and to see more boys getting selected for Scotland."
Dave Rennie did say that he'd signed Niko as scrum-half cover, but it's been as a strike weapon on the wing that he's made his impact.
"That was the first thing I talked about with Dave, but I needed to get my fitness back," he said. "I have that now and he has said that he wants to play me on the wing.
"I don't mind. Give me the 13 shirt, 15 or even hooker, I'll play wherever."
Glasgow's injury problems are abating as while both club skipper Ryan Wilson and Calum Gibbins sat out the training yesterday, both are expected to return to practice today and will be considered for Saturday's first leg of the 1872 Cup – which will be determined over all three Guinness PRO14 meetings this season.
A "best of three" arrangement for the trophy will accommodate the third meeting of the clubs on the final day of the regular season.
Rob Harley and Oli Kebble, both out for some weeks, will both be available as well for BT Murrayfield, where the Warriors won last year on their way to regaining the 1872 Cup on aggregate.